Travel Directories
Planning a trip? Need hotels, flights, reservations, restaurants etc? These are directories that are *not* country specific. They generally provide travel information regarding attractions, hotels, restaurants and flights.
The ultimate traveling companion, wandermelon.com is an informative, entertaining and unbiased resource that combines the latest travel news, inspired articles and visual content all in one easy-to-navigate online destination

66 views
Submitted Mar 11, 2010

online travel guide for weekend getaways
100 views
Submitted Jun 20, 2010
Find your next travel destination all over the World. #traveltips
54 views
Submitted May 30, 2015
Looking for accommodation, tours or activities in destinations "off the beaten track", or that you've read about and can't find online? Looking for something a little special
50 views
Submitted Jun 22, 2010
WhyGo travel guides are more than simple guide books put online. Youll get real recommendations and answers from real experts. Whether youre planning the perfect two week trip to Italy or hitting Las Vegas for a last-minute weekend getaway, WhyGo makes planning your trip easier.
50 views
Submitted Jul 5, 2014
is a project to create a free, complete, up-to-date and reliable world-wide travel guide. So far they have 4017 destination guides and other articles written and edited by Wikitravellers from around the globe
342 views
Submitted Feb 26, 2010
world travel directory and travel guide
193 views
Submitted Feb 26, 2010
The WiZZ.to Travel Guide is an ambitious project to bring the whole world together, not just by connecting destinations by maps, but also by providing the information that allows you to travel to and enjoy destinations which are less known, but not less interesting.
117 views
Submitted Feb 26, 2010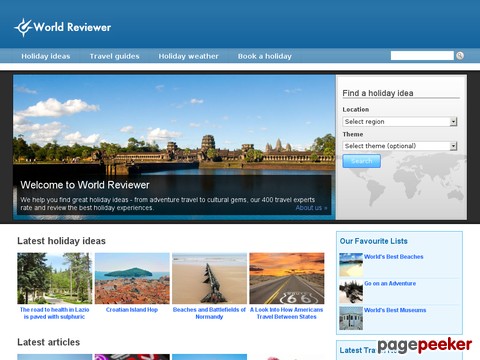 holiday review, holiday and trip ideas
70 views
Submitted Feb 26, 2010
World travel information from travellers worldwide
213 views
Submitted Feb 26, 2010
World Travelure believes that travel leads to personal enrichment. Whether you're a nature lover, photographer, or a restless voyager looking to escape the monotony of 9-5 life, World Travelure will help you chart your next course.
53 views
Submitted Apr 23, 2013
very clean easy to use travel directory
449 views
Submitted Feb 26, 2010

an invaluable resource
396 views
Submitted Feb 26, 2010

Get access to unique Packages, Deals, Tours,
72 views
Submitted May 22, 2013
Zipkick is a travel search and booking site that brings unique, relevant results to users across all platforms. With limited space on mobile devices, we aim to remove the clutter of irrelevant search results and provide information based on customer preference ranking. Users now have the ability to find what&#39
58 views
Submitted Jan 24, 2015

About Dave's Pick
Category Stats
Listings:
155
Regular:
153
Reciprocal:
2
Last listing added:
Apr 2, 2016