Travel Writers
The majority of the sites listed here are of those who write and travel for a living - some travel writing resource sites listed also. Also visit our Journals and Reviews page
Two types of people read travel stories, (1) travelers who enjoy other travelers' perspectives, and (2) scaredy cats. My mission, unlike most travel writers, is to scare the scaredy cats into staying home even as I'm being wildly entertaining.
10 views
Submitted Jun 3, 2012
Kevin Raub is a Brazil-based travel and entertainment journalist who grew up in Atlanta and started his career in entertainment in New York, working for Men's Journal and Rolling Stone magazines and "freelancing" (i.e. interviewing hot young actresses about their sex lives over a few too many cocktails) for men's magazines like FHM, Stuff and Maxim. He spent five years in Los Angeles as the senior writer for allstarnews.com, CDNOW's now-defunct (thank you, Amazon.com!) groundbreaking online music news site.
15 views
Submitted Jul 18, 2012
Kim Brown Seely is a freelance writer and journalist living in the Pacific Northwest. Kim writes about adventure, nature, people, and the exotic corners of the world for a number of national publications.
16 views
Submitted Mar 17, 2014
Kimberly Button is an Orlando, Florida-based freelance journalist, author, TV correspondent and editor, writing for national and international print publications for nearly two decades. Her writing is featured in magazines such as Whole Living, American Way, The Miami Herald, Private Clubs, Celebrated Living, Family Circle, Woman's World, Sierra and Florida Travel & Life.
11 views
Submitted Jun 23, 2013
Kim Grant authors or co-authors the books below. She is also the resident trip-planning expert for Hawaii, Cape Cod, and Boston for www.homeandbroad.com. And she writes about luxury, beach, and romantic accommodations on Maui, the Big Island, Kauai, and Oahu for www.away.com. Last but not least, she pens a monthly column about romantic getaways for www.away.com.
11 views
Submitted Jun 17, 2010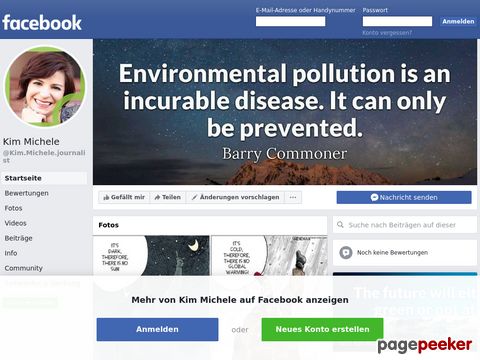 Originally from South Africa, now living in the USA, Kim has been working in and writing about the travel and tourism industry for over 20 years. As a travel and entertainment journalist she specializes in luxury travel, food & wine, eco-tourism, environmental & wildlife issues, music & entertainment and the cruise industry.
7 views
Submitted Mar 17, 2014
I am a freelance writer and author specializing in lifestyle and travel, with a heaping spoonful of culinary curiosity on the side.
40 views
Submitted Nov 10, 2012
Kimberly Fisher - travel writer and model based south of Los Angeles
22 views
Submitted Feb 27, 2010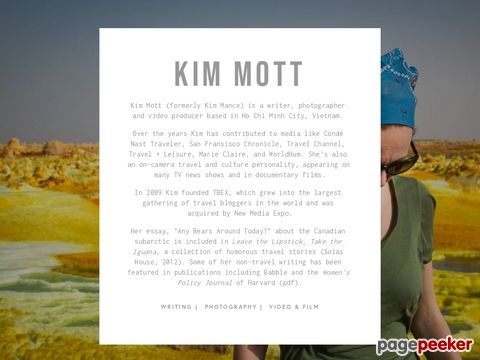 Kim Mott is a travel writer, editor, and new media broadcast personality based in Chicago, IL. Kim hosts the lively web travel series Galavanting, which is distributed by KoldCast.tv and is editor-in-chief of the online women's travel magazine, GoGalavanting.com
11 views
Submitted Mar 25, 2010
I am an experienced Multimedia Producer and Travel Writer and have presented features on location in places such as Iceland & California. I speak French & Spanish and have lived, worked and studied abroad: spending a year teaching in France, 6 months studying in Quebec and 6 months living and studying in Spain.
33 views
Submitted Oct 29, 2011
Permit me to explain a bit about myself. Im a freelance writer and entrepreneur based in London. I travel a lot and I write a lot.
8 views
Submitted Jul 9, 2013
Kiwi-travel-writer: professional, freelance, travel writer who also blogs
8 views
Submitted Jun 17, 2010
Heather has travelled in about 40 countries and has had in excess of 200 articles published in various magazines and newspapers: recent work has appeared in Morning Calm (Korean Air's in-flight magazine), Sydney Morning Herald, Australia & New Zealand (UK travel magazine), South China Morning Post, as well as in New Zealand newspapers and publications such as the prestigious NZ Listener, and Four Corners website.
14 views
Submitted May 23, 2010
Simmons first became interested in the fusion of food and travel as a young girl watching shows like "Great Chefs, Great Cities," "Yan Can Cook," and "Julia Child & Jacques Pépin Cooking at Home." She was immediately fascinated by how viewers could explore the world through cuisine, and was hungry to learn more. At every step of her young adulthood, she took jobs in the food and beverage industry — working everywhere from bars to restaurants to wineries
8 views
Submitted May 24, 2013
Kristin Mock is an award-winning writer, teacher, traveler, and social media enthusiast.
10 views
Submitted Jul 14, 2012
I am an award-winning writer, teacher, editor, and social media enthusiast. I am also a traveler, and I try to embody a globally-minded feminist ethos in everything I do–by living carefully, living mindfully, and living compassionately.
5 views
Submitted Oct 22, 2014
Kurt Koontz grew up with a lot of the outdoors in Boise, Idaho. He studied business at the University of Puget Sound, then returned to his hometown to rise through the ranks as a sales executive for Micron Technology. While working, he traveled on business across the U.S. and the world. When he retired at age 36, he took to adventure travel—mostly by bicycle across Europe and in the Western U.S. and Canada.
8 views
Submitted Oct 23, 2013
A writer specializing in fine food + drink, travel and leisure
12 views
Submitted Jun 4, 2012
travel writer Estan Cabigas is an avid traveler, multiawarded blogger and photographer.
13 views
Submitted Feb 28, 2010
Laura Del Rosso is a journalist who specializes in travel and the travel industry, including hotels, destinations, cruise lines, travel technology companies, meeting planners, travel agencies and tour operators.
10 views
Submitted Mar 17, 2014

About Dave's Pick
Category Stats
Subcategories:
1
Listings:
421 (425 counting subcategories)
Regular:
420
Reciprocal:
1
Last listing added:
Nov 15, 2017