Travelogues
These are typically individual's websites about their own travel experiences - they often include photographs. These are more geared to "travel stories" rather than blog entires. Click Here for travel blogs.
world travel and photography
117 views
Submitted Jun 22, 2010
There are plenty of blogs out there for backpackers, for luxury travelers, for family travelers, for dozens of kinds of niche travelers. But I love it all. I love staying in a hostel with a great common area as much as I love staying in a suite at a five-star hotel in Las Vegas! And every moment is something special, something to savor!
129 views
Submitted Apr 28, 2010
Alby has been around the world to many countries and this is his excellent travelogue
101 views
Submitted Mar 11, 2010
My name is Alexander Sewe and live in Norway. In 2007 / 2008 i travelled around the world. The trip took a little over 5 months. I have travelled quite a bit after the trip was officially over, so there are quite a few articles and photographs on this web page.
105 views
Submitted Jul 26, 2013
Bruce Northam, the writer and host of American Detour, has chronicled tales in more than 100 countries on seven continents. His keynote presentation, Street Anthropology, is a hit on campus and at corporate events and Governor
114 views
Submitted Aug 7, 2010
a collection of journals and photos, site available in Italian and English
105 views
Submitted Mar 15, 2010
Around the Worlds is the travel website of a great travelers team. They try to make you dream and travel through their Travelogues and travel phtoos that they brought from their trips over the past 8 years
112 views
Submitted Mar 15, 2010
Arrivals provides a unique perspective on the wonder of travel through captivating stories and compelling photography. We have toured more than 25 countries and share a love for exceptional travel experiences.
106 views
Submitted Jul 15, 2012
Travel stories from around the globe. The individual posts are part of the blog and the oldest date back to 1999. Popular favorites include My trip to Russia and The Afghanistan diaries
117 views
Submitted Mar 27, 2010
Beers and Beans is about the spaces in between.
103 views
Submitted Apr 19, 2010
extensive articles and photos from their trips around the world
104 views
Submitted Mar 15, 2010
My advice is: "travel!" even with your mind and imagination but "travel", and sometimes, when you can with the backpack too (as for me it's never enough...)! The important is don't stop... As the great Antonio de Curtis used to say: "who stops is lost!"
111 views
Submitted Oct 8, 2011
breaking fresh ground, international travelogues
662 views
Submitted Feb 26, 2010
BucketTripper.com provides reviews of attractions, activities, and adventures in the world's most interesting and iconic tourist destinations, written by professional travel writers.
108 views
Submitted Jul 31, 2012
Cathy and Gary&#39
102 views
Submitted Jun 6, 2014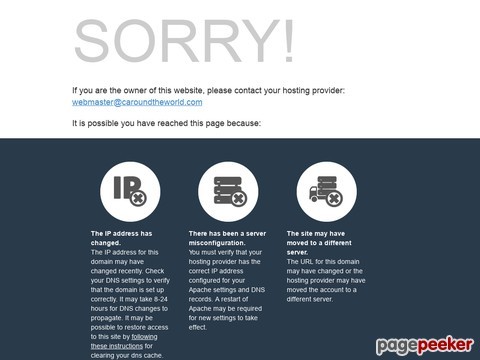 a travel journalist's tips from around the world
117 views
Submitted Mar 17, 2010
travel photo essays including: England, Egypt, Costa Rica, Paris, Washington DC and Rocky Mountain National Park
487 views
Submitted Feb 26, 2010
adventures travelogues from travel writers
106 views
Submitted Mar 15, 2010
Darling Escapes is finding that piece of paradise in the middle of chaos. That little of bit of sunshine on an otherwise grey day. That lust to know something so intimately that it becomes second skin. Its that place that you can go that instantly feels like home- even if its the first time you've been there. Its finding luxury not in the place, but in the interactions.
99 views
Submitted Jun 6, 2015

Exploring the world one adventure at a time!
89 views
Submitted Oct 19, 2013

About Dave's Pick
Category Stats
Listings:
92
Regular:
92
Last listing added:
Jun 6, 2015