USA Colorado
Colorado Travel
Welcome to 100summits, dedicated to the pursuit of climbing and photographing the highest 100 summits in Colorado.
39 views
Submitted Jun 24, 2012
Through this blog, I hope you?ll happily discover my different worlds and many exciting destinations in between. I?ll be posting stories about travel, fashion, beauty, shopping and yes, girl talk et bien sur romance, too
43 views
Submitted Apr 9, 2010
located in Colorado Springs
63 views
Submitted Jul 18, 2012
official site for travel & tourism
243 views
Submitted Feb 26, 2010
olorado State of Mind is meant to highlight the people, places, events, and experiences that make Colorado such a wonderful place to live and visit.
36 views
Submitted Jun 5, 2011
500 miles, Denver to Durango
139 views
Submitted Feb 26, 2010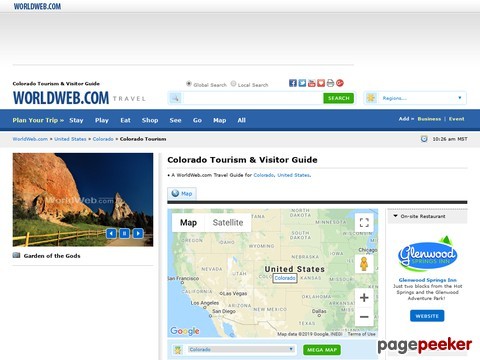 Colorado Travel & Tourism Guide
358 views
Submitted Feb 26, 2010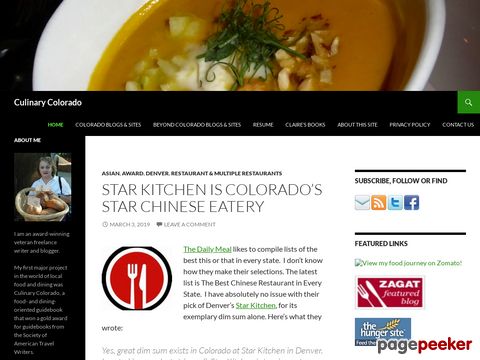 I am a Colorado-based, award-winning travel, food and snow sports writer who has written thousands of newspaper, magazine and online articles and have authored or co-authored some 20 books
31 views
Submitted Jul 21, 2012
Offers six lodging properties in Lionshead Village and Vail Village, including resort lodging, condo rentals, vacation rentals, and hotel amenities near skiing, biking, golf, shopping, and dining.
52 views
Submitted Jan 21, 2011
the official Colorado state website
240 views
Submitted Feb 26, 2010
the Gant is Aspen?s finest condominium resort situated in a peaceful enclave at the base of Aspen Mountain with convenient access to downtown & the ski lifts
226 views
Submitted Feb 26, 2010
Hot Air Balloon Trips in the heart of the Colorado Rockies, Southern California Vineyards and Everglades of Florida. Call 970-887-1340
198 views
Submitted Feb 26, 2010 Nestled against the foothills of the Rocky Mountains halfway between Santa Fe and Denver, Trinidad retains its Old West character and the vitality of its pioneering days on the Santa Fe Trail. The community celebrates its colorful past while embracing new public projects.
35 views
Submitted Jul 14, 2012
As the designated steward of Colorado history, we aspire to engage people in our State's heritage through collecting, preserving, and discovering the past in order to educate and provide perspectives for the future.
40 views
Submitted Jul 14, 2012
backcountry huts located in Colorado
198 views
Submitted Feb 26, 2010
located at Denver Tech Center, Inverness Hotel & Golf Club features resort amenities, modern conference facilities, elegant banquet facilities, and a championship golf course
247 views
Submitted Feb 26, 2010
Im an early 30s Colorado gal who loves to play! This blog is full of stories about my adventures, mishaps and discoveries in the mountains of Colorado and around the world.
31 views
Submitted Jun 13, 2014
mountains, summer, ski, spring, golf, outdoor paradise
33 views
Submitted Jun 17, 2010
Manor Vail Lodge offers ski lodging accommodations including guestrooms, suites and condos. This Vail, Colorado hotel also offers venues for weddings and meetings, dining facilities and vacation packages.
36 views
Submitted Feb 22, 2011
all about living in Denver from a "mommy" perspective
15 views
Submitted Jun 22, 2010

About Dave's Pick
Category Stats
Listings:
34
Regular:
34
Last listing added:
Dec 22, 2016