USA Hawaii
Hawaii Travel
A Maui Blog (AMB) is a web log created to promote Maui?s beautiful island, unique culture and aloha spirit. Liza, the blogger behind A Maui Blog fulfills this mission by ?talking story online?. She is inviting everyone to join her in her passion to promote Maui by leaving comments on the blog and by e-mailing her your stories about Maui
154 views
Submitted Mar 13, 2010
Lanai's place for unique tropical adventures
278 views
Submitted Feb 26, 2010
offering hand-selected Maui vacation rentals
353 views
Submitted Feb 26, 2010
all Big Island Hawaii Tours
331 views
Submitted Feb 26, 2010
Waikiki Beach Hawaii tours to Pearl Harbor, snorkelling, helicopter rides, horseback riding and ATV adventures
409 views
Submitted Feb 26, 2010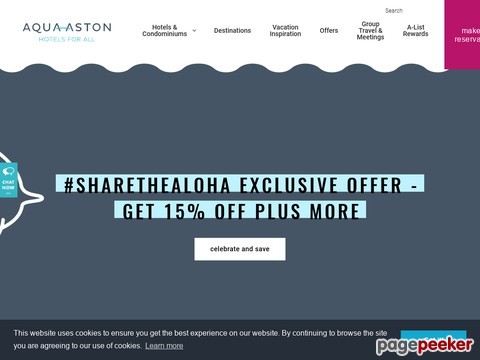 Hawaii's first boutique hotel chain, Aqua Hotels & Resorts offers a collection of 14 hip boutique and budget hotels in Waikiki/Honolulu, Oahu and 3 resorts on Maui, Molokai and Kauai
217 views
Submitted Mar 31, 2010
providing Maui Accommodations for over 20 years
318 views
Submitted Feb 26, 2010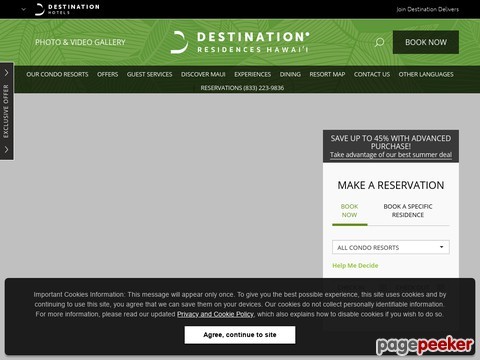 Destination Resorts Hawaii presents a fine collection of premium Maui condo and villa rentals amid the luxury Wailea hotels and resorts on Hawaii's island of Maui. We offer the largest selection of vacation rentals with beachfront, oceanfront and golf-front suites and villas in eight distinct Maui condo resorts throughout the Wailea-Makena resort..
151 views
Submitted Jul 18, 2012
Hawaii vacation guide and directory showing you places to visit, places to shop, venues for entertainment, vacation planning, live webcams and our brand new HawaiiBlog featuring the Hawaii Photo of the Day.
208 views
Submitted Feb 26, 2010
unbiased travel advice - news, reviews & deals!
156 views
Submitted Feb 26, 2010
Hawaii Travel Network offers Hawaii activities and Hawaii tours on all the Hawaiian islands including luaus, snorkeling, and dinner cruises.
159 views
Submitted Mar 23, 2011
Go to Hawaii Discount to reserve your Hawaii Tours and things to do in Hawaii with us before your vacation to guarantee spots for you and your family or guests in the can't miss Hawaii Activities
158 views
Submitted Jun 22, 2010
offering trips to movie locations
340 views
Submitted Feb 26, 2010
We offer luxury tours in hawaii. watch the video on our home page. these are professional hawaii tours, not bus rides like the competition. we are a tour operator.
150 views
Submitted Aug 11, 2015
travel blog - based in Honolulu
148 views
Submitted Mar 13, 2010 your live listening source for wonderful melodic Hawaiian music
187 views
Submitted Feb 26, 2010
Whatever you dream of for your Hawaii Vacation, our beautiful Hawaii Resorts are the perfect backdrop for creating long-lasting memories. Our two Oceanfront Resorts, the Royal Lahaina Resort on Kaanapali Beach, Maui and the Royal Kona Resort on the Big Island of Hawaii are ideal for
153 views
Submitted Jun 23, 2010
I'm Hana, a midwestern country girl born with the song of the salty ocean in my soul, the magic of the mountains reflected in my eyes, and the whisper of tropical tradewinds in my heart. I'm in love with LIFE, and seeing as much of it as possible! Currently living, adventuring, and photographing my way through life in Maui.
142 views
Submitted Sep 30, 2015
Located on Maui's northwest shore, the pristine Kapalua Resort stretches from emerald mountain peaks to the edge of the glistening Pacific Ocean. Kapalua Adventures brings a whole new level of excitement to the world-renowned Kapalua Resort
208 views
Submitted Feb 26, 2010
the island of discovery
273 views
Submitted Feb 26, 2010

About Dave's Pick
Category Stats
Listings:
52
Regular:
52
Last listing added:
Jun 25, 2018