Vacation Rentals Europe
Rent from these European vacation rentals - many of these are country specific.
apartment vacation rentals in select European cities
67 views
Submitted Jun 23, 2010
The spacious apartment is situated in the old town of Alghero, and ideally located for exploring the city and the beaches.
105 views
Submitted Feb 26, 2010
excellent apartment rental service recommended to us by someone who has used their services a number of times
76 views
Submitted Aug 25, 2010
quality apartments for rent in centre of Venice, perfect alternative to expensive hotel accommodation. Inclusive prices and special offers. For tourism and business. On-line booking
699 views
Submitted Feb 26, 2010
traditional Cyprus villas and beach houses available for rent
739 views
Submitted Feb 26, 2010
BBguide is a portal site for Bed and Breakfasts and Charming Hotels in Belgium and Netherlands. Find your B&B with google Maps
369 views
Submitted Feb 26, 2010
Rent Top Apartments provides quality holiday and business accommodation in Barcelona and Madrid. We offer carefully selected apartments in the best locations in the city. The exclusiveness of our apartments is combined with a quality service for our clients to enjoy comforts of a home in our holiday apartments.
83 views
Submitted Feb 26, 2010
Paphos Car hire and Paphos holiday villas and apartments for rent by Land and Sea Tours Ltd. We focus on the popular coral bay area in peyia, paphos. We offer wide variety of services like, holiday rentals, car rentals, excursions, coach tours, cruises, trips, and even property sales
153 views
Submitted Feb 26, 2010
vacation villa, Italian and European villa rentals, vacation homes, farmhouses and apartments from Cuendet
663 views
Submitted Feb 26, 2010
Cyprus holiday villas to rent with private pool. Luxury accommodation and villa rentals in Cyprus. Villas and apartments to rent in Paphos.
130 views
Submitted Feb 26, 2010
Offers self catering villas, apartments and other accommodations for short stays in & around Florence, Italy.
209 views
Submitted Feb 26, 2010
A combination of Solar power and our fantastic wood burners provide heat for the cabin. The wood burners only use logs sourced as a bi-product of the ongoing management of the surrounding woodland. Therefore, not only can you enjoy carbon footprint free hot water and heating but also you can enjoy the atmosphere and warmth that only a real fire can create.
31 views
Submitted Dec 22, 2015
CASA ROSA is a traditional stone farmhouse set high in the green hills of Umbria, in the park of Mount Subasio, central Italy, some 10 km (6 miles) north-east of Assisi. The house is divided into three holiday apartments - one large apartment occupying the whole of the first floor, and two smaller apartments sharing the ground floor. All have access to the new swimming pool with panoramic views. Casa Rosa is surrounded by a beautiful landscape of woods and farmland
321 views
Submitted Feb 26, 2010
UK's #1 for holiday homes worldwide
78 views
Submitted Jul 30, 2010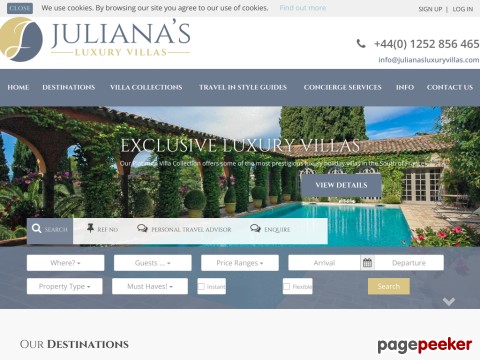 Exclusive luxury villas in the South of France - French Riviera, Provence and Languedoc-Roussillon. A large portfolio of luxury holiday villas with private pool, hand-picked for you!
28 views
Submitted Jul 4, 2017
Apartments in Italy and cottages in holiday resort on the sea offers a wonderful sand beach, apartments Italy at attractive prices, holidays and vacation in Italy apartments from private owners rent.
110 views
Submitted Feb 26, 2010
Villa holidays, villas with private pools & villa resorts across popular holiday destinations including Spain, the Algarve and beyond.
136 views
Submitted Feb 26, 2010
Luxury villas with private pools for holiday rental in Lanzarote. Rent direct from the owner.
637 views
Submitted Feb 26, 2010
Located in the Lucca area in Tuscany, Italy, the Italian accommodation agency offers a selection of holiday villas with pool, farmhouses, apartments and B&B's mostly located in the famous hills around the splendid medieval Tuscan town of Lucca and near the Versilian seaside. Please submit your requests. I, E, D spoken.
117 views
Submitted Feb 26, 2010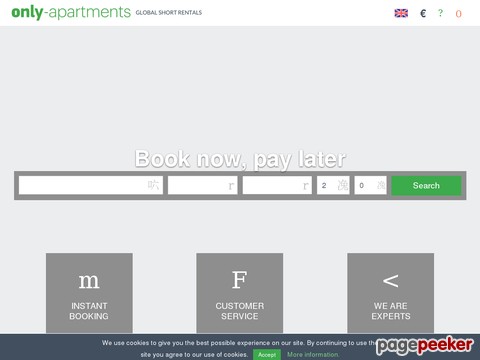 great offers in short term rental in Europe
200 views
Submitted Feb 26, 2010

About Dave's Pick
Category Stats
Listings:
38
Regular:
38
Last listing added:
Oct 21, 2017