Vacation Rentals Europe
Rent from these European vacation rentals - many of these are country specific.
An online website that advertises a 3 bedroom Luxury brand new Holiday Villa directly from the owner in Cyprus.
276 views
Submitted Feb 26, 2010
luxury Cyprus villas to rent directly from the owners. All villas have sea and/or landscape views
552 views
Submitted Feb 26, 2010 Europe Holiday Rentals
610 views
Submitted Feb 26, 2010
The Residence 2 Pini is located in the central Piazza Vittoria on the island of Capri, close to the shopping area. The establishment offers the experience of a self catering vacation whilst guaranteeing all the comforts and services you would normally expect to find in a hotel. The residence, with all the warmth of a family home, offers superbly restored lodgings which meet all modern standards of quality. The residence is surrounded by greenery with its spacious garden complete with terrace - solarium and Jacuzzi.
The apartments can accommodate from two to four people, each equipped with living/kitchen area, bedroom, bathroom, and balcony/terrace with panoramic views.

28 views
Submitted Jun 13, 2012
long and short term rentals and relocation services to Rome Italy
482 views
Submitted Feb 26, 2010
A selection of some of the best luxury villas for rent in Salobrena on the Costa Tropical coast of Spain
162 views
Submitted Feb 26, 2010
• LANDLORD rents 2 self catered flats in Les CARROZ 1150 m, ski-golf resort by French Alps, 53 Km GENEVA airport.
• 1) A flat of 50 m2 +20 m2 of covered terrace up to seven ( 7 ) people.
• PRICE a week : 450 – 950 € according to the season
• 2) A flat of 80 m2 up to eleven ( 11 ) people.
• PRICE a week : 750 – 1500€ according to the season.
• COSTS, parking, included.
• T 0033450900241
•
http://www.catourisme.com
12 views
Submitted Jan 2, 2012
Travelling to UK? This website provides free lsitings for rentals in UK, from rooms to flats and houses.
201 views
Submitted Feb 26, 2010
South Lakes Cottages offer a choice of two traditional self catering cottages convenient for Barrow-in-Furness and the Duddon Estuary in Cumbria the Lake District.
11 views
Submitted Aug 18, 2010
guide to vacation rentals in Europe
9 views
Submitted Jun 23, 2010
Vacation rentals and apartments for rent for short days and holidays in San Sebastian, Spain.
12 views
Submitted Sep 25, 2015
vacation rentals in Umbria. Close to the border of Tuscany and the Trasimeno Lake, ideally located for exploring the rest of Italy
480 views
Submitted Feb 26, 2010
European vacation homes, rentals and packages
20 views
Submitted Feb 26, 2010
Good choice of holiday rentals in Umbria and also general information on this beautiful Italian region.
295 views
Submitted Feb 26, 2010
International villa holiday specialists with over 600 hand picked villas with pools in France, Corsica, Greece, Crete, Portugal, Spain, Italy and Bali. The difference is our experience.
265 views
Submitted Feb 26, 2010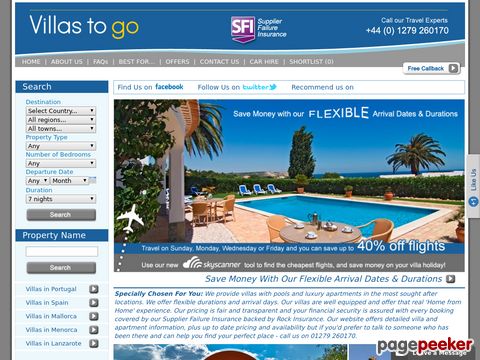 All our family holiday accommodation has been hand picked by our very experienced team to offer the best quality, the best locations at the best possible prices.
152 views
Submitted Feb 26, 2010
Welcome to Quality Holidays rental of luxuary Mobilehomes in whole France and also nearby the Mediterranean Sea or Atlantic Ocean.
148 views
Submitted Feb 26, 2010

About Dave's Pick
Category Stats
Listings:
37
Regular:
37
Last listing added:
Jul 4, 2017