Vacation Rentals Other
Vacation rental directories - some international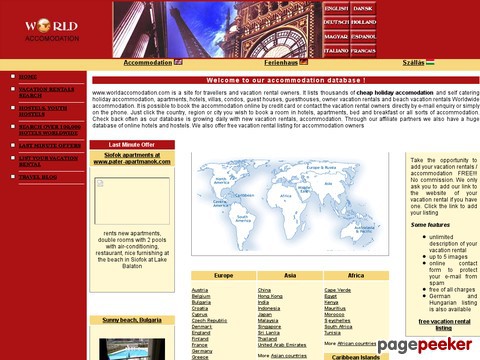 www.worldaccomodation.com - Rent accommodation, vacation rentals, apartments by owner around the world
485 views
Submitted Feb 26, 2010
Called the "Ebay for space" by Time Magazine, Airbnb is an online marketplace allowing anyone from private residents to commercial properties to rent out their extra space. The reputation-based site allows for user reviews, verification, and secure online transactions. Listings include vacation rentals, private rooms, entire apartments, bed and breakfasts, boutique hotels, castles, treehouses, and many other traditional and non-traditional accommodations.
112 views
Submitted Mar 26, 2010
Worldwide directory of vacation rentals by owner! Holiday rentals of villas, apartments, houses, cottages all around the world. Last minute vacation rental for best price.
523 views
Submitted Feb 26, 2010
Our Caribbean villa rentals invite you to experience the vacation of a lifetime. Whether it is a Caribbean vacation with family and friends or a romantic villa getaway for two, CaribbeanWay villa specialists and concierges will create a personalized vacation just for you at one of over 900 luxury villa rentals throughout the Caribbean.
225 views
Submitted Apr 25, 2010
specializing in vacation rentals in all top destinations
713 views
Submitted Feb 26, 2010
For 35 years, our family has been helping others enjoy the beauty of the Great Smoky Mountains. Enjoy Tennessee?s beautiful Smoky Mountains in style with a fully furnished cabin or chalet to call home while you?re here. Choose from 1-12 bedroom cabins for family vacations, corporate retreats, or reunions. Make your Smoky Mountains vacation the best it can be with a beautiful cabin or chalet from Chalet Village.
167 views
Submitted Feb 26, 2010
Spacious country house with private pool for holiday rent, set among the rice fields of North east Thailand. Fully serviced and catered. Choose privacy, or delve into the heart of Thailand with the locals!
346 views
Submitted Feb 26, 2010

Holiday rentals, villas, apartments and vacation rentals worldwide, with an emphasis on quality listings that reflect caring owners. At Getaway Earth you will find French gites, castles in Scotland, pool villas in Thailand, Disney and USA vacation rentals, Italian villas - and much more.
We make it easy for you to browse, plan and book your perfect getaway in a cared for holiday home.
118 views
Submitted Mar 19, 2012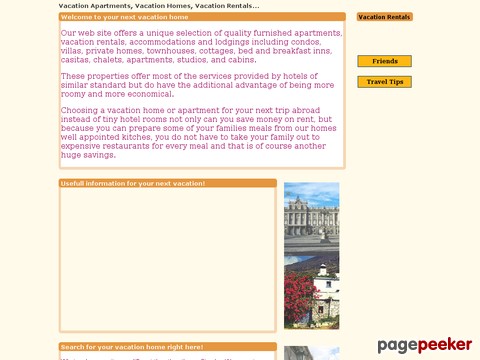 Vacation Rentals. The place to find your next vacation home
601 views
Submitted Feb 26, 2010
lists thousands of vacation rentals by owner in Spain, France, Italy, Portugal, Florida & worldwide. Book villas, apartments, cottages, ski chalets, golf holidays and bed & breakfast direct with the owners for great value!
579 views
Submitted Feb 26, 2010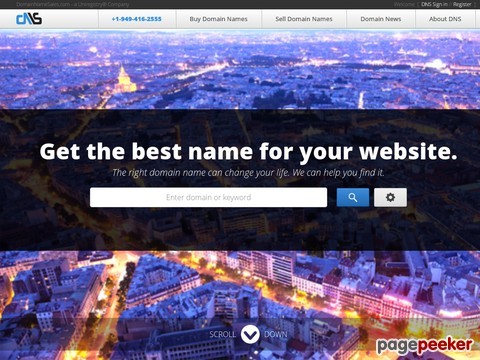 On Holiday-Velvet.com travellers can find and book quality holiday apartments and villas, and selected B&Bs and hotels
145 views
Submitted Jun 23, 2010
HouseTrip is the revolutionary holiday rental online booking site, where you can find, book or list your holiday apartment easily and securely.
134 views
Submitted Jul 20, 2012
Expert advice on investing in overseas property. New Developments and off plan Investment property in Dubai, Shanghai, Poland, Brazil and in other emerging markets.
247 views
Submitted Feb 26, 2010
Frontaide isn't just a property management system for managing your guests, it also helps you acquire and retain them. Managing your property requires quick access to information. As owners or managers, you want to know exactly how your business operates.
111 views
Submitted Feb 11, 2015
RealAdventures helps travelers around the world find great accomodations, plan relaxing vacations and embark on exciting adventures
106 views
Submitted Jun 17, 2010
92,000 vacation home rentals worldwide
512 views
Submitted Feb 26, 2010
offering maximum exposure for your timeshare resale or timeshare rental property, International locations
545 views
Submitted Feb 26, 2010
A wide selection of rental villas and apartments throughout Spain the Balearics and Canaries
515 views
Submitted Feb 26, 2010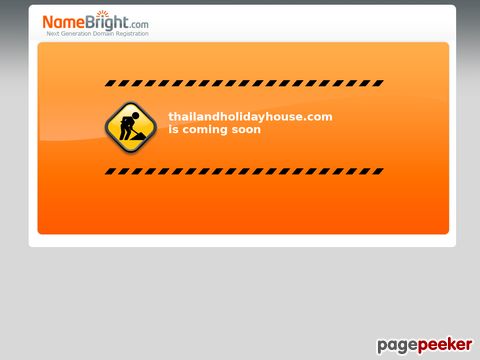 A selection of vacation villas and houses for holiday rent throughout Thailand, listed by geographical region.
157 views
Submitted Feb 26, 2010
Looking for vacation homes and cabins? Then look no further - you have come at right place. TheVacationBug.com offers luxury vacation Rentals.
134 views
Submitted Feb 26, 2010

About Dave's Pick
Category Stats
Listings:
27
Regular:
27
Last listing added:
Feb 11, 2015