Volunteer Work Travel
Volunteer Travel - See & help the world by volunteering your time. Note that the word "volunteer" is often used loosely by many of these organizations - in that you have to pay money to actually "volunteer". Also visit A Helping Hand, Study Abroad, and University Research Travel
A magazine about budget independent travel, working abroad, working holidays, jobs abroad, living overseas and taking a gap year
427 views
Submitted May 23, 2010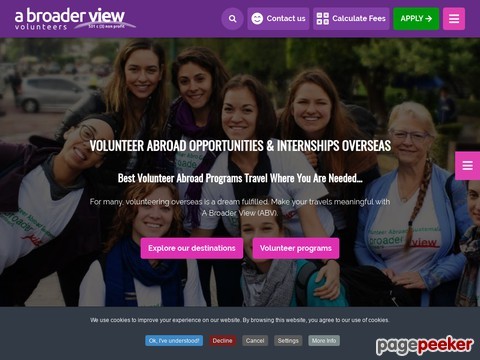 Welcome to A Broader View Volunteers! We offer international volunteer projects for the globally-minded individual searching for a unique travel experience. Our volunteer projects are available year round in Central America, South America, Asia and Africa.
683 views
Submitted Feb 26, 2010
empowering people to succeed in the global economy - volunteer options available
732 views
Submitted Feb 26, 2010
The VCD Nepal currently has volunteer opportunities available in several parts of Nepal. Volunteers have the opportunity to participate in a variety of educational and community aid programs. This will give you a chance to make an important contribution to the people of Nepal and while doing so gain an in depth experience of the country and its culture, that will stay with you the rest of your life.
682 views
Submitted Feb 26, 2010

Travel Guide. Volunteer Abroad tips, compare prices with other website, look for the final fee, what does the program include, travel insurance is a must, get you own dont buy from the Organization, its very cheap US$35 for 1 or 2 weeks. And look for negative feedback, the big organizations have a lack of customer service and the small organizations have few options. Also book with tax exempt Organization and non for profit or charity, most of the money goes to the programs.
666 views
Submitted Feb 26, 2010
We are proud to facilitate distinctive educational experiences in Africa. We offer a wide range of internships, wildlife courses, field guides qualifications, semester learning and educational group travel options.
387 views
Submitted Jun 15, 2012
volunteering experience for a lifetime
402 views
Submitted Jun 22, 2010
Leading UK specialist in volunteer work and adventure travel throughout Africa
466 views
Submitted Mar 28, 2010
AFS is an international, voluntary, non-governmental, non-profit organization that provides intercultural learning opportunities to help people develop the knowledge, skills and understanding needed to create a more just and peaceful world.
472 views
Submitted Feb 26, 2010
Practical action for sustainable development & reforestation in rural Ecuador with CRACYP, an NGO. Productive community projects, organic farming, eco-tourism & conservation volunteer opportunities. Not a volunteer agency, just genuine opportunities to help with our development work.
647 views
Submitted Feb 26, 2010
choose from several developing countries to volunteer your time in
1077 views
Submitted Feb 26, 2010
is a not-for-profit international volunteer organization that operates volunteer programs in select countries
978 views
Submitted Feb 26, 2010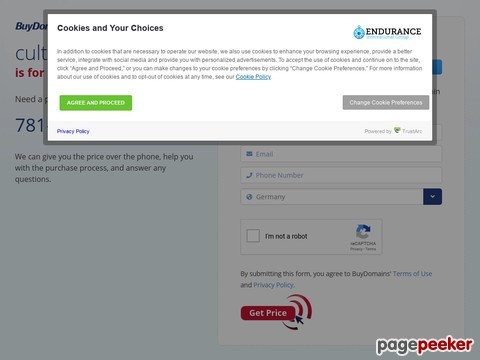 explore the world, expand your horizons, and take part in an intercultural experience you?ll never forget. Volunteer abroad with Cultural Extremes. Make a difference to your life and the lives of others.
835 views
Submitted Feb 26, 2010
engages people worldwide in scientific field research & education to promote the understanding and action necessary for a sustainable environment
571 views
Submitted Feb 26, 2010
Ecoteer is a unique volunteer opportunities agency - offering a directory of cheap volunteer work opportunities, volunteer jobs abroad and working holidays. Our volunteer opportunities are cheap because we have eliminated the middleman slashing the price to volunteer abroad for gapyears, careerbreaks and working holidays. Ecoteer is leading the way in a new type of volunteer work opportunities abroad and is changing the volunteer and working holiday industry back to what it used to be
389 views
Submitted Apr 24, 2010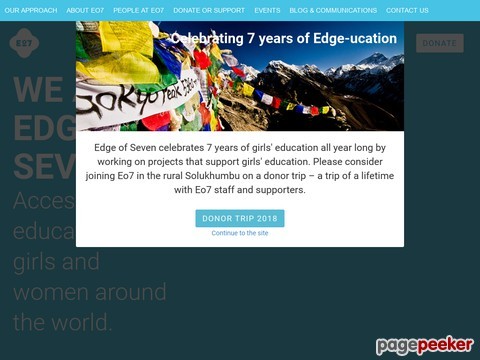 at Edge of Seven, we facilitate the natural partnership between travel and service. We organize service tours to communities throughout the world
380 views
Submitted Apr 19, 2010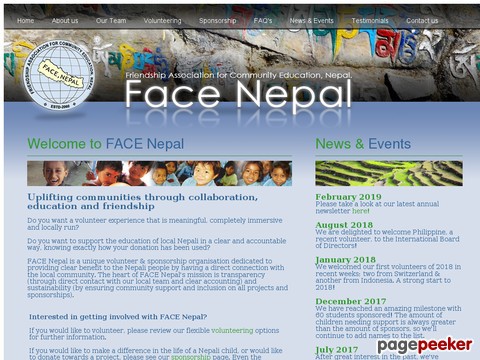 A non-government, non-profit community based organizatin located in the Chitwan region of Nepal, FACE Nepal (Friendship Association of Community Education) encourages anyone interested in international volunteering to get in contact with us. We focus primarily on education for children, women and the community in the area's of literacy, health, sanitation, environment and conservation. This is also an excellent opportunity to experience the wonderful culture, history and geography of this beautiful country!
590 views
Submitted Feb 26, 2010
volunteer to coach children in various sports in select countries worldwide
439 views
Submitted Feb 26, 2010
really interesting ways to learn about your world
299 views
Submitted Aug 13, 2010
Adventure Volunteer Travel At Its Best
299 views
Submitted Jun 20, 2010

About Dave's Pick
Category Stats
Listings:
84
Regular:
83
Reciprocal:
1
Last listing added:
Sep 12, 2017