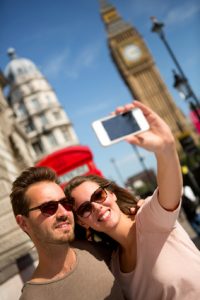 A UK holiday is a very thrifty holiday choice for British couples. Travelling abroad can be very expensive with flights, transfers, visas, baggage fees, currency exchange and more. However, more and more people are choosing to holiday on their very doorsteps.
There are some fantastic quaint villages and bustling cities across the UK that are full to the brim with excitement and romance. Whether you want a boozy weekend away with your other half, or a relaxing spa break in the countryside, we have the best 5 hotspots to suit everyone.
1. Stratford-upon-Avon, England
This is a great place for a romantic break. There are some cosy little gems like the theatre; river and you have to check out Shakespeare's birth place. The One Elm is a renowned gastro for scrumptious Sunday lunch.
2. Portmeirion, Snowdonia, Wales
A unique coastal resort in North Wales, this town is home to the Mermaid Spa which specialises in luxury beauty treatments touched with the magic of Portmeirion. There are lots of shops, cafes and a medieval castle.
3. Perthshire, Scotland
Fancy a jam-packed weekend that is go, go, go? Perthshire has everything from golf and cycling to hill walking and angling. Perth has a lively nightlife, shopping stores and plenty of art galleries and theatres. Once you've captured the stunning scenery outdoors, cosy up inside in one of the many restaurants.
4. Ring of Kerry, Ireland
Romantic castles, check. Spectacular gardens, check. Ancient monuments, check. Ring of Kerry is full to the brim with colourful villages, unique heritage and culture, and a dramatic coastline. Make sure you try some of the local delicacies including cheese, seafood, homemade breads and lamb.
5. Lake District, England
You really can't beat the Lakes for fabulous backdrops and fun activities. Swing from the treetops in Windermere, go horseback riding on the beach, check out Beatrix Potter's house in Ambleside and hire out a boat in Coniston. Don't forget to cosy up in one of the countryside pubs and try some Cumberland Sausage, Grasmere Gingerbread and Kendal Mint Cake. Perhaps not all at once though!
So there you have the 5 best hotspots in the UK for loved-up couples. Escape the hustle and bustle of city life for tranquil surroundings, or swap one cosmopolitan area for another and put the spark back in your relationship.
Author by line: Oliver Harding has written numerous articles on behalf for www.thebestdiscountcodes.com. Oliver provides useful insights for entrepreneurs, home owners and consumers. The Best Discount Codes contain the best voucher codes on the web, saving you money on the things you love the most.