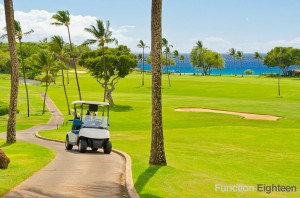 For many, the perfect holiday doesn't include relaxing on the sand, unless it's the sandy bunkers of the golf course. Golf holidays have fast become a growing trend as many enthusiasts of this sport increasingly choose to experience travel overseas to enjoy the sport. Planning and organising a golfing holiday can require a little more consideration than a normal holiday. To help, we have put together this useful guide to planning your golf trip this summer…
1. Location
With over 32,000 golf courses worldwide, the choices are huge. Read reviews and get to know as much as possible about the course before you book. If you are only going for the golf, then you might not be too interested in what else is on offer in the vicinity, but if you include golf as part of a sightseeing holiday, then ensure there is a good mix of things to do and see in the local area.
www.yourgolftravel.com recently put together a list of the top 10 golf holiday locations, with Portugal topping the list followed by Myrtle Beach & Arizona in the USA. The Costa del Sol and Scotland also made it on to the definitive list.
2. The course
Find out about the features and characteristics of the golf course, such as number of holes, terrain, difficulty, whether it has golf carts and how busy it gets. If your accommodation is on site, then you might get the first pick of tee times.
3. Rules and regulations
Different courses set rules and regulations, with some being quite formal and others more relaxed. This will have a bearing on dress code, for instance, and whether you need to provide a handicap certificate.
4. Climate
when you go and what the weather will be like are crucial considerations. Blistering heat and driving wind or rain can cause ruin your golf trip if you are not prepared. Choose a location and time of year when the climate is favourable for spending all your time on the golf course. Sunglasses, a hat and a raincoat are essentials for any golfing holiday.
5. What to pack
if you take your own golf clubs, then your airline carrier may charge you for this so check online before you book. To bring down the overall cost of the holiday, consider hiring clubs at the resort instead. When packing your clubs, be sure to take extra care to ensure they arrive in one piece.
Remember to pack as light as possible when it comes to your golf trip. For warmer climates, choose lightweight golf shorts and breathable polo shirts, instead of heavy trousers and shirts, for instance. And finally, be sure to pack a waterproof just in case the UK weather follows you overseas.
6. Insurance
Ensure your holiday insurance covers you and your golfing equipment. If your golf clubs are your pride and joy, we recommend taking out a specific golf insurance policy, which differs from the standard travel insurance. Read more about golf travel insurance online at http://www.moneysupermarket.com/travel-insurance/golf/