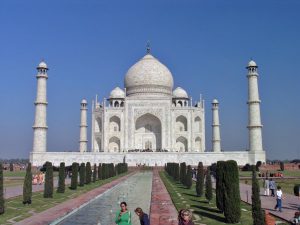 India is one of the most visited travel destinations in Asia for its rich culture, diverse landscapes, exotic cities and endless number of archeological sites. Being the seventh largest country in the world, India has more than 1 billion inhabitants, divided into over 2000 ethnic groups. If you are looking to visit India and have best out of your trip, you should not miss exploring the follow 7 top places:
Agra
Agra is surely the most visited city in India as it is home to one of the most remarkable and iconic attractions in the world, the Taj Mahal. The magnificent Taj Mahal is regarded as an eternal symbol of Love. It is entirely made of marble. The Mughal Emperor Shah Jahan made this in memory of this most beloved wife Mumtaz. Beside Taj Mahal, Agra's other top attractions include Fatehpur Sikri, Mehtab Bagh, Jama Masjid, Tomb of Akbar and Agra Fort.
Kashmir
Any holiday to India would be incomplete if you fail to visit Kashmir, the land of wonderful landscapes. It is sometimes referred as a paradise on earth. Its gushing waterfalls, snow clad mountain peaks, beautiful lush green valleys and Alpine villages make it a must-visit travel destination for nature lovers.
Goa
Although Goa is the smallest state in India, it has plenty to offer its visitors. It is mainly known for its coconut palms, stunning beaches and wonderful sunset views. Goa is surely among one of the top places in India to taste a wide range of Indian foods. You can expect to take part in endless number of beach activities including beach handball, beach volleyball, surfing, beach polo, diving and so on.
Jaipur
Jaipur is known as the "Pink City" and has a rich cultural heritage as well as an endless number of archeological sites. The renowned "Hawa Mahal", known as the "Palace of Winds", was designed as the Crown of Lord Krishna. This is surely one of the most beautiful architectural structures you will ever see. The other top Jaipur attractions include Amber Fort and Palace, Galta Monkey Temple, City Palace, Nahargarh Fort and Jaigarh Fort.
Kerala
Known for its enchanting backwaters, a holiday in Kerala would certainly be a memorable experience. The hilly stations and breathtaking waterfalls too make it a sure-stop in any tour to India.
Darjeeling
Prominently known as the Queen of Hills, Darjeeling boasts of wonderful hilly landscapes that every avid travel will love to behold. It is also known for its aromatic tea and tea gardens. Riding the Darjeeling Himalayan Railway is a must-do activity in any trip to Darjeeling.
Delhi
Delhi boasts of some of the most iconic structures in India including India Gate, Lotus Temple, Jama Masjid, Qutab Minar, Rashtrapati Bhavan, Gandhi Smriti, Humayun's Tomb and many more. If you visit Delhi after exploring some other parts of the country, you will be able to find the contrast between the old and modern India.