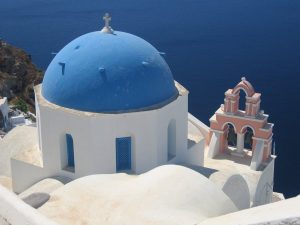 So is your anniversary coming up and you don't know what to do? Or you simply want to treat your loved one to a 'live-it-up' kind of holiday that you'll remember forever, irrespective of anniversaries, Valentines Day and all that? Then look no further.
With its idyllic beaches, luxurious lodgings and a delectable cuisine Greece can offer you the romantic getaway of a lifetime. Here are five tips to help you make the most of it.
Book a tour to visit a few sites or museums.
One simply cannot go to Greece without visiting some of the sites such as the Delphi Theatre or the Acropolis and Parthenon in Athens, even if museums are not usually your thing or you usually don't find them 'romantic' enough. Greece is literally a living museum graced with historical ruins round every corner, which is what makes it an amorous location in itself.
Charter a boat
Away from the mainland and all the museums, byzantine churches and the rest of the picturesque countryside, Greece is charmingly surrounded by a great number of beautiful islands situated just off its coast. Chartering a boat to spend a few days on one, is both inexpensive and an experience in itself. Most of these islands such as Corfu or Crete can also be reached by seaplane, which makes it easier to hop between these islands.
Book a luxurious accommodation.
Being one of the most popular holiday destinations it comes to no surprise that you can find every type of accommodation in Greece. Want to impress your better half? Then make sure you book a villa, such as this exquisite one in Mykonos where you can watch the sunrise, take a short walk to the beach and have all the peace and quiet to relax and bask in the sun.
Climb mount Olympus or mount Lycabettus.
Going for a little adventure when you're with your loved one and having such a great time is never a bad idea. Why not try and get up early to climb up mount Olympus or the mount overlooking the city of Athens, Lycabettus. Olympus will take up most of your day to climb up. This depending of course, on how fit you both are, although a thoroughly worthwhile experience. Lycabettus can also offer a great climb and the view of the city beneath your feet is simply breathtaking.
Visit the market
Last but not least, make sure you reserve your Sunday to visit the Monastiraki Flea market. From curios to paintings, trinkets, and traditional delicacies, the place is buzzing with activity and you're sure to find something to take home with you to help you reminisce in the days to come.