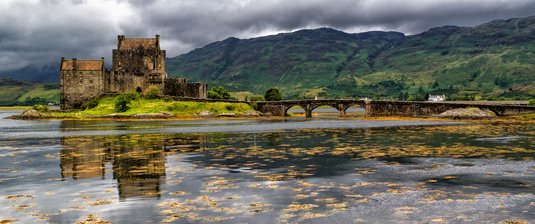 Over the misty mountains of a Scottish morning, lochs stretch over the horizon. Deer amble and graze across the bracken and moss, while Nessie lurks somewhere in the deep dark belly of Loch Ness. It's the Highlands – and it's bursting with grandeur and mystery.
Ask a non-native to think of Scotland and they'll probably conjure up the image above. People are less interested in the cosmopolitan warmth of Edinburgh, the throbbing nightlife of Glasgow or the creative juggernaut of Dundee. They want the mysterious landscapes they saw in Brave, not the squalor they saw in Trainspotting.
And finding vast woodlands and lochs is easy. Scotland is still proud of its natural heritage, and maintains swathes of land that remain untouched by motorways or golf courses.
But if you want to revel in the most beautiful parts of the Highlands, where should you go?
A hunt for Nessie
Never underestimate the allusive allure of a mythical beast to attract millions of tourists every year to a stretch of water. Since the middle ages, people have made pilgrimages to try to uncover the mysterious monster for themselves.
Now those pilgrims are tourists, armed with a Loch Ness map and radars, and enjoying cruises across this vast expanse of water. These cruises are a veritable highlight of any trip to the loch, allowing you time to stare into the water to catch a glimpse of Nessie, or look out at the stately homes and peaceful countryside surrounding the loch.
When you're feeling a bit peckish after your hunt, why not hit some of the finest restaurants the area has to offer? Plenty of eateries offer fishy flavourings to whet your appetite after a long day.
There's plenty more around the Loch – so get your hunting gear on!
The finest hike
Ben Nevis is the highest mountain in the United Kingdom – so you can imagine the view from its peak. Hiking up this vast mountain to reach the summit will give you an undeniable sense of achievement, as you stare out over a seemingly endless stretch of green.
Atop the summit sits an observatory and the remnants of an old building. But travelling up Ben Nevis is about the journey, not the destination.
A battle to remember
The Battle of Culloden was the vicious decider in the religious civil war that ravaged Britain in the 1700s. The Jacobites fought loyalist troops tooth and claw.
Today, the location is far more peaceful, providing tourists with a visitor centre and a major effort to preserve the location as a memorial to this momentous point in British history.
No matter what side of history you're on, this location is the perfect spot to reflect on the enduring nature of the Scottish Highlands.