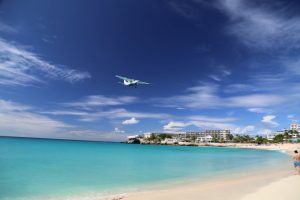 We all want to go on vacation. Whether it's to a far away and distant land, or somewhere familiar and close to home, the urge to getaway is always there. But trying to save for a trip can be hard; between regular and unexpected expenses, trying to save enough money for a trip can be frustrating. Because of this, JustFly reviews our top tricks on how to save the right way!
Choose your destination and accommodations
First things first, put a pin on the map! Once you've decided where your dream vacation or trip would like to be, planning the rest quickly becomes more manageable. Whether you're looking to stay local or if your sights are set abroad, understanding how much your plane ticket will cost is a huge factor when trying to organize your time, resources, and most importantly, your money.
But getting a rough estimate on flight prices can be difficult; with cookies tracking your search history, and dates that are too far away for airlines to gauge supply and demand for its travellers, JustFly suggests taking the initial price you see, and allowing for a 7% fluctuation in price, whether it be more expensive, or cheaper. This way, you're prepared for either outcome!
Take a real look at your finances
Sitting down and going over your finances is the first step in successfully executing a savings plan that will actually work. Filtering through your mandatory expenses and those that are luxuries is the first crucial step in understanding your spending habits and seeing where you can cut expenses. Think you really need that 3rd double-mocha non-fat skim milk latte from the coffee shop downstairs? Think again. Getting thrifty with your spending habits will drastically reduce your monthly spending and inadvertently make you cry once you realize how quickly all those trips to McDonald's for their glorious McNuggets add up.
Starting a separate account dedicated to your travel expenses is another way to start building your savings account. Whether the savings account is a physical one you keep at home (and fill it with loose change you find in the back of your sofa), or manage it online, keeping a separate no-withdrawal account is one of the best ways to keep your savings on track.
Sign up for freebies
Believe it or not, there are tons of ways for you to score freebies for you trip with almost little to no work involved according to JustFly. A great way to get things into motion is by signing up for any and newsletters or promotional plans for the destinations you're dreaming of visiting. Signing up for these kinds of advertisements also means you're kept in the loop when destinations, flights, or excursions go on sale, meaning that you're saving big time!
Remember to use the tools that are made available to you; if you realize that a credit card is offering an absurd amount of free air miles upon signing up, do it, buy the ticket, then ditch the card (obviously after paying the balance due, no one likes that 19% interest rate). Look and research to see if the card gives you additional deals and discounts for car rentals, insurance, hotel and accommodations, and more! Travel credit cards are meant to provide their users with peace of mind when they're abroad.