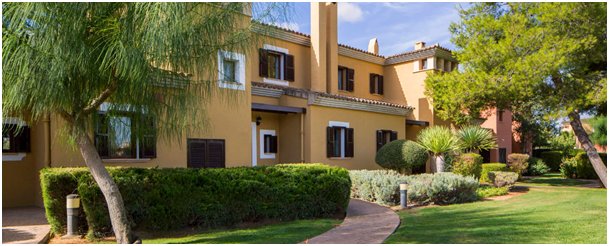 Mallorca remains at the top of the best destinations in the Mediterranean and with a stay in a luxury Hotel, you have everything you need for a dream holiday. Even better, when you rent directly from Marriott Vacation Club owners, you can save up to 30%. So, a great holiday, in a great hotel, in a great location, for a great price.
Marriot Vacation Club in Mallorca
When you choose Mallorca as your Marriott destination, your hotel will be the gorgeous Marriott Son Antem in Llucmajor, about twenty minutes' drive from Palma. Your accommodation is in elegantly furnished, well-appointed 2 or 3 bedroomed villas ideal for a family or group of friends. Son Antem is a luxury refuge, a true home from home, in a lush green area about 5kms from the sea.
If you don't want to leave your 5* resort, you find plenty to occupy your time every day. You can lounge for hours by two outdoor pools or if the weather is unkind, there's an indoor pool with hot tubs and Jacuzzi. The spa and wellness centre is one of the most beautiful in Europe, so pop in for a treatment after a day hitting a round on the superb golf course. You might want to beat your partner on the tennis court or organise a game of volleyball or basketball. Marriott Son Antem is perfect whether you want an active, energetic holiday or just want to chill and enjoy the excellent 5* service.
Mallorca
Mallorca is literally a Mediterranean postcard. It enjoys gorgeously sunny summers which means your days can be filled with lazy sunbathing sessions or adrenaline filled with high octane water sports. The island's history is colourful and fascinating and whether your interest is in the food culture, the traditional way of island life, or theme parks for thrills and spills, Mallorca doesn't disappoint. With glorious beaches 10 minutes away and the capital, Palma, 15 minutes away, the opportunities for fun are endless. If you want to watch birdlife or jump off a cliff into azure waters, Mallorca fulfills your heart's desire.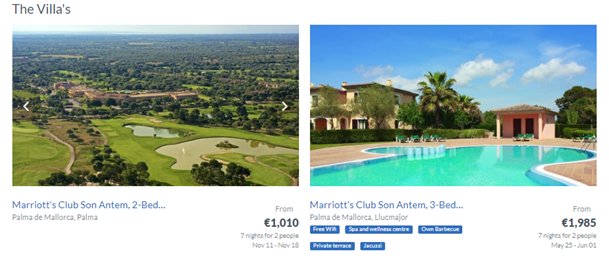 Other Destinations
If you have already sampled the delights of Mallorca and want to try somewhere different, Marriott Vacation Club offers fabulous hotels in destinations around the world. If you want the charms of the Caribbean, there's the Aruba Surf Club or if the exotic world of Asia calls you, Phuket should be on your luggage tag. If you want to stay closer to home and make the most of Spain, the Marriott Playa Andaluza at Estepona and the Marriott Marbella Beach Resort bring you the best of the Costa del Sol. You're guaranteed the holiday of a lifetime when you choose Marriott Vacation Club.