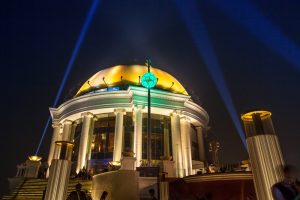 Caption: The Bangkok Ball is lit up on the roof of Tower Club at lebua during a test run for the New Year's Eve event.
WHAT: Marking the beginning of a new New Year's Eve tradition, Thailand will ring in 2014 with the first ever Bangkok Ball Drop at lebua. At precisely 10 seconds before midnight, the countdown to the New Year will start, and the ball will begin its 15-meter descent. When the ball reaches the bottom of its pole, an LED sign saying '2014' will light up.
The ball is located 64 stories high (877 feet/266 meters) on the rooftop of Tower Club at lebua (pronounced leh-boo-ah) hotel. It measures 2.1 meters (7 feet) wide and features 2,950 LED lights and 50 strobe lights, creating a rainbow of colors that will be visible for over 1.8 kilometers (1 mile).
The Bangkok Ball Drop at lebua was conceived by lebua Hotels & Resorts CEO Deepak Ohri as a gift to the people of Thailand.
WHEN: December 31, 2013
Ball Drop at 11.59pm (local Bangkok time)
WHERE: Tower Club at lebua (rooftop)
1055 Silom Road
Bangrak, Bangkok, Thailand, 10500