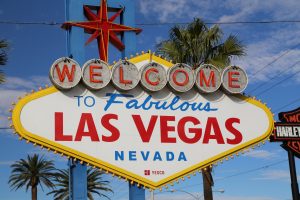 Perhaps at a normal airport one would be surprised to see slot machines greeting you as soon as you step off the plane, but this is McCarran Airport, the gateway to Las Vegas. For those who can't wait to get to the 'strip' this is a surprising convenience. But the real action is along Las Vegas Boulevard, several miles of some of the best entertainment, restaurants, and opulence in the entire country.
McCarran Airport is located right next to Las Vegas Boulevard – a short drive to all the main casinos in town. But before entering the Vegas Strip, first time visitors to town should stop at the "Fabulous Las Vegas Sign" for the obligatory selfie- an iconic sign that has been greeting visitors to town since 1959.
So with such a diversity of casinos which ones should you visit? The following casino properties with online slots for real money are among are favorites in town.
Caesars Palace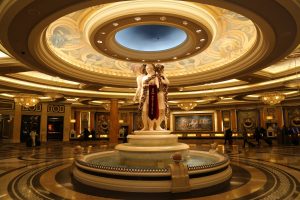 Think you have been to a mega casino before? Think again – one of the country's great casinos, this property features some nearly 4,000 rooms; shoppers take notice, over 600,000+ square feet of shops are onsite called The Forum Shops at Caesers. Internationally recognized brands such as Cartier and Chanel are housed in an opulent space reminiscent of some great Italian renaissance building.
And one of the other true highlights of Caesars Palace is the Garden of the Gods Pools Oasis, an exclusive space for those who want to see and be seen. Models and other beautiful people that perhaps should be models are often seen lounging around the seven gorgeous pools.
Like several other nearby casinos Caesers Palace has its own entertainment space. The Colosseum at Caesars hosts many big name acts and is truly an entertainment hub.
Mandalay Bay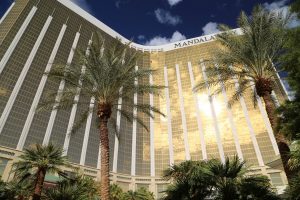 A super casino, the gleaming golden 'temple' offers a wide variety of gaming and experiences for visitors. One of our favorite activities is the Shark Reef Exhibit (be sure to check out the piranha feeding time!). The main tank is one of the largest in the country and visitors can watch a number of endangered marine animals swim here. Time to party? One of the most exciting nightclubs in town is House of Blues. We've partied here before, most of the night like one tends to do once you enter the hallowed doors. Pulsate with the music, help yourself to cologne in the bathroom and suck down colored oxygen.
And when you wake up mid day or early afternoon, catch a dip outdoors at the wave pool perhaps opting to sunbath European style in the topless optional part of the pool.
The Venetian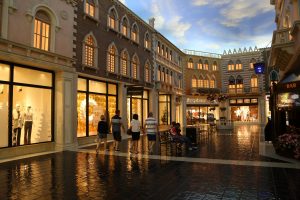 This massive casino with its broadly recognized name recognition and grandiose interior space should be on the bucket list of any first time visitor to Vegas. Walking inside one quickly realizes this is not a normal casino – dare we say gambling is not the primary attraction here! Family friendly with numerous attractions to appeal to all ages, the primary highlight for most visitors are the series of canals complete with gondolas and strip shirted gondoliers ferrying passengers slowly through the dimly lit canals under twilight skies while Botticelli belts out inspirational Italian arias.
And plenty of fine shops line the canals culminating in the highlight, St. Mark's Square with restaurants lining the cobblestone streets.
With so many options, visits to Las Vegas can certainly be overwhelming especially for first timers. But with a bit of planning and focusing on some of the highlights to start with, such as these casinos, regardless of how long you spend in town, we guarantee your trip to the entertainment capital of the country will be a memorable one!