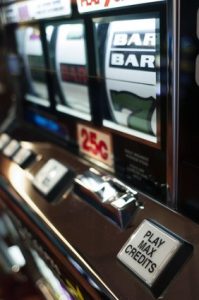 Slots, puggies, fruit machines, poker machines and one-armed bandits – slot machines go by many names in many different countries around the world. While you may think that slot machines are fairly similar to look at, there are some pretty impressive regional variations you may come across during your travels. Some places, like America, keep slot machines under very tight regulation, whereas their neighbouring Canada only has the most minimal of involvement in the gambling industry. Here are some of the regional variations you will find in the world of slot machines as you make your way across the globe.
As the number one country with the most slot machines in the world, let's start with America. The US gambling industry is so tightly regulated that many states have their own gaming control boards which control the possession and use of slots in the area. New Jersey, for example, only allows slot machines to be used in hotel casinos within Atlantic City, whereas in Wisconsin bars are allowed to run up to a maximum of five slot machines. Nevada, unsurprisingly, is pretty lax on slot machine law. Despite heavy regulation elsewhere, Native American casinos get to follow their own set of rules as long as they sign a pact with the local government in the state they're in. If American slot machine law seems complicated, it's because it is.
By stark contrast, slot machine law in Canada is incredibly lax. While there are government bodies overseeing their use, they exist mostly as a formality. As long as part of the revenue generated by the machines goes to the government in tax, the government is fairly happy. By and large it's all just fair play.
Pokies, or poker machines, as they're known in Australia, are regulated by state governments – similar to the way that they're overseen in America. However, unlike American machines, most Australian slot machines feature video displays instead of physical reels. As a result, if you're a fan of the slot machine bonus game, Australia may be your country of choice. Another difference pokies have when compared to American slots is that they often feature multiway games. A multiway slot means that symbol appearing on a given up reel can be used in any line which crosses that reel. This can apply to just one reel or all five, depending on how you want to play. What this means as a player is that there are more ways to win more often; it also means that these machines are often more expensive than the simpler machines you would find elsewhere. Despite this, if you can find a multiway machine in a Queensland casino, it's probably worth a go – by state law, casino pokies must provide a return rate of at least 90 per cent.
This brings us to the UK – you may be wondering whether Britain is more like Canada or America when it comes to law & the myths and facts of the slot machines. In truth, the UK is much closer to America in this respect, and the number of slots a casino can have is very tightly controlled. In accordance with the Gambling Act 2005, large casinos can have a maximum of 150 machines between Categories B to D (covering seven of the eight Categories), where the number of slots is subject to a machine to table ratio of 5:1. In case you're wondering how many Category A machines you're allowed, there are no lawful Category A slot machines in the UK.
Unfortunately all of these countries have fairly similar machines from a gameplay perspective. If you're looking for something entirely unique, Japan is the way to go. Sadly, these machines require a little introduction and if you don't speak Japanese you are going to struggle. There are two types of machines worth being aware of – pachinko and pachisuro. Pachinko is a kind of slot machine crossed with a pinball machine, where you play using ball bearings and a pneumatic tube, which when done skilfully can activate a slot-based minigame. A pachisuro machine, on the other hand, is a cross between a slot machine and a videogame. In these, you can play through different games, playing the slots to help win battles. Some of these are even fully licensed by huge companies like Konami's new Silent Hill pachisuro, which ties into the videogame universes and official canon. Unfortunately, because of this pachisuro machines are less random and thus technically "beatable". This in turn means that because of the way the games work, if you're a skilled player you can reap easy winnings by poaching machines which unskilled players have just filled. This is known as being a "hyena" in Japanese game centres.
Because of the way everything has become interconnected in recent years, many slot machines around the world have been produced in fairly similar ways and styles. There are progressive slots in both the US and the UK, and you can play classic slots anywhere from your mobile phone to the deck of a luxury cruise ship. However, if you want to try your hand at something a little different, with just a little leg work you'll be playing something unique in no time at all.