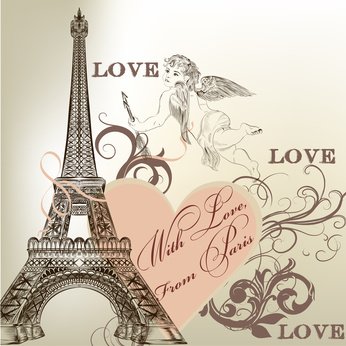 Paris is one of the most beautiful and romantic cities in the world. The streets and monuments of this magical French city ooze romance. From beautiful gardens and poetic parks to world class restaurants and breathtaking panoramas, every couple enjoys the mesmerising beauty of this city.
Needless to say, the time around Valentine's Day is most popular for most couples, though you can visit this city throughout the year and enjoy the time of your life with your beloved partner. With a lot of romantic attractions in Paris, it may seem overwhelming to some people, so we have given a brief overview of the top 5 most romantic things to do in Paris.
River Seine Cruise
When you're in Paris, everything seems a lot more beautiful under a moonlit sky. Enjoying a dinner cruise on the River Seine is one of the most romantic things to do in Paris. The well-lit bridges and monuments of Paris seem like a romantic fairytale when viewed from the floating restaurant on the Seine's cool waters. Dinner cruises on this river offer a lot of different choices, including French delicacies, desserts and wines.
Moulin Rouge Show
When you're in Paris, you cannot afford to miss the Moulin Rouge show as it is one of the most impressive and dramatic shows in the world. There's no other city more fitting than Paris to enjoy this spectacle with your partner. Although it can be expensive, it will be worth every penny. If you're on a tight budget, you can choose to see the show without dinner. The celebrity showgirls of the Moulin Rouge show will take your heart away.
French Wine Tasting
Paris is also known for its champagne and wine. This city has a wide variety of options available for you and Parisian wines are generally of a very high quality and vintage. Whether you're a French wine virgin or connoisseur, you will enjoy this activity. If you want more fun and enjoyment with your partner, combine this with chocolate tasting.
Romantic Horse and Carriage Ride
A romantic horse and carriage ride through the streets of Paris during the evening can be one of the most romantic moments when you're in Paris. It will also give you a chance to see the city on a royal carriage and the driver will act as a guide, providing you with detailed information about all the places.
Eiffel Tower Dinner
Every person visiting Paris wants to climb atop this iconic monument, though, when you're with your lover, reaching the top may not be enough. For the ultimate experience you can also dine in the Eiffel Tower. In order to avoid the long queues, you should book a tour with a professional tour operator.
Whether you want a glimpse of the intimate bistros, isolated gardens or dreamy architecture, you will definitely have the time of your life in Paris. Every place in the French capital will help you understand why this city is called the City of Love. There are also many cheap hotels in Paris where you can enjoy an affordable stay with your lover.