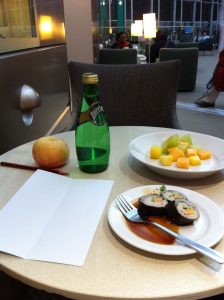 Flying around the holidays is always crazy. Today was especially so! Was at the gate getting ready to board when a young gentleman runs up and announces to the agent that he does not have his passport. Fortunately he had some paper with some special government stamps and a Hong Kong ID so they let him board.
While waiting in another line earlier I met a couple who said they had just lifted off, mere feet off of the runway when a light went on in the cabin and the plane automatically locked brakes just above the runway and then they immediately landed without circling around to come back to the runway.
Finally I reached Hong Kong and fortunately my club pass to one of the premium lounges still had a few weeks before expiring – the greatest thing after a long flight is a hot shower (or massage)! Taking full advantage of the food, drink and shower the lounge offered, I spent two hours here before jumping on the next flight to Bangkok.