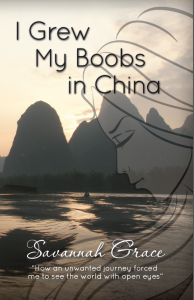 What were you doing at age 21? If you were author Savannah Grace, you were writing your first book – a well written, engaging tale that takes readers on the very first few months of her family's trip abroad. Kicking and screaming at the tender age of 14, she is dragged out the door of the world as she knows it. This trip is her first time out of the country (Canada), at that age she has a strong dislike for reading books, has no interest in leaving the comforts of her home – yet after merely 2 months of being on the road, she is already a changed person, absorbed in an epic novel as well as imbued with a new perspective on life and the world.
If this book doesn't get you off your couch and out into the world, nothing will. The book is an intriguing read about life on the road – from the dramatic shock of uprooting a family, to a variety of adventures the family finds themselves in the middle of to her older brother with his own travel rules: ("Don't get Dead", "No Taxis") – talk about getting thrown into the fray!
The trip is about experiential travel – from eating exotic food in China, exploring the bathroom culture of rural regions, to breaking down in the middle of the Gobi desert in Mongolia (the family actually catches a camel and hooks it up to their broken van for a bit!). Since this book only covers the start of their trip – which ultimately becomes four years, we hope there are more than a few books on the way from this talented young author.
With Savannah's "fresh" perspective on International traveling, her unique sense of humor, family dynamics, with a plethora of adventure thrown in, Sihpromatum is a road trip for the senses. This is thoroughly an enjoyable read from start to finish!
Also view our interview with Savannah Grace here