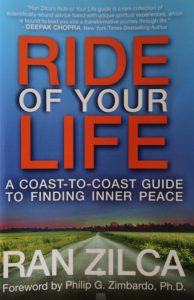 Author Ran Zilca sets out on a journey, not a long one but a journey nonetheless. A journey doesn't need to involve months or years but it should involve elements of being able to revitalize oneself and see things from a new perspective.
This book is both a travel memoir based on the experiences and people that Ran meets as he makes his way from New York to California solo on the back of a Yamaha V-Star 950. Remarkably Ran had never owned a motorcycle nor had a license to drive one – merely less than a year prior to starting this cross country journey. In addition it is also a secondary read – Ran collects interviews from people he meets along his journey – respected and leading experts in several fields, namely authors and psychology researches. These interviews and their notes of wisdom are published among this travel memoir.
Ran soon discovers that his motorcycle journey will be more rewarding if he doesn't stick to a set plan. Perhaps his decision to just "get lost" is analogous to risks people take in real life – consciously placing oneself off the tried and true path, out of your comfort zone – letting experiences (and ones you are not always comfortable with) broaden your perspective and help guide you through life.
This story is one of Ran's personal growth on the road and a road map of sorts towards finding and experiencing inner peace.
To purchase this book