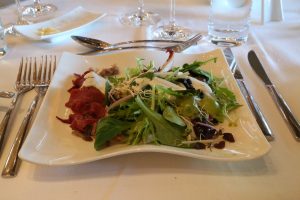 There are many good restaurants in Chamonix but most of the sit down cafes can be quite expensive. The restaurants in Chamonix do not only serve French food. I saw restaurants serving Chinese, Indian, and Greek dishes. A good source of restaurants in Chamonix with descriptions is www.chamonix.net/english/restaurants/chamonix_restaurants.htm Some of the places to eat are listed below.
Le Fer a Cheval is located at 118 Rue Whymper, and is known for its fondue. Prices range from 9 to 12 euros. PHONE NUMBER 04 50 53 13 22.
Boule de Neige has a set menu for 13 euros. Near this restaurant off of the Place Balmat, are many small restaurants. For reference, this area is near the Bon Marche.
Bartavelle and Poco Loco are good pizza places. They are also near the Bon Marche. Bartavel's also has a regular menu with the items priced between 7 to 15 euros.
For local food try the Le Sanjon located at 5 Ave Ravanel le Rouge. This restaurant is a nice looking chalet. There local food is very good. Most prices are around 16 euros. For more information including hours, please call PHONE NUMBER 04 50 53 56 44.
Le Chaudron is located at 79 Rue des Moulins. The prices range from 15 to 30 euros. The main chef cooks in front of you. There is an excellent wine selection. PHONE NUMBER 04 50 53 40 34. They serve French food. They are open daily from 7pm until midnight. They are closed June, October, and November. Reservations are recommended.
If you don't want to go to a sit down restaurant there are several other options for you. Self catering places and supermarkets are listed below.
Bon Marche (Supermarche – supermarket) is located around the corner from the Hostellerie du Lion d'Or on the main street. Their prices were fairly reasonable, although surprisingly they did not have the freshest fruit.
Payot Pertin supermarket is located at 117 Rue Joseph Vallot. They are open Monday through Saturday in the summer and daily in the winter.
Boulangerie is located at 31 Place de l'Eglise and is open daily.
Another self service restaurant is the Le Fond de Gires which is located at 350 Ave du bois du Bouchet. It is open for lunch daily all year round except January from noon until 2pm. They are also open for dinner but only in July and August. Their dinner times are from 7pm until 9pm. Phone 04 50 55 85 76.
Besides the supermarket listed above a good place to buy bread and pastries is the Le Croissant d'Or which is located at 294 Rue du Docteur Paccard, close by to the Hostellerie du Lion d'Or.