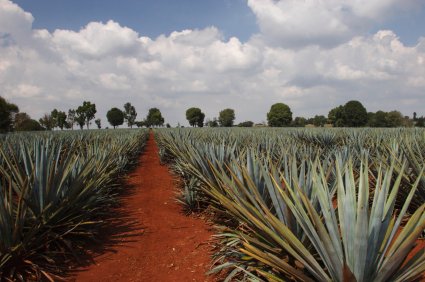 This is a typical Mexican town except for one distinction; it is the home to the main tequila factory in Mexico, and founding city of this drink. What would a trip to Guadalajara be without a side trip to the town of Tequila. What would a trip back to your hometown be without a bottle of the "real stuff" to show your friends and family.
Tours through the liquor processing facilities can be arranged once you get in this town, or through other tour agencies.
The Tequila Sauza Bottling Plant is located at Vallarta 3273 on the western edge of the town. Tours are FREE and FREE samples are also given. The tours are given Monday through Friday. Tour buses leave daily from Guadalajara. It is several hours from Guadalajara. As you approach this town you will see fields and fields of cultivated blue agave plants from which they use to make the tequila.
Tequila lies at the foot of an almost 10,000 foot volcano named Volcan de Tequila. You will find in many stores scattered throughout Guadalajara, Tlaquepaque, and other cities in Mexico, the famous drink from this town.