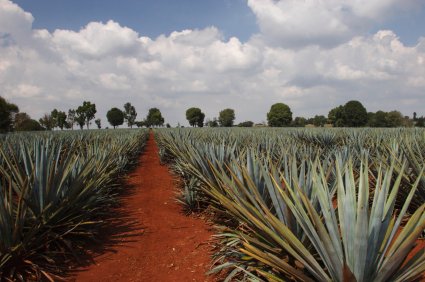 This is a typical Mexican town except for one distinction; it is the home to the primary tequila factory in Mexico, and is the namesake city of this famous drink. What would a trip to Guadalajara be without a side trip to the town of Tequila? What would a trip back to your hometown be without a bottle of the "real stuff" to impress friends and family? Especially while playing relevant songs like Tequila Sunrise by the Eagles or Jose Cuervo by Shelly West.
Tequila lies at the foot of an almost 10,000 foot volcano named Volcan de Tequila. As expected Tequila is widely sold in numerous stores throughout Guadalajara, Tlaquepaque, and other cities in Mexico. Driving time takes a little over an hour from the center of Guadalajara depending on traffic.
Not to be missed events are various distillery tours through including of La Rojeña, the oldest distillery in Latin America and a journey on the Jose Cuervo Express Train. Still not tequila-ed out? Visit the National Tequila Museum.
Tequila Sauza Bottling Plant is located at Vallarta 3273 on the western edge of the town. Tours are FREE and FREE samples are also given. The tours are given Monday through Friday. Tour buses leave daily from Guadalajara. It is several hours from Guadalajara. As you approach this town you will see fields and fields of cultivated blue agave plants from which they use to make the tequila.