In every inspiring natural creation there is a realism that speaks to you. In every moment on a mountain you find it more and more. You discover yourself in ways not possible through other means. This stays with you and guides you for the rest of your life. May everyone have this chance at least once. ~ Dave
Remember, the key to getting high is not "the herb", but rather time spent acclimatizing ~ Dave

Huaraz (population 100,000) is the epicenter of climbing in the Peruvian Andes. This mountaineering city is the heart and soul of the Cordillera Blanca, or white mountain range, the greatest concentration of high peaks in all of the Andes. The Cordillera Negro or black mountain range sits on the opposite side from the Cordillera Blanca. This mountain range gets its name because it is much lower then the Cordillera Blanca and typically is not covered in snow.
Jagged glacier covered mountains tower into the sky reaching heights of well over 6,000 meters. People come from all over the world to climb and trek in these mountains. On a smaller scale, the Cordillera Blanca resembles the highest mountains in the world which of course are the Himalayas.
The Cordillera Huayhuash is also a very scenic somewhat smaller and less visited mountain range located about 3 hours from Huaraz. Its peaks are extremely jagged and beautiful and one should take 8 to 10 days for trekking in this area *after* you have acclimated to the altitude. Parts of the Cordillera Huayhuash were featured in the book and movie, Touching the Void.
Huaraz like Katmandu in Nepal is a great stop for climbers beginning or ending their trips. It is the main town that you will go through if you are planning any climbs or treks in the Cordillera Blanca region. Huaraz is an excellent place to meet fellow climbers whether its at the hostels or at the number of climbing agencies scattered throughout town. It is not a huge town and most everything is within walking distance of each other. Restaurants and hotels in Huaraz are typically very affordable.
The town and nearby valley suffered a terrible earthquake in May of 1970 and most of Huaraz was destroyed. The northern part of town suffered terribly as a huge chunk of ice and snow broke off from nearby mountains and created a huge mud avalanche which took out most of this part of town. There is one street that has been preserved from before the earthquake – and its worth checking out to see the difference in the older construction versus the newer. The main Cathedral in the central square is still currently under construction. It has been almost 40 years since the earthquake and this cathedral is still not finished!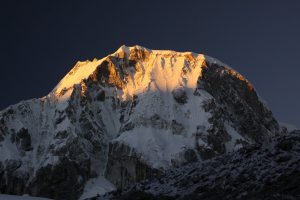 It is highly recommended to spend at least 3-4 days in and around Huaraz acclimatizing to the high elevation. If you are going to be climbing up to 6000 meters you will need additional days for acclimatization. Everyone reacts to altitude differently but if we are going to climb to over 20,000 feet we need 10-12 days acclimatization – hiking high and also sleeping high (this is based on lots of experience at this elevation). Take it easy the first few days.
The center of Huaraz is about 3100 meters (approximately 10,170 feet) and as a result some people find themselves short of breath and with a slight headache or nausea when first arriving in Huaraz. We cannot stress enough the benefits of taking ones time to acclimatize and let your body adjust to the high elevation. We tend to get altitude sickness extremely quickly. We have used Soroche Pills before and have noticed some definite improvement. Try going to 5300 meters on day 5 – that's not something
we generally can do but with the Soroche pills we had no altitude problems other than shortness of breath. Supposedly these pills contain mostly just caffeine and aspirin. They are made in La Paz Bolivia and can be purchased at most any Pharmacy in Huaraz. For reference when you are at a pharmacy, these pills may also be called "Sorochin". Visit: www.sorojchipills.com
The best climbing months are June and July – hence they are the most crowded months in the mountains and in Huaraz. However there are a lot of mountains and aside from the main short trek routes it never gets that bad! Clear days and cold nights are the norm during these months. May through September tend to be dry months. November to April tend to be the wet months in the mountains.
This article is the culmination of multiple trips to Huaraz and covers day trips, , longer treks and other outdoor activities as well as information about finding hotels, restaurants and guiding companies in Huaraz. Please read on …