Donner Lake can be seen as you descend east off of Donner Summit. The summit is just over 7,200 feet. Donner Lake is three miles west of Truckee. The lake is three miles long and 3/4 of a mile wide. This lake is known as the "Gem of the Sierras" and is 600 feet in its deepest section. There is a public boat launching ramp at the west end of the lake with a large parking area nearby.
Fishing is supposed to be good to excellent. The railroad tracks that are above the lake on the side of the mountains were originally constructed during the winter of 1867-68.A great bike ride is from the top of the old Highway near Donner Lake.
Have someone give you a ride in a car up to the old summit, and then bike down. This road is steep and a bit narrow, so watch for cars. You could, of course, bike up this road to the summit, but it would take you quite some time.

Ehrman Mansion is worth seeing in Tahoma on Tahoe's west shore. The Mansion is located in Sugar Pine Point State Park on Highway 89 one mile south of Tahoma. The Ehrman family were prominent San Franciscan's and part owners of Wells Fargo Bank. This home was built just after the turn of the century. Hourly tours are offered daily from July through Labor Day. They are open daily during these months from 11:00am to 4:00pm daily. Park entrance fee is $5 per vehicle. For more information call PHONE NUMBER (916) 525-7982.

Emigrant Trail Museum is located in just west of Truckee at Donner Memorial State Park. This museum is just off the great I-80 at 12593 Donner Pass Road. The museum commemorates those early survivors and those who died trying to cross Donner Pass. A 25 minute video of the Donner Party is also shown. There is a 22 foot statue of the Donner Party outside of the museum, which marks the depth of the snow that trapped them in the winter of 1846. The museum is open from 10:00am until 4:00pm. The day use fee for the park is $5. The museum entrance fee is $2. For more information call PHONE NUMBER (916) 582-7892.

Gatekeepers Cabin, Tahoe City was hand carved and rebuilt in 1981 after the original burned to the ground. This cabin exhibits artifacts from the early day human activities at Lake Tahoe. The first cabin was built in 1910 and it housed gatekeepers who were responsible for regulating The Lake's water levels after the Truckee River was dammed. Exhibits today include local rocks and fossils, early skiing gear, logging and RR equipment, vintage newspapers, and other Tahoe memorabilia. Artifacts are also displayed from the Washoe and Paiute tribes. These include baskets, clothing, and tools. In the research library there are photographs, oral history recordings, and videotapes. In the museum's new annex there are over 100 Native American dolls, and over 800 Native American baskets.
Picnics can be enjoyed on the three acres of land outside of the cabin. The cabin is located at William B. Layton Park at 130 West Lake Blvd, just behind "Fanny Bridge". They are open daily during the summer from 11:00am to 5:00pm. Donations are accepted. For more information call PHONE NUMBER (916) 583-1762.

Historic Truckee is well preserved. Visitors can see the town's first building, a log cabin built in 1863. There is also the 1885 Truckee Hotel and the Old Jail which was built in 1875 and is now the town's museum. The Chamber of Commerce is located at 12036 Donner Pass Road and provides maps for a self guided walking tour of downtown. On the outskirts of town a balancing rock is displayed. This is a large rock that balances on a flat rock. It is now surrounded by metal protection. In the Fall it is not uncommon for Truckee to be at 10 or 15 degrees in the early morning hours before sunrise and then in the afternoon, reach 90 degrees. In certain months of the year usually in early summer, Truckee often has the nations low temperature day after day after day. For more information about Truckee call PHONE NUMBER (916) 587-2757 or 1-800-548-8388.
Some of the more interesting sights in downtown Truckee are the following:
General
The White House was owned by one of the of early lumber mill owners.
The Loading Dock was built in 1891 as a freight depot for Southern Pacific Railroad.
The Truckee Jail is one of the west's oldest town jails. It was built in 1875 and was active until 1964.
The 601 is a plaque in front of Cabona's on Commercial Row that commemorates "The 601" a vigilante committee of citizens.
The Capitol was built in 1870 by William Hurd. It last served as a bar and is the second oldest building in town.
The IOOF Hall was constructed by local Odd Fellows in 1871.
The Stone Garage was built in 1907 and originally served as a stage coach carriage house and blacksmith shop.
Gray's Log Cabin was built in 1863 by Joseph Gray. This is Truckee's oldest building.
Truckee Hotel is a 116 year old stage shop/hotel was originally named the American House. See the Accommodations section for more information.
George Schaffer's House was built as a boarding house for the first lumber company on the Truckee River.
Chinese Herb Shop was built in 1878 and is a reminder of the over 2000 Chinese who used to live in the Tahoe Basin.
Richardson House was built in 1871 by Warren Richardson who owned Richardson Bros. Lumber Mill. The house has been authentically refurbished.
Meeks Bay is located between Homewood and D.L. Bliss State Park on Tahoe's west shore. This is one of our favorite beaches on the entire Lake. We've spent many an hour metal detecting this beach for coins and rings.
The sand is very nice here, except for those areas that the Canadian Geese have been laying around in. There is a small marina and a boat launching ramp here and a tiny cafe serving up food for hungry beach goers. Entrance fee/parking is $10. For more information call (916) 525-7242.

National Auto Museum is is located at 10 Lake Street in Reno town. We include mention of this museum this because we have heard so much about this museum from my car buff friends. This museum houses more then 200 rare and classic cars from steam powered carriages to Indy 500 race cars. Desotos, Packards, Studebakers, and old Cadillac's are some of the cars exhibited. There are also some really ancient cars like the 1914 Lippard Stewart and the 1910 White.
One of Elvis Presley's Cadillac's is displayed. John Wayne's former Corvette is here. The 1949 Mercury from "Rebel Without a Cause" is displayed in the museum. Facilities include a cafe and a gift shop. The museum is open daily from 9:30am until 5:30pm. For more information call (702) 333-9300 or visit: www.automuseum.org and or visit our Reno Article here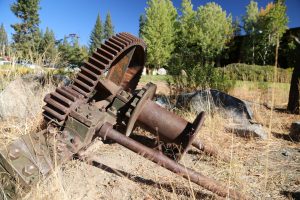 Ponderosa Ranch was located on North Shore at Highway 28 and Ponderosa Ranch Road. This ranch wasw where the TV series Bonanza was filmed. The ranch had a western flavor and exhibited pioneer and cowboy artifacts.
Hayrides were given, and gunfights were re-enacted. The main street was unpaved.
Note – as of late September 2004 this wonderful family oriented ranch closed its doors to the public forever.

Lake Tahoe Historical Society Museum is located at Highway 50 near Rufus Allen Blvd. This museum features relics and memorabilia from Lake Tahoe's history, Indian baskets, arrowheads, and a large Indian doll collection. Other displays include a model of the largest ship to ever sail Lake Tahoe, the S.S. Tahoe, photographs from the 1880's, and a 140 year old pipe organ. A video called "Lake Tahoe: 1915-1930" is shown and is a medley of films made in the area during that time period. The museum is open daily from 11:00am until 4:00pm from Memorial Day through October. It is open weekends from noon to 4:00pm the rest of the year. For more information call PHONE NUMBER (916) 541-5458.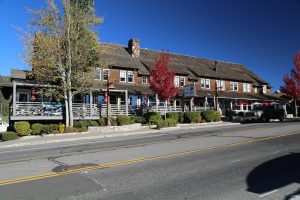 Tahoe City sits on the edge of Lake Tahoe on the its west shore. Heading east on the great I-80 take the Highway 89 exit, just before the town of Truckee. Traveling 14 miles on this road will take you to Tahoe City. Highway 89 is built right next to the Truckee river. A couple of miles before Tahoe City you will pass the turnoffs for first Squaw Valley and then Alpine Meadows. If you are traveling this highway in the summer months, you will be sure to see many rafters rafting the Truckee River, and you will probably end up driving behind a slow raft bus. See just below for more information about Truckee River Rafting.
When you first enter Tahoe City you will be faced with decision because the road turns into a "Y", you will either keep driving straight on Highway 89 towards north shore or veer to the right and head for west shore. If you head right you will cross "fanny bridge" aptly named for all the behinds that you see as you cross the bride. This bridge crosses the headwaters (the only outlet in The Lake) of Lake Tahoe and on one side of the bridge is a deep pool with many large fish swimming around. These fish are fed and they are smart enough to stay in the pool so they are here year after year.
When you first get out of your vehicle and smell the mountain air you will be impressed by the wonderful clarity and smells that can only be experienced in a high mountain environment. Tahoe City has a variety of small shops, clothing stores, antiques, and a few art galleries. Behind the shops is a golf course. There is also two malls which are mentioned in the Shopping section. Expect gas prices to be quite expensive in this town.

Tallac Historic Site near South Lake Tahoe, is located at Highway 89 at the Kiva Picnic Area. This sight contains three elegant 19th century summer estates. The estates are called the Pope, Baldwin, and Valhalla estates. The estates and a small museum featuring Washoe Indian Artifacts are open Memorial Day through October from 10:00am to 4:00pm daily. On weekends they are open from 11:00am to 3:00pm. Admission is FREE. For more information call PHONE NUMBER (916) 541-5227
Truckee River Rafting suffered a heavy setback during the drought years of the late 1980's and early 1990's. This was very sad to see happen. During the drought years we would drive by the river and see large rocks sticking out of the water where people once use to paddle rafts and kayaks. During the late 1970's the river was flowing well and we would always see young people rafting and enjoying themselves. In the summer, the Truckee river was and still is the center of activity for young scantily clad well-toned athletic people. If you are still "young" don't let yourself get "old" before rafting the Truckee River.
The rains returned in the mid nineties and now the river is once again the hub and center of activity for rafting. There are two main rafting companies for the Truckee River (see box below). Typically you can receive discounts if you start before 11am, but you need to make advance reservations for this. No advance reservations are required for the rafting trips. All trips are self-guided – there must be at least 2 persons per raft. However, you can use your own raft and this is free. If you are floating your own raft the best launch site is from the free parking lot on the south side of the Truckee River just off of Highway 89 about 1/2 mile from "fanny bridge" which is where the Truckee River leaves Lake Tahoe. There is also shoulder parking along the Truckee River in certain spots right next to Highway 89.
The absolute height of the river rafting season is from the July 4th weekend through mid August and during the weekends within this time period it is an adrenaline fueled experience. Typical trips from Tahoe City to where you pull the rafts at out River Ranch Lodge take between 2 and 3 hours. If there are many people, groups tend to form – sometimes you will see people standing on both sides of the rivers with paddles and or water canons – you will get wet! Water cannons are popular and during the busy weekends, groups gang up on each other at times…a splashing frenzy! There are several small "beaches" along this section and people will often stop and hang out drinking or swimming. The experience is not exclusive to crazy scantily clad young people – there are many families with children rafting as well.
Also of note is there is a bike trail that runs along the river just below Highway 89 all the way to Squaw Valley from Tahoe city. The rapids are typically quite harmless in this section in the summer time. The "biggest" rapid is located just before the River Ranch Lodge and if you are in an inner tube or a float mattress you will probably want to skip this section as there are many large rocks and you don't want to bump yourself as you go down. With enough water in the river taking a raft down these rapids is quite exhilarating. Pull the rafts out in the large river pool just below the River Ranch Lodge. To continue past River Ranch Lodge (See Accommodations for more information about this lodge) would be pure madness unless you have had prior experience with the higher class rapids. Also consider having an affordable lunch or a snack outdoors at the River Ranch Lodge – mostly hamburgers, hotdogs and cold drinks. Try their "lemonade for adults" – i.e., their awesome Margaritas.
General
Truckee River Raft. This rafting company offers safe leisurely self guided trips down the Truckee River. For raft rentals from south Tahoe City call PHONE NUMBER (916) 583-0123 or PHONE NUMBER (916) 581-0123. You can also rent rafts a bit upstream at fanny bridge. That PHONE NUMBER is (916) 583-3021. For raft parking you can call PHONE NUMBER (916) 581-0134. They are located at 185 River Road. www.truckeeriverraft.com
Mountain Air Sports offers self guided family raft trips on the Truckee River. They are located at 205 River Road. For more info call PHONE NUMBER (916) 583 RAFT. www.tahoetruckeerafting.com
U.S. Forest Service Visitor's Center is located near Fallen Leaf Road on the lakeside of Highway 89. There is ample parking. There is a small amphitheater here as well as the visitors center. A beautiful trail meanders among the meadow and crosses a small creek where you can view fish swimming in deep pools of water. The circular trail starts and ends at the visitor center and is about 1/2 a mile. At the middle point of the trail there is a small fish hatchery and museum. You can view a cross section of a stream through glass windows built right in the stream. You will see large fish and crayfish. The Kokanee salmon run is in October. From parts of the trail you can see The Lake in the distance and also jagged mountains that rise above the south shore of The Lake. From the trail you can also hike to The Lake, which is a short hike. When the water was low during the late 1980's and early 1990's there used to be a large beach at the end of this trail, but now thankfully the water has risen, and there is a much smaller beach.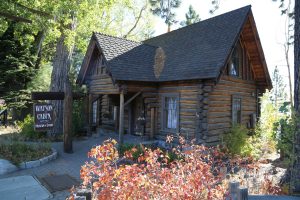 Watson Cabin Living Museum is located at 560 North Lake Blvd in Tahoe City overlooking the shores of Lake Tahoe. This was a honeymoon cottage built in 1908. It is now a national landmark and is still decorated with its original furnishings.
It is open daily June 15 through Labor Day from noon until 4:00pm. For more information call PHONE NUMBER (916) 583-1762

West Shore . We mention the west shore of Lake Tahoe here, because it is the side of the Lake that we have spent the most time on. Once you leave Tahoe City you will head past a great nursery that has a fine selection of high elevation, snow tolerant species. You will also pass the turn off for Granlibakken ski resort, Tahoe's oldest ski resort. There is just a single ski run at this resort. For more information see the section titled Ski Resorts. You will have short glimpses of The Lake as you leave Tahoe City. Then once you are a few miles from Tahoe City the road will open up to great views of The Lake. You will soon pass through Tahoe Pines and Sunnyside. There is also a restaurant called Sunnyside and across from this restaurant is a small restaurant/cafe that serves an excellent breakfasts They are called Firesign Cafe and look in the Restaurant section for more information. A little further down the road you will pass Fleur-de-Lac a prestigious gated community. The homes in this community are quite large and extremely fancy.
Continuing down the road you will pass Obexers, a boat store named after someone long since deceased. Obexers has a dock for putting boats into the water. Their boat launch ramp was used during the drought years when many of the other launch ramps were completely out of water. You will soon be passing through Homewood and Tahoma. Look for the blue roofs of Tahoe Cedars on the left side of the road. This is where we always spent our first few weeks of summer. These are one of the last cabins situated right on the lake. Look for more information about this now closed to the public resort in the Accommodations section. If you continue south on Highway 89 you will pass Sugar Pine Point state park, then the Ehrman Mansion. Towards Emerald Bay you will pass D.L. Bliss state park, and then a little further down the road you will see one of the more spectacular sights in the world, Emerald Bay. See our Parks section for more information about Emerald Bay.