I highly recommend hiring a guide for touring Lamu. I think you probably only need a guide for no more than 2 days or so. Most of Lamu can be accessed on your own by foot. A guide will point out some of the attractions you may have missed and may introduce you to some of the locals. He will also can be a good source of restaurant and lodging recommendations. Lamu is small enough where the guides will be aware of most of the restaurants and lodging in town.
Mohamed Mahazi is a licensed tour guide for Lamu. We used his services for several days during our visit.

He is an excellent tour guide who knows the good restaurants and fisherman. Speaks decent English and loves showing visitors around his town.
The following are several attractions that I visited and I recommend seeing:
The Donkey Sanctuary is located on the harbor front and is run by the International Donkey Protection Trust – of Devon – the United Kingdom. Local injured donkeys are brought to this small stable for rehabilitation and rest. There isn't too much to see here except for the donkeys – but its a nice place to stop and rest.
The Lamu Fort is located along the seafront and dates from the 1820's. Photo below courtesy of Maria Baker.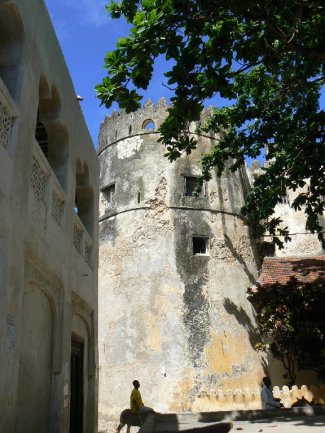 Lamu Museum is located on the waterfront. This museum contains many traditional Swahili items of interest. I would recommend 45 minutes to 1 hour. There are good views from the terrace on the second story.
The Lamu Meat Market. This market is in a covered long building that is open at both ends. Much of the fresh fish caught near Lamu seems to be taken here. Flies swarm and fish smells abound.
Dhow Trips. Dhows are wooden boats – often appearing to be crudely constructed. Their appearance can be misleading as they perform wonderfully in the open water. A normal Dhow trip can cost around 400KShilling for a couple of hours. The dhows will often be seen around Lamu's main harbor front. (see Fishing directly below for more information on taking a dhow trip)
Fishing – For a very relaxing trip hire a local fishing guide to take you out on the water in a dhow. Our guide in Lamu (Mohammed) introduced us to a local fishing guide who owned an ancient looking dhow. The fishing trip lasted about 1/2 the day – we left around 8am and returned around 2pm. The boat was constructed with ancient looking timbers and the sail was a patchwork of many different types of fabric somehow remaining stitched together. There was a crew of 5 besides myself – 3 boys ranging in age from 12 to 15, the captain and a grizzled dark old man who looked like he lived at the sea. His beard was almost white and stood out in stark contrast to his dark face.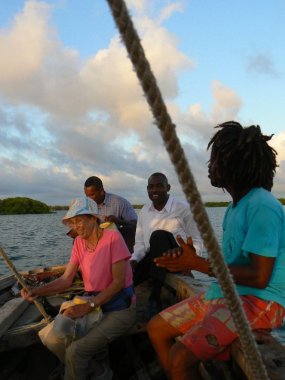 We sailed along the canal between the mainland and Lamu island for about 40 minutes until we reached what appeared to be more open ocean. The waves increased in size and one of the boys soon settled in the bottom of the boat, occasionally rising to throw up over the side. Whenever he threw up the rest of the crew would look at him and laugh. We dropped anchor and unraveled our fishing gear which consisted of twine wrapped around a short but stout piece of a tree branch. The hook was crudely made and the weight was nothing but a rusty nail.
Bait was pieces of cut up fish. As soon as I caught a fish from the bottom the captain sliced it up into little pieces for additional bait. Many fish were caught in the next hour. After we had tired of fishing the captain pulled anchor and took us to another small island where we swam in the warm Indian Ocean and waited to be called to lunch to each our freshly cooked fish.
We had lunch on this deserted island eating the fish we had caught only hours before. The fish was then washed down with many slices of cut papaya. There was no one around aside from me and the fisherman. After lunch I spent an hour or so sleeping in the minimal shade of a native thorn tree.
Photo to right courtesy of Maria Baker
If you hire a guide to take you fishing on a dhow make sure you bring a wide brimmed hat and suntan lotion. You will be on the water for several hours probably in the glare of the sun and its easy to get sunburned. If you are sensitive to sea sickness I recommend some Dramamine or equivalent medicine.
Shela Village is located about 10 to 15 minutes via motorboat from Lamu or about 45 minutes via a walkway that links Lamu with the town of Shela. If you are looking for some fairly isolated nice beaches Shela Village is the place to go – most of the nice beaches are located just outside of town. Comments or questions about this article? Post them on Dave's Africa Message Board