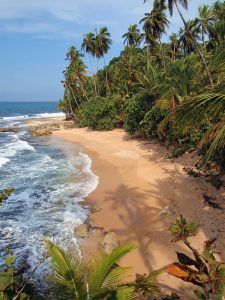 Playa San Pedrito is a beach that is closest to the zocalo or central part of town. It is about 1km from the zocalo. I don't recommend going to this beach as it is very close to the grime of the port. The next closest beach is Playa Las Brisas and it is used by guests at several resorts but it is open to the general public also. Playa Azul is a long beach that curves around the Bahia de Manzanillo Bay. The best beaches by far are on the northern side of Las Hadas Resort in the Bahia de Santiago Bay.
Playa Olas Altas is a very popular beach that stretches around the majority of this bay. There are vendors selling umbrellas at most of these beaches and this beach is no exception. I highly recommend getting an umbrella because it offers a welcome relief out of the hot sun.
This beach has some good waves for surfing for body boarding. It is not a small sheltered cove like some of the other beaches. It is long and wide and is situated right next to the road. Parking is also next to the road. Miramar Beach is the most northern beach in the Manzanillo area. This beach is also good for body boarding or surfing. Boards can be rented here.
My favorite beach is Playa La Audencia which is situated in a small cove at the end of a street which ends in parking along the side of the street. This beach is on the same peninsula that the Las Hadas Resort is located on. In fact it is off of the same road that you drive to get to the resort. I highly recommend getting here early, (like before 9am), as the crowds will fill up the parking spots very quickly. There are vendors selling T-shirts and other souvenirs here. They price of the souvenirs tend to be quite high priced because they cater to tourists, hotels and guests of Las Hadas resort. They do have a good selection though. The T-shirts are priced reasonably.
All sorts of sea equipment is rented here. Do not hesitate to bargain. The men renting the equipment will quote you a price depending on how they feel at that particular moment, and chances are they will be feeling quite bad. You can rent wave runners (quite expensive at around $40 per 1/2 hour), snorkeling equipment, boards, small boats to tour the bay, and they also give rides on their banana boats. The snorkeling equipment (fins, mask, and breather) wasn't very expensive but it was in bad condition. If you have snorkeling equipment already, I would highly suggest bringing it to Manzanillo. It will save you the aggravation of having to rent cheap equipment. I found that quality of rental equipment was not dependent on location. Every place that I rented equipment from had lousy equipment. The renters let the equipment degrade until someone finally breaks it and then they charge that person extra for breaking their equipment.
This particular beach is not extremely large, but is big enough to accommodate the general public as well as the guests of the local resorts. The waves here are extremely gentle and in fact are among the most easiest to deal with out of all the beaches in the Manzanillo area. Snorkeling is fabulous here. The southern part of the small bay is the best for this. There is an incredible array of variety of fish and sea life lurking just underneath the surface of the waters. I was swimming with schools of brightly colored orange, red and purple fish. The small coves in the bay contained some of the most diverse sea life. This would be a great place for an underwater camera. If you have never swam in the ocean before, I would recommend to take a small bottle of freshwater along with you. Perhaps hook it to your belt. This water will be a welcome relief after swimming in the bay for a while. In my case I was constantly sucking in saltwater which makes one quite queasy and having some freshwater along would have helped me out considerably.
One large resort is situated about 10 feet from this beach. You can tell who is staying at this resort by who is wearing the pink bracelets. In my opinion the best part of this beach is on the southern end. This part is away from most of the crowds and there is some shade to escape to if necessary.