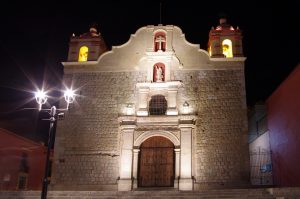 There are several museums in Oaxaca, ranging from displays of treasure (the jewels of Monte Alban), to historical artifacts to wonderful artwork.
The Regional museum listed below is Oaxaca's largest museum.
Here are several museums that we visited during our time in Oaxaca.
Museo de Arte Contempraneo de Oaxaca is in the building, Casa de Cortes at Alcala 202. There are permanent displays of five famous Oaxacan artists. including Rufino Tamayo, Francisco Gutierrez, Rodolfo Morales.
The museums also has contemporary exhibitions and offers various cultural events. This museum is open from 10:30am to 8pm Wednesday through Monday. The entrance fee is by donation. Visit: www.museomaco.com
Museo Regional de Oaxaca is in a green stone building next to to the Santo Domingo Church. Unfortunately this museum was under restoration when I visited the area. Normally it is open from 10am to 6pm Tuesday through Saturday, and 10am until 5pm on Sunday. Entry is 25 pesos but it is FREE on Sunday. The museum contains excellent Mixtec treasure taken from Tomb number 7 at Monte Alban. I highly recommend seeing this museum after you have visited Monte Alban, Mitla, or Yagul instead of before. That way you will have some additional appreciation for these historical treasures.
The lower floor of the museum contains most of the treasure. This treasure dates from the 14th century when a Mixtec tribe reused a old tomb at Monte Alban. They buried one of their kings with his sacrificed servants. They also included plenty of silver, turquoise, coral, jade, (real jade not like the fake stuff they currently sell at Monte Alban), amber, pearls, intricately carved statues, and most impressive, the gold. This large treasure trove was discovered in 1932. There are other sections of this museum that discuss and display the history of the Spanish conquest, Oaxaca's Indian peoples, and the area's archeology.
Museo Casa de Juarez is located in a home previously inhabited by Benito Juarez. It is located at 609 Garcia Vigil directly across from the Templo del Carmen Alto. Benito Juarez was a Zapotec Indian who came to Oaxaca in 1818. This museum shows pictures of Juarez, his letters, and other items from the 1800's. This building under went restoration a number of years ago and is once again open to the public.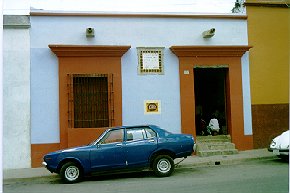 Museo Rufino Tamayo displays pre Hispanic artifacts and other artwork. This museum is located at Morelos 503 and was donated by Rufino Tamayo, a Mexican painter of Zapotec heritage – native to Oaxaca. See the Museo de Arte Contemporaneo de Oaxaca for displays of some of his paintings. This museum is open from 10am until 2pm and again from 4pm to 7pm Monday, and then on Wednesday to Saturday. They are open from 10am to 3pm on Sunday. Admission is 30 pesos. Visit: www.museotamayo.org
Photo above: Typical home in Oaxaca central