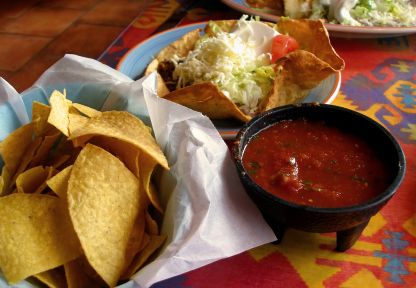 Before I discuss the restaurants I should mention a little bit about the Oaxacan food. Generally it is quite tasty and there are lots of good restaurants in the city of Oaxaca that serve excellent food at a reasonable price. You will notice that just about all of the restaurants will serve their meals with cut limes in a dish. They will sometimes squeeze them in the dish or leave them separate. The following are Oaxacan specialties.
Amarillo con Pollo translates to chicken in a yellow cumin and Chile sauce.
Chapulines are fried grasshoppers. These are usually prepared with onion and garlic although I have eaten them with guacamole and beans inside a corn tortilla. A squeeze of lime adds a nice flavor.
Colarodito is pork or chicken in a red chili and tomato sauce.
Mole Oaxqueno is a dark sauce made from chilies, bananas, chocolate, pepper and cinnamon. This seems like it would be quite sweet, at least that's what I thought when I first heard about it. However, if properly prepared it is quite mild and makes a good addition to your meal. It is usually served with chicken.
Picadillo is a spicy minced or shredded pork, and is often used as stuffing in chiles rellenos.
Quesillo is a must try. This is Oaxaqueno string cheese. If prepared properly there is nothing quite like it. I had what was in my opinion the best of this cheese at the daily buffet breakfast at the Stouffer Presidente Hotel.
Verde con Espinazo is pork back in a green sauce that is made from beans, chiles, parsley and wild spinach.
Yogurt con Papaya is a treat when you have ripe papaya. Some of the best papaya I have eaten have been in Oaxaca.