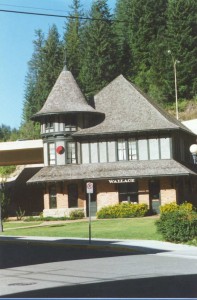 Wallace is a fine example of an old mining town. It used to be the center of a lead, silver, and gold mining region. In 1903 President Teddy Roosevelt visited this town. The city of Wallace spent over $5000 on decorations and banners to welcome him. At the time that was a lot of money. This town of about 1000 people is located about 15 miles west of the Montana border. The 90 freeway completely bypasses the entire city of Wallace with its raised overpass. Wallace has some of the finest restored buildings in any mining town that I have visited.
Dante's Peak – Several movies were filmed here including Dante's Peak (1996). There are also several mining related attractions located downtown (more on these shortly).
Briefly, the movie is about a volcanologist who receives word about some rumblings coming from a mountain near the town of Dante's Peak. This scientist travels to town in the northwest expecting to find normal geologic activity. He is surprised and alarmed when he sees increased geological activity. Experts soon doubt his theories that the mountain will blow its top. He then receives the help of the town's mayor and tries to convince his superiors and authorities about the danger of the active volcano.
After the filming crew for Dante's Peak arrived on located the town of Wallace began to transform. First, hundreds of local residents were invited to be extras in the film cast. Then new construction projects began, projects such as building additions to city hall, building a new church, a new motel, and even a new freeway ramp. Next all signs that said Wallace were replaced with signs that said Dante's Peak. Soon after the construction the movie's two stars, Pierce Brosnan and Linda Hamilton arrived.
The movie featured some neat special effects including the blowing up of a freeway ramp that was constructed especially for this movie. This explosion drew many residents and visitors. During one scene the entire town was covered with fake ash. Bins were placed at strategic locations around the town. These were filled with ash and when the ash was dispersed Wallace looked like a disaster zone. Another neat trick Universal Studios employed was to painstakingly put fake leaves on trees. Apparently one scene was supposed to occur during the summer but they were filming it in the winter and none of the trees had leaves.
Two attractions left over from Wallace's early mining days are the Oasis Rooms/Bordello Museum and the Sierra Silver Mine Tour. The Bordello Museum is open to the public. It was purchased in 1993 by a local entrepreneur and converted to a museum. This entrepreneur also hired a muralist by the name of Robert Thomas to paint murals on the walls of the former saloon in the building. The guided tour through the second floor of the brothel is the main attraction. This museum is located at 605 Cedar Street. For more information call (208) 753-0801. The museum is open daily.
The Sierra Silver Mine Tour is the only tour of its kind in the Pacific Northwest. For $8 you are first transported by a sixteen passenger trolley through the streets of Wallace to the mine entrance. You are then given hard hats and are guided through the mine tunnel. The guide provides additional information about the actual displays and exhibits. You can observe the mining equipment and learn about techniques used to mine silver ore. You should allow at least one and a half hours. The Mine office (where you purchase tickets – and or browse through their large collection of free travel information) is located at 420 Fifth Street. The tours leave every 30 minutes daily from 9am until 4pm from mid May through mid October. The hours are extended during July and August from 9am until 6pm. For more information call (208) 752-5151. Visit: www.silverminetour.org
Two museums worth seeing if you have the time are the Northern Pacific Depot Railroad Museum (the building that you will most likely remember from your trip to Wallace), and the Wallace District Mining Museum. The Railroad Museum is located at 219 Sixth Street, next the 90 Freeway bypass. The railroad was built in 1901 and operated until 1980. Some of the exhibits are pictures, railroad relics, and a recreation of an early 1900's railroad depot. Allow at least 30 minutes They are open daily from 9am until 7pm from May through September. In April and October they are open from 9am until 5pm, Monday through Friday. The hours vary slightly the rest of the winter so call ahead. Admission is $4. For more information call Phone Number (208) 752-0111.
The Mining Museum is located at 509 Bank Street. This museum displays local mining equipment, pictures, and a model of a working mine. A 20 minute video shows the life of the early miners. Allow about an hour to see the museum. Admission is $3. They are open daily from 8am until 8pm, June through August. Then in May and September they are open 8am until 6pm, Monday through Saturday. For more information call Phone Number (208) 556-1592.
For more info about Wallace visit the entire town contained on this website: www.wallace-id.com
A few lodges in and around Murray are the following: These are all located very close to Wallace if not in the downtown. If any of these lodgings have been rated I will be sure to include the rating.
Accommodation
Brooks Hotel is located at 500 Cedar Street. A single room is $39.95. Phone Number (208) 556-1571. Web: www.thebrookshotel.com
Beale House is a retired turn of the century residence in a quiet neighborhood. It is a bed and breakfast. It is located at 107 Cedar Street. A single room is $75 per night. Phone Number (208) 752-7151. Visit: http://wallace-id.com/bealehouse.ht
Jameson Bed and Breakfast is located at 304 6th Street. A single room is $63. Phone Number (208) 556-1554.
Molly B'Damm Motel is located one mile west of Wallace between exits 60 and 61 on the I-90 Frontage Road. A single room is $30. Phone Number (208) 556-4391.
Visit: www.mollybdamm.com
Ryan Hotel is a preserved Historical hotel that is located at 608 Cedar Street. A single room is $25. Phone Number (208) 753-6001. http://wallace-id.com/ryan.html
Silver Leaf Motel is located one mile west of Wallace on the I-90 Frontage Road, near exit 60. They have kitchenettes in some of the rooms. A single room is between $22 and $25. Phone Number (208) 752-0222.
Stardust Motel is located at 410 Pine Street. A single room starts at $40. Rated one start. Phone Number (208) 752-1213.
Wallace Inn is located at the West Wallace Plaza near exit 61 off of the I-90. Triple A rates and package deals are offered. A single room is $68. Rated 3 stars. Phone Number (208) 752-1252. Visit: www.wallaceinn.net
As far as dining, there are several cafes and restaurants located in downtown Wallace. I ate several meals at different cafes. The food was just average; nothing stuck out in my mind as having the essence of "quality". Two places that are listed in several of the guides I have are:
Restaurants
Sweet's Cafe & Lounge located at 310 Sixth Street. They have a unique bottle car collection and a historic photo display. They serve breakfast lunch and dinner. For more information call Phone Number (208) 556-4661.
Jameson Restaurant and Saloon is rated 2 stars. Dinner prices are under $10. They are located at 304 Sixth Street. For more information call Phone Number (208) 556-1554.
There are three art galleries I visited. They are:
Art Galleries
Jessup Fine Arts Studio & Gallery is located at 6th and Cedar Streets. They feature originals and prints from some of the nation's top artists. Custom framing is also offered. For more information call Phone Number (208) 752-8381
Wallace Corner Gifts & Jewelry is located at 6th and Cedar Streets. They feature Idaho's silver jewelry and Idaho gem stones. Phone Number (208) 753-6141.