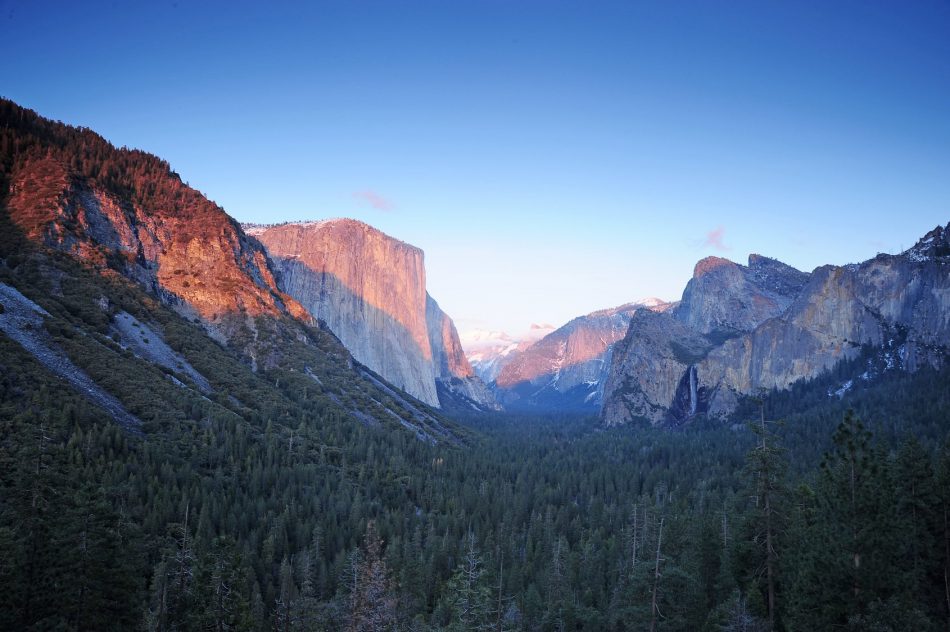 During our latest visit to "the park" in mid October, Yosemite Falls was flowing like in mid Spring. Sometimes you just get lucky! The shoulder seasons (early spring, mid to late fall) are excellent times for visiting Yosemite National Park. The weather is a bit cooler than the heat of the summer (nights are chilly but days warm up nicely) and you are sure to miss the masses of crowds that converge on the valley floor during the mid summer. Not to be outdone is the winter season – Badger Pass Ski Area with its set of lifts, runs and an excellent ski school is found within the park's borders. Cross country ski trails abound. There is a quieting you can feel on the valley floor after the season's first snowfall when everything is white; nothing could be better at this time of year than sitting around the roaring fire in the historical Ahwahnee Lodge's grand reading room.
Yosemite is one of the most visited of all the National Parks…for good reason. With its stunning vistas and overlooks, major waterfalls, impressive granite domes and monoliths, giant Sequoia trees, abundance of hiking and excellent trails its no wonder that people come from all over the world to visit. If there is only one place you visit in the Sierra's during your time in California, a good choice would be Yosemite National Park.
Yosemite National Park is contained within parts of three counties; the valley floor is entirely within Mariposa County. Mariposa and Yosemite are truly four season destinations with an amazing variety of activities year round to please even the most selective of travelers. Mariposa means Butterfly in Spanish and was originally California's 2nd county and the largest county until it was sub-divided into much smaller counties.
Mariposa County and Yosemite are very centrally located within California. The National Park lies almost at the geographic center of California and all weather highways make access to the park relatively easy year round from the major population centers in the state.
Read on for more information about activities, attractions and lodging.