Adventure Travel
Lets do it. Adventure travel for the adventure tourist! Get out of the house and explore. Around the world adventure trips. Companies that offer adventure trips to multiple International Destinations.
an around the world global scavenger hunt - this site was the HIGHLIGHT OF THE MONTH in March 2003
58 views
Submitted Jul 15, 2012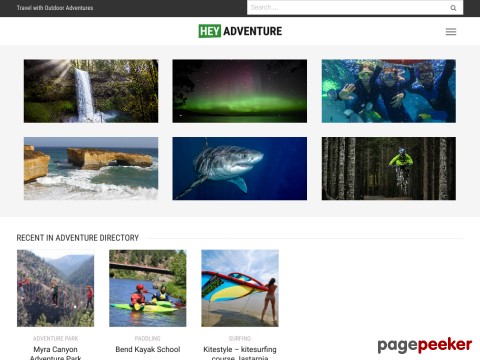 Travel with Outdoor Adventures
31 views
Submitted Jul 2, 2016
offering trips to Iraq, Afghanistan and other middle eastern destinations
66 views
Submitted Jul 15, 2012
Hit The Road: India is an adventure documentary following two friends, Ric Gazarian and Keith King, participating in Mumbai Xpress - a 12-day-long rickshaw rally across India, from Mumbai to Chennai, recognized by the Lonely Planet as one of the top ten greatest adventures in the world.
47 views
Submitted Jun 13, 2014
G Adventures is home of "the great adventure people", and it is on our site where visitors can find their next great destination. In addition to offering tours all around the world, G Adventures also houses plenty of free resources such as travel tips, guides, and The Looptail -- G Adventure's blog. Their tour packages range from relaxing to rigorous, with options available for solo travel, families, or big groups. Whether your aim is to find a nice beach to relax on or to feel like a survivalist in extreme conditions, G Adventures can help get you there.
57 views
Submitted Mar 12, 2014
#1 adventure and experiential travel website, with over 1M unique vistiors a month. All of our iExplore Exclusive trips are privately guided-travel with who you want, when you want. We offer 230 trips to over 100 countries.
62 views
Submitted Jul 15, 2012
miscellaneous wanderings and such
68 views
Submitted Jul 15, 2012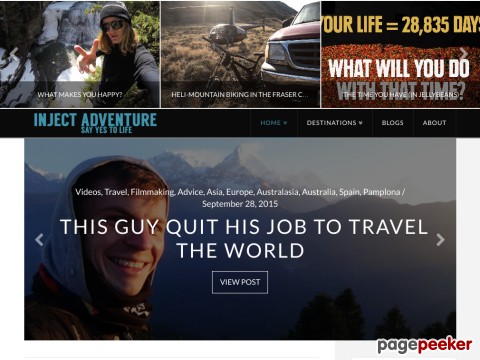 Inject Adventure is an online blog about life, people, travel and adventure.
43 views
Submitted Dec 22, 2015
Adventure Traveller, passionate hiker, fitness enthusiast, and wannabe mountaineer at heart
51 views
Submitted Dec 20, 2014
world famous adventurer
61 views
Submitted Mar 9, 2013
For forty years I have wandered through exotic and remote landscapes and returned to write and speak about my adventures, the people, and the environments that I have encountered.
53 views
Submitted Jul 6, 2013
International explorer, photographer, author, diver, and television host Josh Bernstein has traveled more than 1,000,000 miles by train, plane, bus, bike and camel to over 65 countries, exploring the biggest mysteries of our planet in pursuit of knowledge and discovery.
59 views
Submitted Apr 4, 2013
adventure, pilot, photographer
50 views
Submitted Jun 13, 2014
adventurer extraordinaire
50 views
Submitted Mar 21, 2013
unique travel experiences in some of the most dramatic places on the planet
63 views
Submitted Jul 21, 2012
adventure travel exploring the world through myth an legend
53 views
Submitted Jan 25, 2013
explorer and adventures
47 views
Submitted Jun 13, 2014
Australian based adventure company, offering International trips
71 views
Submitted Dec 11, 2012
The polar regions of this world are changing as we speak. These regions, the Arctic and Antarctic are so different and yet so much alike. Dramatic landscapes, unique animal species attract those with a yearn for active exploration. Oceanwide Expedition ships bearing active and interested explorers have crossed these regions since decades. Active exploration ashore is one of the reasons why many young and older adventurers choose Oceanwide Expeditions.
68 views
Submitted Jul 15, 2012

off-road motorcycle tours & Panoramic road trips in Bulgaria. Motorcycle touring among awesome natural phenomena. Gorgeous photo gallery
57 views
Submitted Jul 15, 2012

About Dave's Pick
Category Stats
Listings:
83
Regular:
82
Dave's Pick:
1
Last listing added:
May 25, 2017