Airlines
If an airline is not listed here or if you have updates for this page, please submit your revision. Also visit our Air Travel Links
Flybe is one of Europe's biggest regional airlines
160 views
Submitted Aug 7, 2010
Gryphon is principally an American-owned and operated indirect air carrier. We answer the need for reliable, safe and economical air transportion into the Middle East and South Asia regions. In addition to our scheduled charter flights between Kuwait City - Baghdad, Kuwait City - Kandahar, and Dubai - Kandahar, we offer ad hoc charter services.
152 views
Submitted Jul 13, 2010
Curacao based airline
144 views
Submitted Jul 12, 2010
Montserrat based
145 views
Submitted Jul 12, 2010
Japan's Budget Airline connecting Japan to the rest of Asia
148 views
Submitted Oct 1, 2011
Porter Airlines has a new home at Billy Bishop Toronto City Airport and is now open to passengers. The $50 million passenger terminal enhances passenger services, further improving the travel experience at this revitalized facility. The new lounges triple previous capacity and include standard complimentary Porter amenities such as a business centre, modern lounge-style seating, beverages, snacks and Wi-Fi.
146 views
Submitted Jul 31, 2010
Swaziland Airlink, the pride of the kingdom, provides direct and convenient daily return scheduled flights from Manzini to Johannesburg. Swaziland Airlink offers seamless interline connections with Airlink, SAA and its partner flights around the world. Qualify for free travel by earning Voyager Miles through flying on Swaziland Airlink.
153 views
Submitted Jul 11, 2010
Ukraine International
161 views
Submitted Jul 13, 2010
Norway based private charter
143 views
Submitted Jul 12, 2010
Guam based
150 views
Submitted Jul 12, 2010
800-432-1359
420 views
Submitted Feb 26, 2010
Indonesian airline
161 views
Submitted Jun 26, 2010
based in Tbilisi
143 views
Submitted Jul 12, 2010
European airline
158 views
Submitted Aug 7, 2010
India based
145 views
Submitted Jul 13, 2010
800-864-8331
394 views
Submitted Feb 26, 2010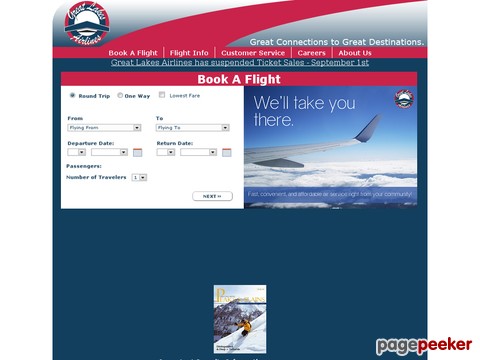 800-554-5112
433 views
Submitted Feb 26, 2010
800-553-2824
401 views
Submitted Feb 26, 2010
800-367-5320
395 views
Submitted Feb 26, 2010
Switzerland based regional airline
146 views
Submitted Jul 12, 2010

About Dave's Pick
Category Stats
Listings:
180
Regular:
180
Last listing added:
Sep 30, 2013