Backpackers & Budget
Backpacker resources. Budget Travel. See also our Student Travel and our huge Travel Blogger Directory for more info.
Flashpackers
(17)
Affluent backpacking. Often characterized by those who leave their jobs for a while and continue to travel in a backpackers style yet have bigger budgets.
Hi – Im Claire, a 30-something Londoner who left my media career behind last year to do just that. To put my life in a backpack and embark on some beautiful adventures, to India, Thailand, Malaysia, Bali, Australia, New Zealand, Chile, Brazil and Argentina.
66 views
Submitted Oct 26, 2014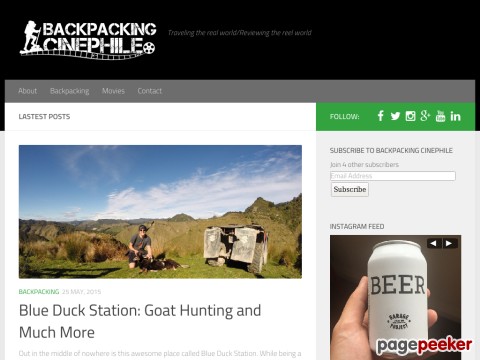 I am currently backpacking around the world and I have chosen to start in New Zealand. I will be in New Zealand until July 2015 on a Working Holiday and then it is on to Australia for year. After that, I'll be going to Fiji, The Philippines, Japan, Thailand, Laos, Nepal, India, Morocco, Tunisia, Sweden, Norway…
62 views
Submitted May 27, 2015
Hello all! My name is Andy. Not too long ago, I got to a place in my life where I felt like there was so much more to our world than just participating in the rat race. I first experienced this when hanging out with some international friends at my university. Then I was able to take a trip to Europe during my studies, which is what really hooked me. Over the next few months, I developed strong interests in everything international be it languages, politics, development, business, and cultural practices. Since then, I live for experiencing what the world has to offer first hand.
94 views
Submitted Sep 26, 2012
Escaping corporate America and traveling around the world on the cheap!
79 views
Submitted Apr 28, 2010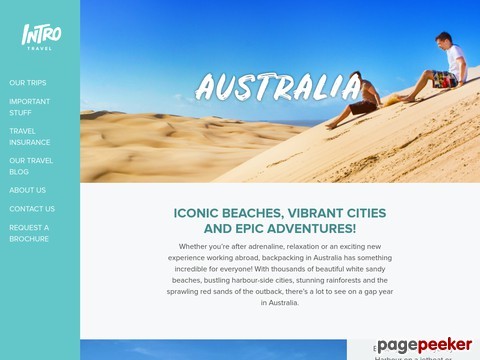 Spending your gap year backpacking or on a working holiday in Australia is an amazing experience. It gives you an opportunity to escape from everyday life and be free. Travel around Australia and let your sense of adventure lead you to do things you've only ever imagined. And to experience wonderful new things!
433 views
Submitted Feb 26, 2010
Backpacking isn't just about travelling around with a huge, twice-your-bodily-weight bag attached to you. It&#39
73 views
Submitted Mar 17, 2013

Im Emma, a backpacker with a serious case of itchy feet! I&#39
68 views
Submitted Sep 28, 2013
Backpacking Travel Blog is a recent project I'm working on with my girlfriend Audrey. Many of you may know us from our respective flagship sites Nomadic Samuel and That Backpacker. Ever since we started dating we've talked about creating a joint site together. It's great fun having your own site but it is even more meaningful to run one together with a partner.
72 views
Submitted Jun 21, 2012

Making backpacker travel easy! A guide to backpacking destinations around the world that will help travellers find the best countries, cities and sights to visit on their backpacking trip.
87 views
Submitted Jun 21, 2010
Travel Is More Than Just A Vacation, It's A Chance To Explore And Contribute To Another Part Of The World Through Impactful Travel.
48 views
Submitted Apr 28, 2016
Throughout the growth of this site I hope that it can become a place that people can turn to when they want valuable details about a specific place I
88 views
Submitted Jul 31, 2010

travel blog of an Indian backpacker
73 views
Submitted Jul 30, 2010

a blog about budget travel and unexpected adventure
71 views
Submitted Nov 7, 2011
Whether you are a first-time adventurer, solo traveler, female backpacker or semi-pro, we can help you plan and book your backpacking adventure of a lifetime...Happy Travels!
84 views
Submitted Oct 5, 2012
bargain Travel Broker for the traveler on a budget, check our prices before you travel and save your money
599 views
Submitted Feb 26, 2010
Bemused Backpacker is the ultimate resource for all backpackers and independent world travellers alike, offering travel advice, education, planning and inspiration for anyone dreaming of their first gap year or planning their next trip.
60 views
Submitted Dec 18, 2014
The Best Places To Backpack In Europe and Around The World
75 views
Submitted Apr 19, 2010
Big World, Small Budget is a collection of all things travel. As a (not-so) young backpacker without a whole lot of money, my experiences tend to lie in the budget travel world, and my writing and travel tips reflect that. Unlike other travel blogs, I dive deep into the finances – accounting for every penny spent to ensure that, by following my advice, you get the most travel bang for your buck. Ive focused this website on budget travel, but its also where I share stories and advice about my greatest passion.
58 views
Submitted Nov 10, 2014
Take a risk, take a chance, make a change & breakaway
76 views
Submitted Aug 11, 2010
blog for budget travelers currently on extended trips
83 views
Submitted Feb 26, 2010

About Dave's Pick
Category Stats
Subcategories:
1
Listings:
171 (188 counting subcategories)
Regular:
170
Reciprocal:
1
Last listing added:
Sep 29, 2018