Bicycle Travel
Bicycle Travel - Bike trips and bike travel. Enjoy a slower way of travel - make your next trip a tour on 2 wheels! Bicycle the roads of the world.
My name is Darren and I am fascinated by the world. I am too ambitious, a little impatient and have an unhealthy appetite. I want to inspire people to travel and to look after our world a little bit better than we are. I hope to do this through my storytelling, travel advice and photography.
52 views
Submitted May 28, 2015
Inspiration and information for around the world cyclists
66 views
Submitted Apr 25, 2010
Bike tours in and around london: explore london, cambridge, oxford and beautiful South England' landascape simply cycling with your bicycle, in group.
Our self-guided tours are completely planned: accomodation, bike and full equipment, assistance, tour mates... but then the holiday is up to you and to your legs!
53 views
Submitted Jun 1, 2015
Guided and self guided (road) cycle tours all around Europe.
215 views
Submitted Feb 26, 2010

I will be departing on a bike from Minnesota to the Southwest, near the end of September, and continue cycling in the spring, after 4 years of International Travel.
65 views
Submitted Aug 15, 2011
a couples journey by bicycle across the Silk Road and beyond
72 views
Submitted Apr 25, 2010
Dr Steve Fabes set off from London on the 5th of January 2010 on an epic bicycle journey around the world. His aim is to cycle the length of six continents, crossing the greatest land masses on earth. The journey is projected to take a whopping five years, during which he will travel through over 60 countries and cover some 80,000 km (50,000 miles) - a distance roughly equivalent to twice the circumference of the earth and over 80 times the length of Great Britain.
67 views
Submitted Feb 1, 2012
Danny began adventuring at the age of four when he cycled down the steep steps that led up to his family home in Buxton. The cuts on his knees, and sore head did nothing to deaden his adventurous spirit or his love of cycling.
64 views
Submitted Jul 14, 2013
Unique and personalized bike tours in Europe
82 views
Submitted Feb 26, 2010
We update our web site regularly, on location, and hope it shows you the things we see and experience as we travel the world.
246 views
Submitted Feb 26, 2010
DuVine Adventures has been offering deluxe bicycle tours through unspoiled villages all over Europe, bike tours in France, Italy, Ireland, Spain, Switzerland, Czech Republic, Austria, Argentina, and Napa and Sonoma; while staying in luxury hotels, eating gourmet cuisine and tasting world-class wines
140 views
Submitted Feb 26, 2010
"go chainless" for your next bike! Drive shaft powered
281 views
Submitted Feb 26, 2010
The four of us (Mom, Dad and eleven-year-old twin boys) are bicycling from Alaska to Argentina. When we reach the southernmost tip of South America, Davy and Daryl will become the new Guinness World Record holders as the youngest people to cycle the Pan-American Highway!
66 views
Submitted Feb 28, 2010
offering Guided, Self-Guided, and Customized Bike Tours worldwide
239 views
Submitted Feb 26, 2010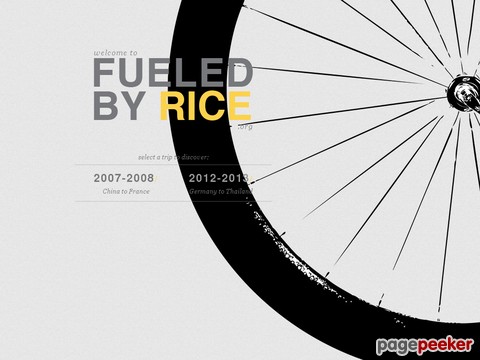 Spreading the spirit of tolerance and cooperation around the world, one pedal stroke at a time
64 views
Submitted Mar 27, 2010
Global Adventures, LLC is a distributor for bicycles, bicycles parts, and scuba diving gear. We supply the gear that can help you to become a better diver and more enduring cyclists.
67 views
Submitted May 25, 2012
Discovering the world by bicycle
74 views
Submitted Apr 29, 2010
Vietnam Bicycle tours, Vietnam Home Stay Programs, Mekong delta tours. Culture tours, Volunteer tours
223 views
Submitted Feb 26, 2010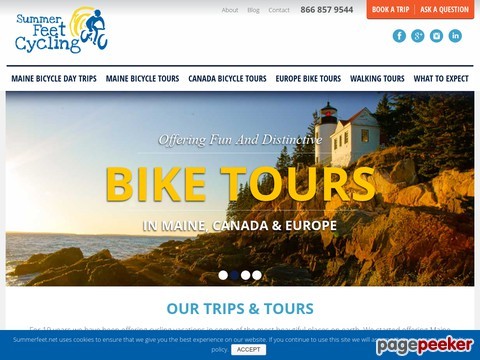 offering bicycle tours in the state of Maine
416 views
Submitted Feb 26, 2010
Wanna cycle Laos, Vietnam, Cambodia, Thailand, Malaysia, Indonesia or India? Mr Pumpy will give you the rides, the roads and the facts!
79 views
Submitted Apr 20, 2010

About Dave's Pick
Category Stats
Listings:
75
Regular:
74
Reciprocal:
1
Last listing added:
Feb 28, 2017