Blogs of Travel
The creativity & desire to share experiences among those who have been blessed with the passion, opportunity & ability to wander & explore is a beautiful thing. This is the *ULTIMATE* updated travel blog list on the web with over 7,000 travel blogs listed! We spend *significant* time searching for travel blogs not yet in this list. Focus is on domain name sites in English in the format: www.###.xxx. Also view Backpackers

Around the World L
My name is Lillie, and I am a 33 year old, six foot tall Boston native. Starting in 2003, I taught high school English in the Boston Public Schools before flying out in August of 2009 to begin voyaging around the world!
267 views
Submitted Feb 26, 2010

eTramping
We are two adventurous tramps, best friends - Agness and Cez, from Poland. We call ourselves tramps, because we live without permanent home and for under 25 bucks a day, since 2011. While travelling the world, we find the time to write about it, share the tricks to do it cheaply and even help people to do the same. Come along with us!
138 views
Submitted Oct 13, 2012

Jet Set Citizen
celebrating global citizens in pursuit of an excellent life. One of the rare travel blogs we actually READ rather than skim through the surface (wish we had more time to read!)
122 views
Submitted Mar 10, 2010

Virtual Wayfarer
"a place for intellectual musings" - reflective and thoughtful prose from Alex Berger based on his travels
30 views
Submitted Mar 9, 2010

We Said Go Travel
Lisa Niver Rajna, M.A. Ed. is an accomplished travel agent, blogger, speaker, science teacher and member of the Traveler's Century Club, a unique travel club limited to travelers who have visited one hundred or more countries. Los Angeles based.
153 views
Submitted May 25, 2011
Expat Wife who travels the world and suggests great adventure activities, hotels, & restaurants to visit while at your destination.
3 views
Submitted Mar 21, 2016
Im Bobbi. Im a part-time travel fanatic and blogger, part-time social media maven/consultant, part-time inspirational preacher, and all-around fun-loving chick with a wanderlust spirit who is always ready for an adventure. I revel in vino, offbeat experiences, yoga, rock music, festivals, randomness, strawberries, connecting with like-minded people, and dancing, particularly to the beat of my own drum.
76 views
Submitted May 27, 2015
savvy travel tales of one girl
2 views
Submitted Feb 18, 2016
This is not your traditional travel blog. Its not about the destinations, its about the people I meet along the way.
76 views
Submitted Dec 7, 2014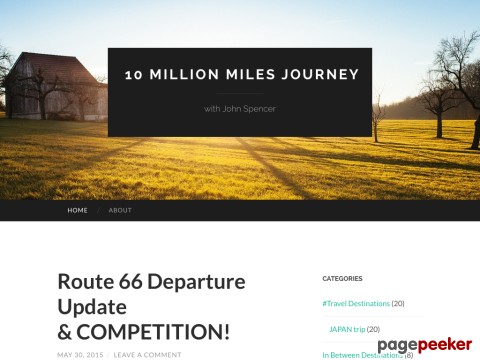 Just before I hit the big 4-0, I decided to quit my 9-5 job and travel the world full time. This channel will document my journey. I will be travelling from airport to airport, country to country, learning not only about the places I visit, people I meet, but also about myself.
67 views
Submitted May 31, 2015
Travel is my greatest passion! I love visiting foreign lands, experiencing new cultures,
62 views
Submitted May 31, 2015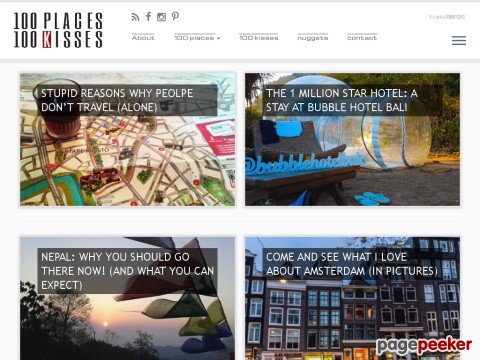 After I quit, I found out that I love travelling, roadtrips on motorbikes. Hammocks. Volunteering. Dating & looking for MY Mr. Right. Sometimes Im a full time, currently a part-time traveller. Happiness factor: Like it!!!
50 views
Submitted Sep 20, 2015
My name is Scott, and after losing my mom to cancer, I quit my job with the intention of fulfilling her final wish of sprinkling her ashes around the world.
55 views
Submitted Mar 18, 2014

I am Shannon, and travel is my passion. Click on the road signs to follow my adventures, and subscribe
72 views
Submitted Oct 26, 2014
Discover the magic world of travel and adventure through storytelling and photography. Travel tips and advice.
7 views
Submitted Jan 30, 2016
My name is Dan Perry. Once upon a time I spent 1000 days traveling in South America, and I documented my entire trip on this website. Now I live in Beijing, China with my girlfriend Katie.
13 views
Submitted Dec 23, 2015
an unusual blog where fighting is the core focus of the trips
142 views
Submitted Mar 22, 2010
Through our blog 1000lonelyplaces.com , we strive to inspire people to travel. Here we provide information about the various interesting destinations around the world considering the various needs of a traveller.
161 views
Submitted May 18, 2010

This blog is a travel blog. You will find plenty travel ideas in Europe, in the States and in the Carribean, plenty stories about the people you will meet if you do make it to these places because for me travelling is not just about beautiful landscapes its mostly about the experiences you will have thanks to the people you will meet!
79 views
Submitted Jul 4, 2014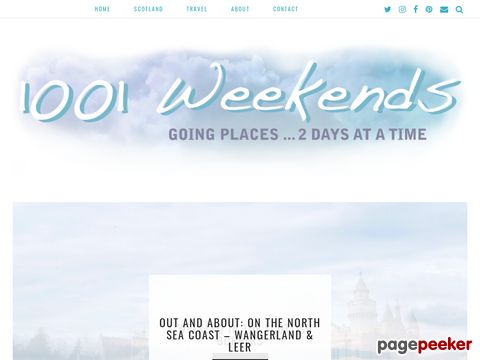 I'm Vanessa, a twenty-something German living in Glasgow. With a love for traveling, the arts, nature, history and everything gin and whisky, Scotland is pretty much the love of my life. Follow my attempts to balance professional and private life, by setting myself the goal to use my weekends to travel places, see things and do stuff!
0 views
Submitted May 1, 2016

About Dave's Pick
Category Stats
Subcategories:
2
Listings:
6988 (7003 counting subcategories)
Regular:
6983
Dave's Pick:
5
Last listing added:
May 1, 2016