Blogs of Travel
The creativity & desire to share experiences among those who have been blessed with the passion, opportunity & ability to wander & explore is a beautiful thing. This is the *ULTIMATE* updated travel blog list on the web with over 7,000 travel blogs listed! We spend *significant* time searching for travel blogs not yet in this list. Focus is on domain name sites in English in the format: www.###.xxx. More info about this list here
In April 2017, we are setting off on a (very long) honeymoon around the world. This blog is our way of keeping you guys up to date on what we are doing, when we are doing it and how do it.
59 views
Submitted Feb 25, 2017
We were supposed to be retired and living in Florida. So why am I starting a new adventure in Hong Kong instead?
86 views
Submitted Feb 10, 2015
Celebrating the 'wonder of it all', we cover #travel #history #nature #food & more!
54 views
Submitted Dec 22, 2016
I'm Natalie! A Tiny Traveler is a lifestyle blog where I share stories of my life, my travels, and my heart for creativity. I have a passion for community, travel, and pretty little details.
53 views
Submitted Dec 23, 2016
We're Amy & Ben – a travel obsessed couple from Australia and we're excited to welcome you to our blog, A to B Travel! We will be sharing with you our love for all things travel through a mix of photos, videos, and blogs filled with inspiration, tips and tricks to get you out there enjoying the amazing world we live in.
45 views
Submitted Apr 24, 2017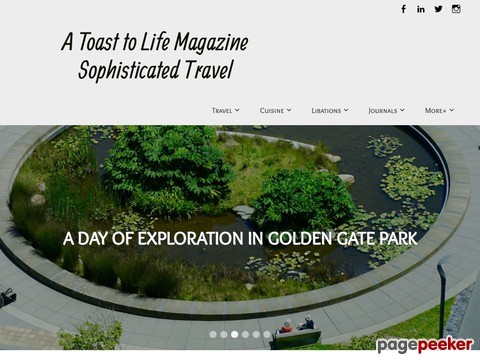 This blog is about our journey in celebrating life and all its treasures. Whether you live in Northern California and are looking for new things to explore or are planning a "Staycation" for that needed weekend break.
60 views
Submitted Mar 15, 2016
This blog was a result of being able to see these amazing coastal destinations, and then realizing that most people hardly even travel out of their own state, let alone out of the country. I wanted to be able to share just how cool this world is, with a little bit of my own influence.
63 views
Submitted Feb 21, 2016
I have enjoyed great food, good times, and traveled the world. I have never had great monetary wealth nor have I suffered extreme poverty. Although I am well acquainted with physical challenges and at times great pain, my love of life and insatiable curiosity propel me forward.
47 views
Submitted Apr 24, 2017
When I'm in one place for a longer period, I start getting nervous. Then I need to change something real quick, whether it's a new job, a different city or go on a long trip. This time I'll combine all at once and I'm really looking forward to the upcoming adventure!
64 views
Submitted Nov 14, 2015

enjoying the experiences of being on the road
84 views
Submitted Nov 14, 2014
A Traveler's Library reflects the two passions of Vera Marie Badertscher, a freelance writer who travels when she can and reads all the time
109 views
Submitted Feb 26, 2010

Inspiring Travel Through My Shenanigans
110 views
Submitted Jul 24, 2014
My name is Nathalia Cardenas and Im a travelholic. Ive been living abroad and travelling around for over six years now. Im currently based in Taiwan. Ive recently started blogging and Im loving it! I hope you find it helpful!
85 views
Submitted Jun 1, 2015
a mother destined to travel the world
50 views
Submitted Nov 2, 2016
I am Brianne Miers, and I'm a Boston-based travel blogger who is working to see the world by balancing my career as a communications consultant with a life of travel.
82 views
Submitted May 27, 2015
a wanderlust couple from Norway
62 views
Submitted Jun 7, 2016
My name is Lucy Frank, I am a Australian who started travelling the world alone at 18. My blog focuses on backpacking, solo travel, working holidays and travel tips
47 views
Submitted Aug 6, 2017
I started travelling at a very young age and only very recently decided to start a travel blog. These are my baby steps as I learn the ropes of managing a website and share my love of travelling.
130 views
Submitted Aug 16, 2012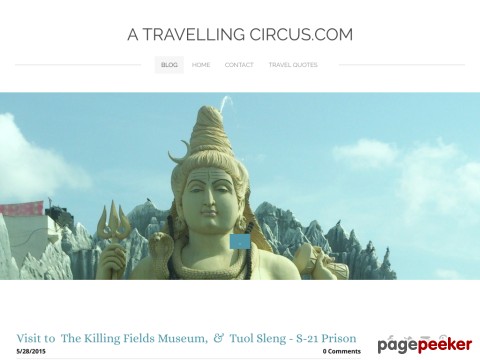 heidi, writer, mother traveller
81 views
Submitted May 29, 2015
Our first time travelling together.
89 views
Submitted Jul 11, 2013

About Dave's Pick
Category Stats
Subcategories:
2
Listings:
7332 (7347 counting subcategories)
Regular:
7325
Dave's Pick:
7
Last listing added:
Dec 16, 2018