Blogs of Travel
The creativity & desire to share experiences among those who have been blessed with the passion, opportunity & ability to wander & explore is a beautiful thing. This is the *ULTIMATE* updated travel blog list on the web with over 7,000 travel blogs listed! We spend *significant* time searching for travel blogs not yet in this list. Focus is on domain name sites in English in the format: www.###.xxx. More info about this list here
This is a blog about traveling, not so much about me, because traveling in general is far more interesting than anything about me. Some of the post subjects will be mass-appeal general travel topics
15 views
Submitted Dec 17, 2016
My first over-seas trip was with my cousins when I was 16, we went to Fiji and had an absolute blast. After that I had officially caught the 'travel bug'.
9 views
Submitted Oct 3, 2017
Born in 2013, A World to Travel is a travel blog with a focus on Round the World experiences. We are a photography and travel writing team willing to deliver quality content and inspiring stories.
58 views
Submitted Feb 8, 2013 I like all things creative! Starting with a love of original Disney art as kid, my passions developed into real-life drawing, animation and art history. It's in the features of real life where I think my love of travel developed
12 views
Submitted Dec 8, 2016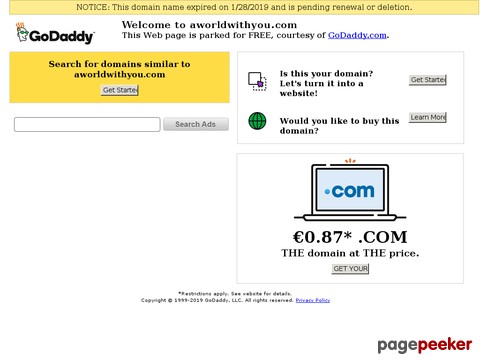 We're Marcella & Tim, a Canadian couple who loves music, beaches and traveling the world. And despite having a mortgage and student loans, we always find a way to make our travel dreams come true. Join us on our journey around this gorgeous planet & learn how you can make it happen too!
11 views
Submitted Oct 24, 2016
Travel stories and picture postcards from places far & near
34 views
Submitted May 25, 2015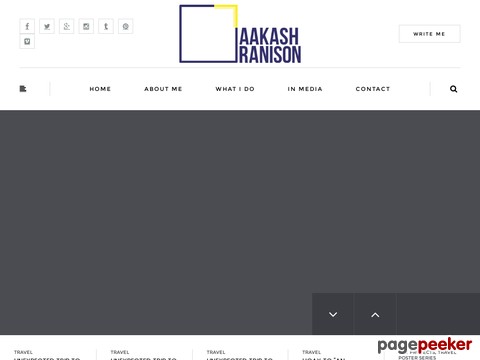 I generally travel by the means of hitchhiking, walking or cycling – It enables me to link to my route that I so much adore. I meet people, experiences, rollercoaster of emotions on the way but one thing that I never come across is regret. I am responsible for who I am and I solely shall decide my fate. Cycling is fun. gripping the handlebars tight, rushing through the roads, over the bridges and skirting through the crowd, avoiding collisions, hoping for it to never end… life on two wheels is a joyride!
16 views
Submitted Nov 6, 2016
I'm a relatively recent college grad who loves to travel independently. My love for travel started at the ripe old age of four, when a midlife crisis uprooted my family to Ecuador for five years. Since then, I've been to countries on 4 different continents. When I'm not blissfully on the road, I reside in New York City, where I become the ultimate travel junkie and spend my days dreaming up my next great adventure!
59 views
Submitted Jun 22, 2010
This site is a montage of travel information: guides, blog, photos, humor, newsletters, a tribute to great adventurers, resources to abandon your cubicle, a gear store and more. It was founded in 2008 by two American history buffs who have abandoned their cubes to travel
55 views
Submitted Apr 28, 2010
A Dreamer's Travel and Lifestyle Blog
17 views
Submitted Jul 2, 2016
I'm a travel journalist and blogger based in Columbus, Ohio who focuses on unique places and people of interest.
17 views
Submitted Jun 6, 2016
We usually go overboard, and sometimes for no special reason other than experiencing what life has to offer. Whether were traveling or just splurging for a memorable night on the town, well guiltlessly share our discoveries right here.
45 views
Submitted Jun 13, 2014
Were an English couple who are swapping the rat race for a voyage of discovery around the world. Our Big Trip begins with a two-year jaunt around Asia from November 2014 and this blog is designed as a permanent record of what we see, think and do – and will hopefully provide information and inspiration for other travellers.
49 views
Submitted Jun 12, 2014
We're Jamie and David. We met while living in Madrid, Spain in 2015 and were married in 2016, twice! We are currently living in Brisbane, Australia on a Work Holiday visa. Jamie teaches English to adults and David is an IT professional. We just bought a campervan, Hector, so once he's all fixed up we'll be heading on more adventures. Follow us to see how we spend our life abroad, 365 days a year!
11 views
Submitted Mar 6, 2017
While the main focus of this site will always be traveling and living abroad, I do retain the right to run a broad website here. So, in addition to those types of posts, I'll often also post about some of my other interests. I don't solely think about travel and life abroad 24/7 ya know.
9 views
Submitted Dec 24, 2016
My name is Anna, I am the person behind the scenes of Abroad and Beyond.net and an obsessive compulsive traveller. I was born and raised primarily in Siberia, that faraway place where you consider sending your misbehaving children and all annoying people
18 views
Submitted Dec 1, 2016
We are a couple of 40-somethings living in Puerto Rico. Until recently, we were both IT directors and worked for a major public university in the Mid-west. We lived the normal, stress-filled, 8-to-5 lives, with majority of our time revolving around work. But we loved to travel and have dreamt of living abroad, for years. Ideally we wanted to live somewhere warm and beautiful – gotta tell ya, the mid-western winters got really old!
19 views
Submitted Feb 21, 2016

After traveling for 10 months through 26 countries with the accumulated knowledge of having seen over 40 countries (so far), we decided to share our experiences. This isn't just a laundry list of things to do or see, but a useful, stimulating, thought-out list of 100 AbsoluteVisits for jet-setters and travel romantics alike. Regardless of "wonder" or popularity, we want to excite people to travel to places they haven't yet seen before as well as encourage them to share their experiences.
69 views
Submitted Jul 11, 2012
experiences, expatriate, exploration
41 views
Submitted May 28, 2014
I'm Tera. I'm a registered nurse and the writer behind Accessible Exploration. I'm a small-town Mississippi girl with a craving for the world as big as the sky. The two greatest passions of my life are helping others and of course, travel. Accessible Exploration is the love child born of those two great passions.
12 views
Submitted Jan 31, 2017

About Dave's Pick
Category Stats
Subcategories:
2
Listings:
7328 (7343 counting subcategories)
Regular:
7321
Dave's Pick:
7
Last listing added:
Aug 19, 2018