Blogs of Travel
The creativity & desire to share experiences among those who have been blessed with the passion, opportunity & ability to wander & explore is a beautiful thing. This is the *ULTIMATE* updated travel blog list on the web with over 8,500 travel blogs listed! We spend *significant* time searching for travel blogs not yet in this list. Focus is on domain name sites in English in the format: www.###.xxx. More info about this list here
When I'm in one place for a longer period, I start getting nervous. Then I need to change something real quick, whether it's a new job, a different city or go on a long trip. This time I'll combine all at once and I'm really looking forward to the upcoming adventure!
20 views
Submitted Nov 14, 2015

enjoying the experiences of being on the road
40 views
Submitted Nov 14, 2014
A Traveler's Library reflects the two passions of Vera Marie Badertscher, a freelance writer who travels when she can and reads all the time
65 views
Submitted Feb 26, 2010

Inspiring Travel Through My Shenanigans
63 views
Submitted Jul 24, 2014
My name is Nathalia Cardenas and Im a travelholic. Ive been living abroad and travelling around for over six years now. Im currently based in Taiwan. Ive recently started blogging and Im loving it! I hope you find it helpful!
37 views
Submitted Jun 1, 2015
I am Bridget Whalen and anyone who knows me, knows that I live to travel. I have a severe case of "the travel bug" and spend an inordinate amount of time planning and dreaming about where I am going next. While traveling is not my full time job, I work it into my schedule as often as possible by mixing weekend getaways with extended vacations.
22 views
Submitted Nov 22, 2015
a mother destined to travel the world
7 views
Submitted Nov 2, 2016
My name is Cassie, and I love traveling. Originally from Montana, USA and currently residing in Lagos, Portugal. I caught the travel bug at an early age, starting with a strong interest in learning about other cultures. I tried to teach myself Chinese in third grade, hah! I didn't get very far with it, but the desire to learn stayed with me.
6 views
Submitted Jan 18, 2017
I am Brianne Miers, and I'm a Boston-based travel blogger who is working to see the world by balancing my career as a communications consultant with a life of travel.
38 views
Submitted May 27, 2015
a wanderlust couple from Norway
19 views
Submitted Jun 7, 2016
Growing up, my father worked for the airlines. Though we never really traveled much then (it was mostly to just visit my grandparents in Florida, or Uncle in Philadelphia), I always loved the sight of an airplane. There was always some mystique about where it might be going to. (Thanks, Where in the World is Carmen Sandiego.)
41 views
Submitted Jun 14, 2014
My name is Lucy Frank, I am a Australian who started travelling the world alone at 18. My blog focuses on backpacking, solo travel, working holidays and travel tips
2 views
Submitted Aug 6, 2017
I started travelling at a very young age and only very recently decided to start a travel blog. These are my baby steps as I learn the ropes of managing a website and share my love of travelling.
88 views
Submitted Aug 16, 2012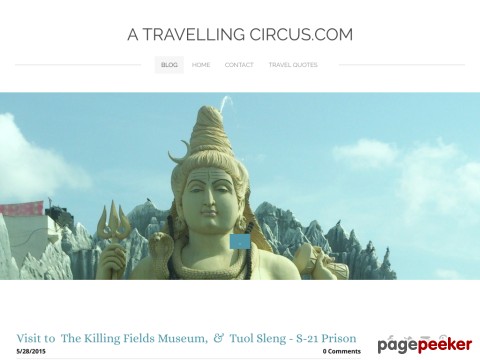 heidi, writer, mother traveller
35 views
Submitted May 29, 2015
Our first time travelling together.
45 views
Submitted Jul 11, 2013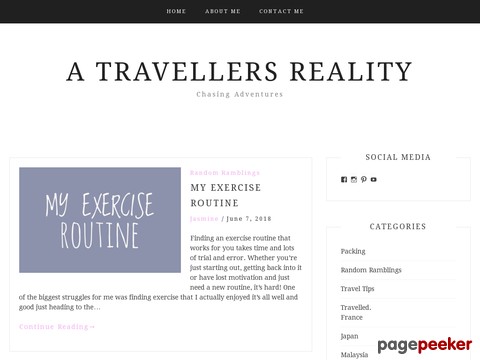 Hello and welcome to atravellersreality, my name is Jasmine Stanford and I am a South Aussie girl. I am currently studying nursing and travelling as much as I can in between. I have created this blog as a place to share travel tips and tricks, to inspire and also to motivate and to create a space for people like me, who just want too see the world one wonderful place at a time.
6 views
Submitted Dec 24, 2016
Travelling is very much a subjective experience. The quality of your trip may vary due to such factors as preparation, booking hassle and expenses. Our goal at A Tuk Tuk is to enhance every aspect of your journey. We've been travelling since 2011, and when people ask us what's travelling's like, we say "it's like a tuk tuk ride". Yes, we had amazing times riding tuk tuks, and we had really bad experiences too. The same can be said about our travels.
3 views
Submitted Apr 17, 2017
I'm Valentina Sheridan. I'm a waitress, writer-in-training, traveler, happy learner and a seeker. I write for travelers like me, that want to embrace the world on a low budget while working abroad.
21 views
Submitted Nov 21, 2015
I'm that girl who left her PR career to travel the world and never looked back. I've now traveled to 10 countries and had life-changing experiences, all on a minimal budget.
8 views
Submitted Oct 2, 2016
Traveling, right after writing, is one of the most important (and expensive) passions in my life. Its fascinating and exciting to meet new people and visit new places.
39 views
Submitted Sep 25, 2014

About Dave's Pick
Category Stats
Subcategories:
2
Listings:
8847 (8862 counting subcategories)
Regular:
8840
Dave's Pick:
7
Last listing added:
Dec 8, 2017