Blogs of Travel
The creativity & desire to share experiences among those who have been blessed with the passion, opportunity & ability to wander & explore is a beautiful thing. This is the *ULTIMATE* updated travel blog list on the web with over 6,000 travel blogs listed! We spend *significant* time searching for travel blogs not yet in this list. Focus is on domain name sites in English in the format: www.###.xxx. More info about this list here
Your Window to the World, 30 Days at a Time
155 views
Submitted Sep 13, 2016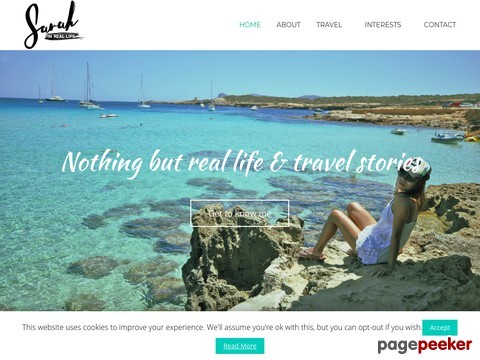 I'm Sarah, a 30-something globetrotter who intends to age well by seeing more of the world, learning modern-life survival skills, dealing with unavoidable roadblocks the best she can, (maybe) kicking her bad habits & sharing nothing but good vibes!
147 views
Submitted Dec 17, 2016
Throughout our relationship, Kym and I prioritized travel at the top of our free time list. The world is accessible to those who choose to see it, yet many don't. Every experience meant learning new cultures, different value systems, and a change of scenery. We learned that not every culture emphasizes fame and fortune, and it struck a chord with us. Our goal became to design a life based on what we value.
140 views
Submitted Jun 26, 2017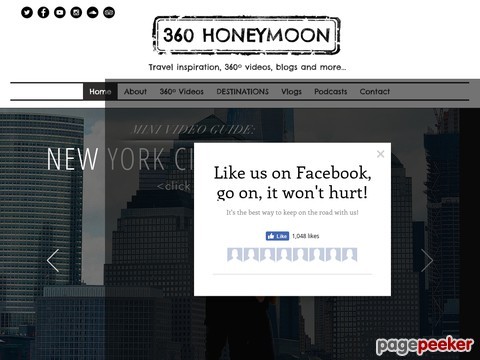 We're Spencer and Candace Austin from London, England. This is the story of our outrageous honeymoon - a mammoth adventure through The Americas, told through stunning 360 degree video, photos, blogs, travel tips and the odd podcast. The fun began with our wedding in Africa in June '16, and the blogs are coming soon..in sickness and in health!
147 views
Submitted Aug 5, 2016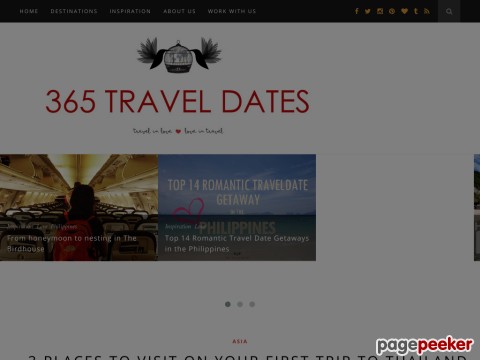 Weve always thought of travelling for a year even when we were dating, so after being married for a year we took a 2 month long trip to southwest China and had an amazing travel journey. We realized how great this trip was for our relationship so from then on, weve decided that well have to take a year off to see the rest of the world. Finally after working for 3 more years, saving and being cooped up in our respective offices, we finally decided to fire our bosses and travel.
174 views
Submitted Jun 1, 2015
photography, travel & food
142 views
Submitted May 24, 2017
Only got a day or two in a city? Maybe you
222 views
Submitted Aug 9, 2010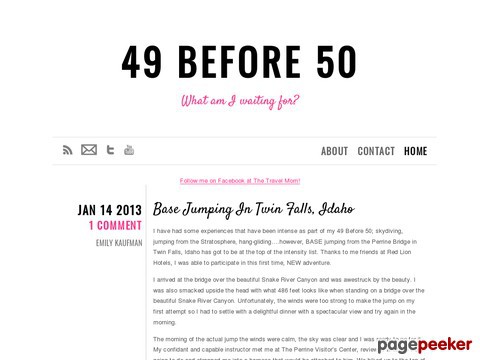 I am celebrating 49 before 50 because it is time for me to do some of the things I want to do. My philosophy is – if not now, when? What am I waiting for? And Why not? I have been a wonderful mother for the past 22 years, shared a great partnership with my husband of 24 years, have been a supportive family member, a hard working business woman and a quality friend.
197 views
Submitted Apr 15, 2012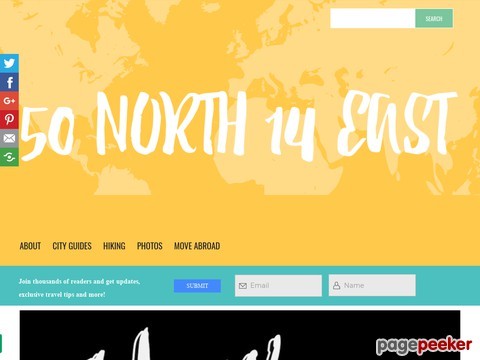 I am Alana, a travel lovin' Oregonian. My first taste of travel was at age 21 when I studied abroad in London. Since then I have visited 23 countries and lived in 3 countries. I'm a fresh air addict, I love being outside hiking or on the beach or downing drinks at a beer garden.
146 views
Submitted Mar 26, 2017
We'll be sharing life's funny adventures while checking off our bucket list. We like off the beaten path travel secrets, recipes for foodies and personal stories to inspire people to explore life's road.
157 views
Submitted Jun 19, 2016

I am a finance professional currently working remotely for an American startup. Travelling is my passion and writing is my profession. Through this blog, I am trying to combine my passion with my profession to take you through my journey around the world

148 views
Submitted Dec 23, 2016
501 Places was created as a travel blog with two simple aims: to share the many years of experiences that I have enjoyed while travelling to over 70 countries, and to inspire others who reach this site to explore the world around them.
244 views
Submitted Mar 11, 2010
Hi, and thanks so much for coming to check out my travels! Sharing travel tips is one of my greatest joys, and nothing would make me happier than you taking away a little piece of points and miles wisdom or a great dinner rec to use on your next trip.
61 views
Submitted Mar 5, 2019
We inform, entertain and inspire travel lovers near and far. Just give us a minute!
181 views
Submitted Feb 4, 2015
It is time to travel the world! I've set aside the basic 9 - 5 to see the world one country at a time. 29 countries down but many more to see!
151 views
Submitted Oct 24, 2016
the main reason I decided to create 7 Continents 1 Passport is because I want to share my trips with you, plus I want to inspire and motivate you and show you how easy it is to travel.
159 views
Submitted Apr 2, 2016
I'm navigating my way through being a full time uni student with a heart that aches to travel, and I'd love for you to join the journey!
153 views
Submitted Jun 5, 2016
I'm Jeremy Larsen, a Type 1 diabetic and world traveler. 70-130.com is my way to inspire diabetics and others to get out and see the world more. I have had T1D for over thirty years, and I've traveled to over thirty countries, insulin and blood glucose meter at my side. You can go anywhere with diabetes.
164 views
Submitted Apr 3, 2016
Hey, thanks for visiting what will always be a work in progress! Im Andrew and I wanted to create something to document the travels of my wife and I.
186 views
Submitted Jan 4, 2015
I am an Australian named Brenden who has given up his job as a manager in a call centre to travel and experience other cultures and customs.
180 views
Submitted Feb 23, 2013

About Dave's Pick
Category Stats
Subcategories:
2
Listings:
6299 (6314 counting subcategories)
Regular:
6292
Dave's Pick:
7
Last listing added:
Oct 25, 2019