Blogs of Travel
The creativity & desire to share experiences among those who have been blessed with the passion, opportunity & ability to wander & explore is a beautiful thing. This is the *ULTIMATE* updated travel blog list on the web with over 7,000 travel blogs listed! We spend *significant* time searching for travel blogs not yet in this list. Focus is on domain name sites in English in the format: www.###.xxx. More info about this list here
Chris and I were amateur globe trotters, the majority of whose adventures had taken place around Europe. But whether it was horse riding in the Slovenian countryside, or exploring Croatia's islands, no adventure was as great as the one we embarked on four years ago when we uprooted our lives and moved across the world to South Korea to begin our work as English teachers.
61 views
Submitted Jun 13, 2016
I am a 37-year-old American writer. In 2010, I left my life in suburban Washington and moved to the Lucky 5 Star Commune in Melville, Johannesburg. Please follow along on my South African adventure.
104 views
Submitted Jun 3, 2012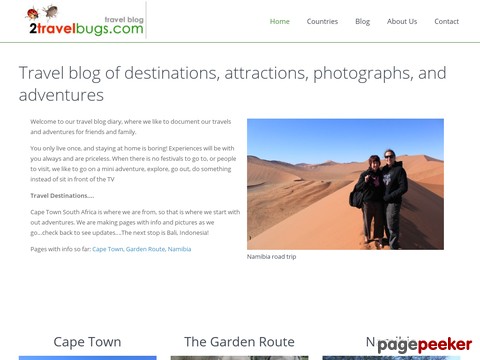 We are Francois and Natacha, and are a nature loving, fire dancing, thrill seeking, festival going, adventurous couple. We like to be outdoors, exploring and finding new exciting things to do and see.
52 views
Submitted Dec 30, 2016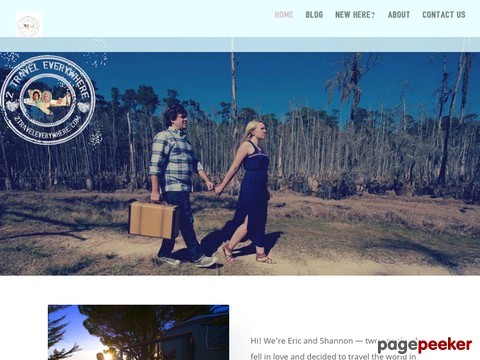 Were Eric and Shannon— two people who fell in love and decided to travel the world in search of adventure everywhere.
87 views
Submitted Jun 2, 2015
A Kiwi, born about as far south in the world as you can get, I've lived in Australia for the past 20-odd years and been a passionate traveller since my first trip abroad at 13 to live for 6 months in the USA. Since then, I've taken myself, 300 pounds and a one-way ticket to London to live for 18 months at the age of 21, backpacked in Spain, and France, in the days of no mobile phones and with about 120 pounds to last a month, hitched through Italy, and lived in Rome and Ravenna, trying to learn Italian while eating way too much pasta…
52 views
Submitted Jun 10, 2017
Travel and personal blog in progress... Feel free to follow us on our adventures.
52 views
Submitted Mar 26, 2017
traveling the world, one ridiculous adventure after the other
94 views
Submitted May 8, 2013
This site is the culmination of years of dreaming and planning. In August 2012, we're making the ultimate change: we're packing our bags and hitting the road (and the skies) for an extended backpacking trip where we plan to travel our way through Asia and Europe.
100 views
Submitted Feb 9, 2013
Jessie Gretener is a young travel journalist, current high school student and full time explorer. And the only travel blog we have ever seen to quote Abraham Maslow. NICE!
108 views
Submitted Apr 27, 2014

Travel Tales and Tourist Tips From Around The World
107 views
Submitted Jan 25, 2013
International travel blog
73 views
Submitted Feb 16, 2016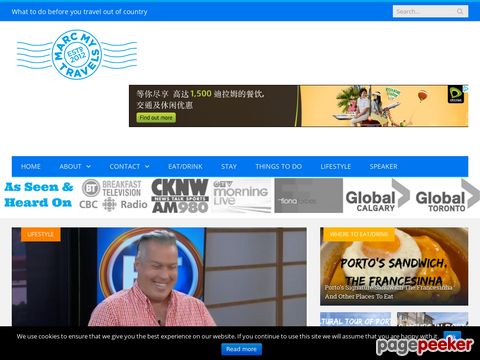 Marc Smith is the Founder and Editor in Chief at 30 Day Adventures. Marc is passionate about building community and engaging in authentic communications.
95 views
Submitted Nov 10, 2014
Your Window to the World, 30 Days at a Time
61 views
Submitted Sep 13, 2016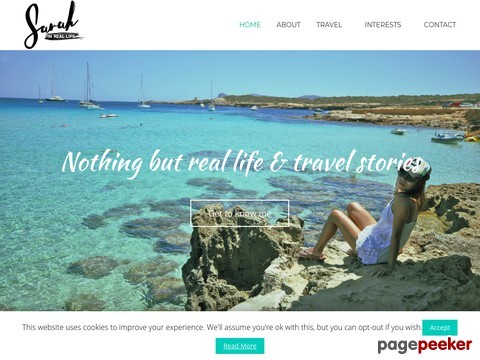 I'm Sarah, a 30-something globetrotter who intends to age well by seeing more of the world, learning modern-life survival skills, dealing with unavoidable roadblocks the best she can, (maybe) kicking her bad habits & sharing nothing but good vibes!
58 views
Submitted Dec 17, 2016
Throughout our relationship, Kym and I prioritized travel at the top of our free time list. The world is accessible to those who choose to see it, yet many don't. Every experience meant learning new cultures, different value systems, and a change of scenery. We learned that not every culture emphasizes fame and fortune, and it struck a chord with us. Our goal became to design a life based on what we value.
50 views
Submitted Jun 26, 2017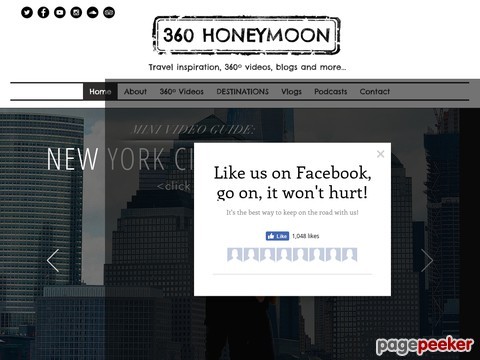 We're Spencer and Candace Austin from London, England. This is the story of our outrageous honeymoon - a mammoth adventure through The Americas, told through stunning 360 degree video, photos, blogs, travel tips and the odd podcast. The fun began with our wedding in Africa in June '16, and the blogs are coming soon..in sickness and in health!
59 views
Submitted Aug 5, 2016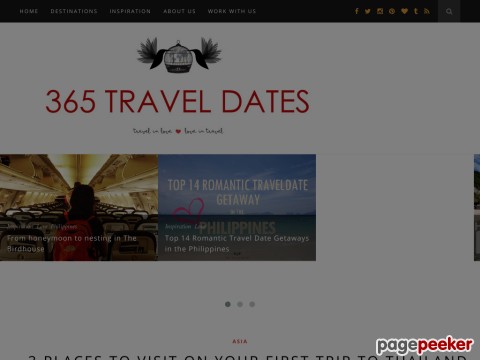 Weve always thought of travelling for a year even when we were dating, so after being married for a year we took a 2 month long trip to southwest China and had an amazing travel journey. We realized how great this trip was for our relationship so from then on, weve decided that well have to take a year off to see the rest of the world. Finally after working for 3 more years, saving and being cooped up in our respective offices, we finally decided to fire our bosses and travel.
85 views
Submitted Jun 1, 2015
photography, travel & food
53 views
Submitted May 24, 2017
Only got a day or two in a city? Maybe you
133 views
Submitted Aug 9, 2010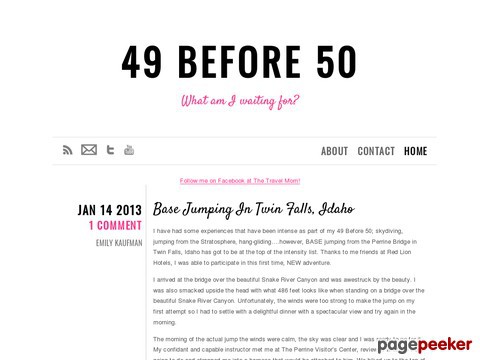 I am celebrating 49 before 50 because it is time for me to do some of the things I want to do. My philosophy is – if not now, when? What am I waiting for? And Why not? I have been a wonderful mother for the past 22 years, shared a great partnership with my husband of 24 years, have been a supportive family member, a hard working business woman and a quality friend.
109 views
Submitted Apr 15, 2012

About Dave's Pick
Category Stats
Subcategories:
2
Listings:
7332 (7347 counting subcategories)
Regular:
7325
Dave's Pick:
7
Last listing added:
Dec 16, 2018