Blogs of Travel
The creativity & desire to share experiences among those who have been blessed with the passion, opportunity & ability to wander & explore is a beautiful thing. This is the *ULTIMATE* updated travel blog list on the web with over 8,500 travel blogs listed! We spend *significant* time searching for travel blogs not yet in this list. Focus is on domain name sites in English in the format: www.###.xxx. More info about this list here
Your Window to the World, 30 Days at a Time
13 views
Submitted Sep 13, 2016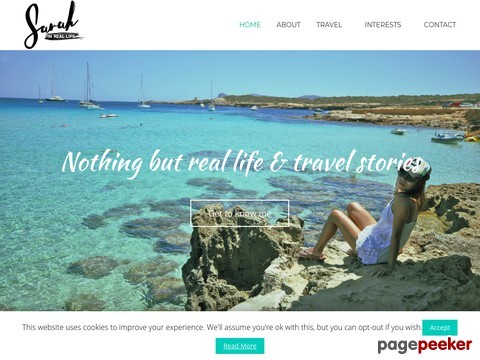 I'm Sarah, a 30-something globetrotter who intends to age well by seeing more of the world, learning modern-life survival skills, dealing with unavoidable roadblocks the best she can, (maybe) kicking her bad habits & sharing nothing but good vibes!
12 views
Submitted Dec 17, 2016
Throughout our relationship, Kym and I prioritized travel at the top of our free time list. The world is accessible to those who choose to see it, yet many don't. Every experience meant learning new cultures, different value systems, and a change of scenery. We learned that not every culture emphasizes fame and fortune, and it struck a chord with us. Our goal became to design a life based on what we value.
5 views
Submitted Jun 26, 2017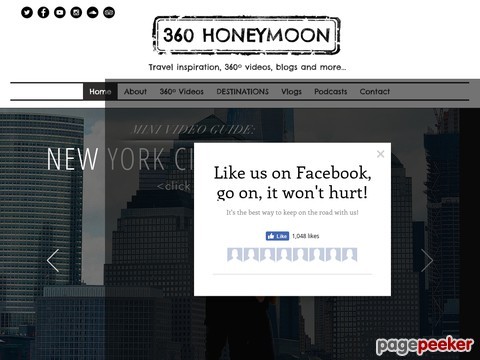 We're Spencer and Candace Austin from London, England. This is the story of our outrageous honeymoon - a mammoth adventure through The Americas, told through stunning 360 degree video, photos, blogs, travel tips and the odd podcast. The fun began with our wedding in Africa in June '16, and the blogs are coming soon..in sickness and in health!
13 views
Submitted Aug 5, 2016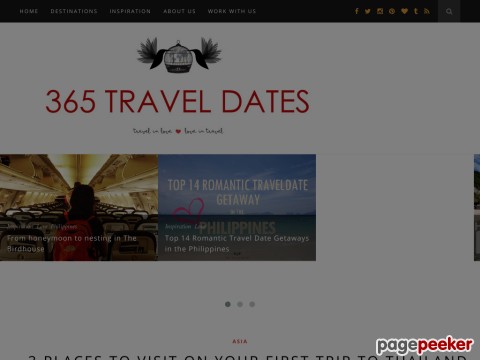 Weve always thought of travelling for a year even when we were dating, so after being married for a year we took a 2 month long trip to southwest China and had an amazing travel journey. We realized how great this trip was for our relationship so from then on, weve decided that well have to take a year off to see the rest of the world. Finally after working for 3 more years, saving and being cooped up in our respective offices, we finally decided to fire our bosses and travel.
39 views
Submitted Jun 1, 2015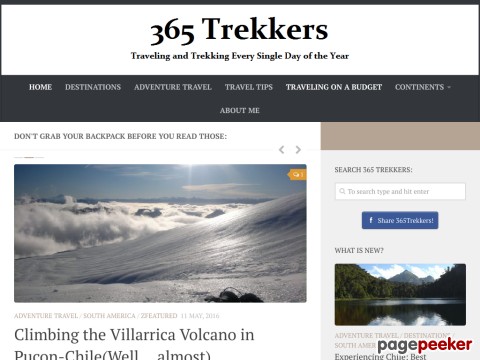 I'm Rodrigo, I have no money at all but I have the need to travel all the time. And maybe you are like me, if so, join me here and let's find out the best way to see the world with no luxury, but having a lot of fun.
23 views
Submitted Jun 5, 2016
photography, travel & food
5 views
Submitted May 24, 2017
Only got a day or two in a city? Maybe you
86 views
Submitted Aug 9, 2010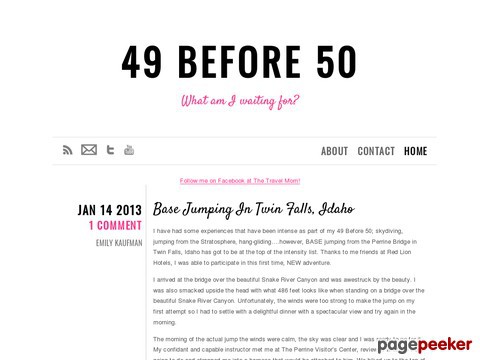 I am celebrating 49 before 50 because it is time for me to do some of the things I want to do. My philosophy is – if not now, when? What am I waiting for? And Why not? I have been a wonderful mother for the past 22 years, shared a great partnership with my husband of 24 years, have been a supportive family member, a hard working business woman and a quality friend.
61 views
Submitted Apr 15, 2012

Most people focus on international travel, I want to focus on what I have in my own backyard. I have discovered places I had never expected, and have a growing list of places I can't wait to see. Before I started this challenge I did not realize that the United States had so much to offer in regards to travel.
44 views
Submitted Jul 26, 2014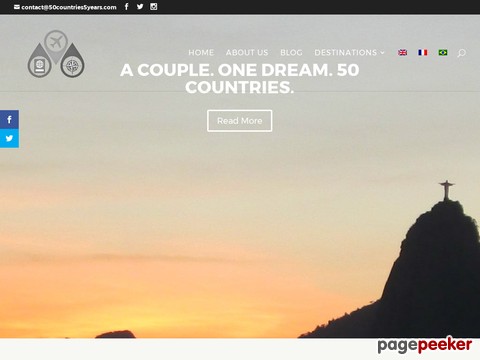 As we are traveling on a cheap budget we will try woofing (work in exchange of accommodation) and try different jobs all over the world. Our goal is sharing our experiences in this blog. A blog with wonderful pictures and videos as well as travel tips.
6 views
Submitted Apr 24, 2017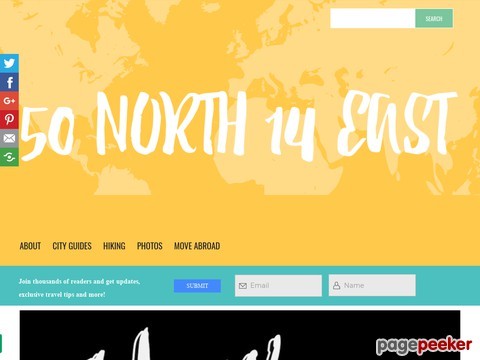 I am Alana, a travel lovin' Oregonian. My first taste of travel was at age 21 when I studied abroad in London. Since then I have visited 23 countries and lived in 3 countries. I'm a fresh air addict, I love being outside hiking or on the beach or downing drinks at a beer garden.
6 views
Submitted Mar 26, 2017
We'll be sharing life's funny adventures while checking off our bucket list. We like off the beaten path travel secrets, recipes for foodies and personal stories to inspire people to explore life's road.
19 views
Submitted Jun 19, 2016
I am a finance professional currently working remotely for an American startup. Travelling is my passion and writing is my profession. Through this blog, I am trying to combine my passion with my profession to take you through my journey around the world

10 views
Submitted Dec 23, 2016
501 Places was created as a travel blog with two simple aims: to share the many years of experiences that I have enjoyed while travelling to over 70 countries, and to inspire others who reach this site to explore the world around them.
101 views
Submitted Mar 11, 2010
We are an Australian & Polish couple, working remotely for digital agencies, spending our days travelling the globe for sport, adventure, thrills and entertainment.
24 views
Submitted Nov 14, 2015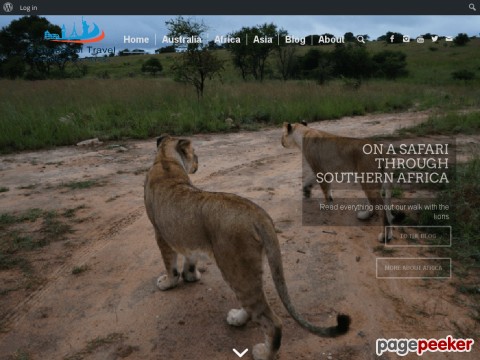 Boy meets Girl, they drink, they dance and boy desperately tries to charm girl. It was Jana's first day in Australia and despite the language barrier Jared did his best to plan the ultimate guided tour of his city for Jana. She accepted without knowing the events that would unfold: a week long tour turned into a month and suddenly Jana's travel plans had changed.
24 views
Submitted Sep 24, 2015
Jess and Tom, both working Government jobs and using every available bit of our leave to explore the world! Now don't get us wrong we enjoy our jobs, and know we are fortunate in that we do get access to a decent amount of leave and consequently have the fortunate predicament of deciding how to best use it!
23 views
Submitted Apr 29, 2016
We inform, entertain and inspire travel lovers near and far. Just give us a minute!
45 views
Submitted Feb 4, 2015
It is time to travel the world! I've set aside the basic 9 - 5 to see the world one country at a time. 29 countries down but many more to see!
12 views
Submitted Oct 24, 2016

About Dave's Pick
Category Stats
Subcategories:
2
Listings:
8841 (8856 counting subcategories)
Regular:
8834
Dave's Pick:
7
Last listing added:
Nov 15, 2017