Blogs of Travel
The creativity & desire to share experiences among those who have been blessed with the passion, opportunity & ability to wander & explore is a beautiful thing. This is the *ULTIMATE* updated travel blog list on the web with over 6,000 travel blogs listed! We spend *significant* time searching for travel blogs not yet in this list. Focus is on domain name sites in English in the format: www.###.xxx. More info about this list here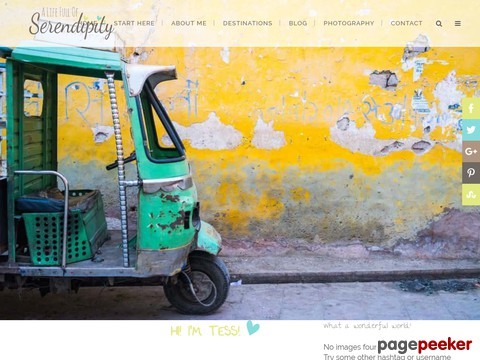 Like the princes, Ill be traveling led by serendipity and see what happens. I have left the Corporate world to fill up my life with what Im passionate about. With a one-way ticket in hand, I am going to travel the world on a budget and document my journey
210 views
Submitted Dec 4, 2014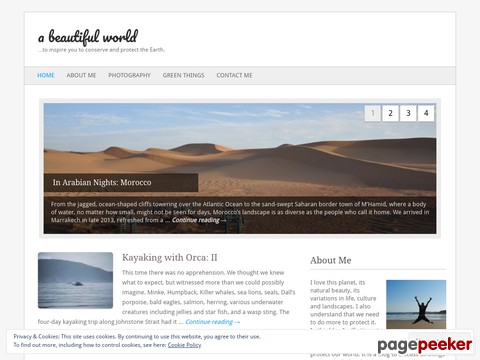 I love photography, history, culture, food and travel. I also love the earth, its natural beauty and understand that we need to do more to protect it. I have traveled, but not enough. This blog is my attempt to capture my travels, and to share those travels with you to inspire you to visit, and to protect, our world.
187 views
Submitted Jun 23, 2012
We are a husband and wife that realized we should put to good use or loves of travel, photography, dining, exploring and picky-ness (we like to think of it as discerning taste)! We have our unique take on life, and that translates into discovery. Our core skill is searching beyond fad, to the underlying truth of the world. In metaphor we are into Books, not Covers (though an exciting cover can be part of a wonderful book!)
204 views
Submitted Jun 7, 2012
We are Jenna (The Blonde) and Gary (The Beard), we are a newly married South African couple who love exploring new places, good food, great wine and traveling.
150 views
Submitted Dec 22, 2016
My travel tales from places I explore. It is all about food, places, people, culture & every other wonder of being a vagabond.
184 views
Submitted May 27, 2015
I love to travel, take pictures and write. My blog is about my life journey and the places I visit. Its a great way to connect with people from around the world with similar interests.
181 views
Submitted Dec 5, 2014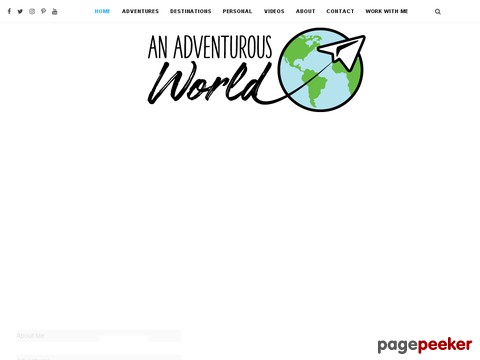 A Brit and A Broad, presented by Macca Sherifi and Brianna Wiens, is all about bringing people and places to you at home in a stylish travel video blog.
171 views
Submitted Dec 22, 2015
Her new video series, A Broad Abroad, is one of the first female-hosted travel adventure series of its kind. In it Paula invites viewers to explore the unknown and discover the unexpected in both familiar and exotic locales around the world. Her motto: Be Adventurous. Be Bold. Be Brave. Reclaim Yourself.
188 views
Submitted Nov 23, 2014
My name is Melissa and I am from Quebec, Canada. I am a random backpacker, professional photo bomber, lovely devil-ish angel who decided to blog about it. Find my broken stories as a traveller with debts and massive doses of craziness.
151 views
Submitted Dec 24, 2016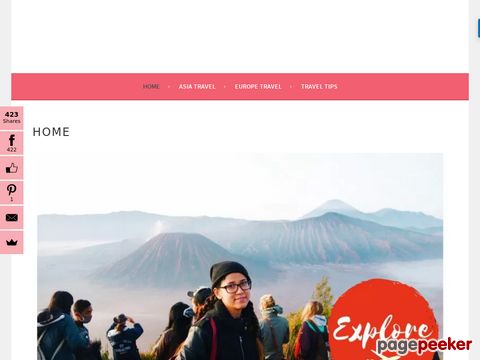 Pursuing my travel dream , one city and country at a time. This is a place where I share my travel journey and things that I love through photographs.
153 views
Submitted Nov 6, 2016
Although we have nil savings, we definitely plan to start keeping keep a little aside – whatever gets left after the travels. Yes, nobody knows what tomorrow has in store, but I for one would want to retire in style, if I live to see that day! Maybe not in a palatial condo, but someplace to return to after wandering the world. A place which would have a lovely portico and a tiny tea parlor within a mini library – Now isn't that a portion of a dream, to set aside a little for?
164 views
Submitted Dec 27, 2015
A Certain Bent Appeal is administered by Bronwyn Kienapple, a freelance writer and crazy world traveler. She worked in online marketing at a major book publisher before quitting to travel. What was supposed to be a jaunt to Central/South America turned into true love found and an extended stay in Mexico City. Bronwyn then decided to give up the ghost, write full time, and travel the damn world.
188 views
Submitted Oct 20, 2013
Abbey's entertaining travel blog
238 views
Submitted Apr 19, 2010
I'm Julia and I've just returned from the adventure of my life. I went travelling around South America, the South Pacific and South East Asia for 12 months, and I'd do it all over again if I could!
168 views
Submitted Dec 24, 2015
Each month we will "sample" a country, and hopefully that song will be together with conversations of where weve been, and maybe a dinner that samples some dishes from that country. If we had a chance to travel to that country, we will post also our experiences. We will try to do that live, as we travel, and reference back. We will also talk about the country geography, their history, and their national holiday. I hope youll help us build these evenings, and help us with your opinions and perspectives. Because you never learn alone about a country and you rarely learn from just Wikipedia.
181 views
Submitted Nov 10, 2014
Thank you for visiting A Couple for the Road! We hope to inspire you and be inspired by sharing our travel stories, as well as hearing of yours! This site was written with the intention of not only sharing our stories, but helping others find their own voice and envision their own journeys. The best reward we can have is seeing you enjoy rewards of your own!
152 views
Submitted Jan 30, 2017
We are eager to explore the world around us, starting from our favorite neighborhood restaurant to undiscovered hikes through the mountains on one of our trips across the globe.
162 views
Submitted Dec 30, 2016
We believe that travel can broaden horizons and contact with new cultures can help us all learn and be more flexible and thoughtful in our worldviews. To that end, we want to help travelers achieve their dreamcation – on a budget!
144 views
Submitted May 27, 2017
We knew from the beginning that we wanted to document our adventures and experiences with anyone interested in reading. However, if we stopped there we'd be selling us, and you, short. We want to make this more than just a travel blog rather a travel resource. A place where you can go for your travel needs. A place where you can see us get lost, over pay for cabs, and make the mistakes, so you don't have to. All the while, we'll be clearly explaining the full logistics around our excursions/accommodations/insert travel topic here. Hopefully by doing so we'll inspire a few other travelers to hit the road!
196 views
Submitted May 25, 2012
Chase and Leah met at the international terminal of the Los Angeles airport in 2004, and since that day they have been on a quest to discover the world together.
175 views
Submitted Feb 4, 2015

About Dave's Pick
Category Stats
Subcategories:
2
Listings:
6302 (6317 counting subcategories)
Regular:
6295
Dave's Pick:
7
Last listing added:
Nov 14, 2019