Bhutan
Bhutan Travel
Association of Bhutanese Tour Operators
82 views
Submitted Jul 20, 2012
Is a licensed tour operating company staffed with a team of highly experienced and professional tour managers and guides. We take pride in providing unmatched quality of service. Satisfaction of our clients is our main concern. we give you glimpses of the breathtaking wonders of the eastern Himalayas in the hope that it will inspire you to travel and experience at first hand the thrill of discovery for yourself.
132 views
Submitted Jul 20, 2012
ABC is managed by dedicated group of professionals with years of accumulated experience and equipped with an excellent infrastructure.
75 views
Submitted Jun 1, 2015
Planning to travel to the Kingdom of Bhutan? Travelling to Bhutan can be a challenging task, if not an impossible one. The kingdom sits on "the roof of the world", remote and "off the beaten path".
90 views
Submitted Jul 20, 2012
Best of Bhutan Tours and Treks is a tour company approved by the Tourism Council of Bhutan (TCB) and "is" a member of the Association of Bhutanese Tour Operators (ABTO). Our strength "is" our obsession with quality and our commitment doesn't end as soon as you've paid for your holiday.
70 views
Submitted Jul 20, 2012
Australia travel agency focused on trips to Bhutan
87 views
Submitted Jul 20, 2012
Bhutan Travelers is a locally owned travel and tour company based in Thimphu, Bhutan. Registered with the Royal Government of Bhutan, we are one of the most experienced tour companies in Bhutan
95 views
Submitted Jul 20, 2012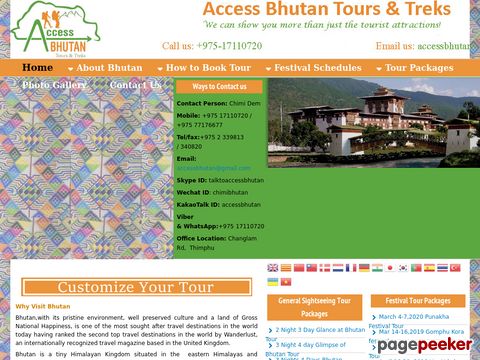 travel agency located in Thimphu
70 views
Submitted Jul 20, 2012
Bhutan Buddha Travellers is a professionally managed tours and treks operating agency by a group of most experienced and skilled travel experts. We have years of experience in this industry and offering trekking trips, cultural tour, festival tour and other trips for Bhutan as per client's needs with a best budget suited price.
60 views
Submitted Oct 19, 2015
Bhutan Dragon Adventurs offers personalized trekking, touring and hiking trips to the mystical Kingdom of Bhutan. Bird watching, bicycle trips, river rafting and eco-trips also available. Bhutan is one of the most remote and unusual countries on earth. T.V. and the Internet were just admitted in 1999 and only a limited number of visas are issued per year. Come visit this Hinalayan Kingdome with us.
192 views
Submitted Feb 26, 2010
Thank you for visiting the Etho Metho website. Here we provide a brief introduction to the various cultural tours, special interest tours and treks, through which we hope to acquaint you with the scenic beauty, culture and customs of Bhutan. Whatever your choice, we are confident of delivering the best. We look forward to hearing from you.
67 views
Submitted Jul 20, 2012
Bhutan Footprints Travel & Adventure is a friendly and energetic Tour & Trekking agency specializing in incoming tourism to Bhutan. We aim to provide our clients whether they are on holiday or business travelers with personal, high-quality service all time.
77 views
Submitted Jul 20, 2012
We arrange a wide range of tours and visits to suit different needs and interests; we provide tours on Culture, Treks, Textiles, Festivals, Flora & Fauna, Bird watching, Religious Tours, Biking and other adventures.
206 views
Submitted Feb 26, 2010
Bhutan Gateway Travel offers fresh, picturesque tours in Bhutan, with diverse itineraries, including easy-paced cultural tours, exhilarating trekking expeditions, traditional festival tours, sporty biking adventures, nature-filled day-hike trips, or a combination tour of your own creation. Bhutan Gateway Travel believes in first-rate, friendly, personalized service and will ensure that your trip to Bhutan is a memorable one.
162 views
Submitted Feb 26, 2010
Bhutan travel information
173 views
Submitted Feb 26, 2010
We are a small and specialized travel company based in Thimphu, Bhutan offering both standard and personalized tours throughout Bhutan.
67 views
Submitted Jul 20, 2012
Bhutan Heron Travels is one of the experenced travel agent approved by Bhutan Tourism Council of Bhutan and member of All Bhutan Tour Operator(ABTO),located at lower Motithang, Thimphu Town ( capital of Bhutan).
75 views
Submitted Jul 20, 2012
Sakten Tours and Treks is one of the oldest tour operators in Thimphu, the capital city of Bhutan. Sakten has grown from a very small tour operator to one of the largest and most reputable tour operators in the kingdom
65 views
Submitted Jul 20, 2012
Formerly under the Banner of BTCL hotels, Bhutan Hotels is a chain of the finest hotels in Bhutan dedicated to the development of Tourism in the country. We are committed to make our guests visit as comfortable, relaxing and enjoyable as possible. Our Properties
62 views
Submitted Jul 20, 2012
Bhutan Jewel Travel,warmly welcomes you to the Kingdom Of Bhutan,more often known as the "Last Shangrila" (abode of the Gods) and the "Land Of the Thunder Dragon".
59 views
Submitted Jul 20, 2012

About Dave's Pick
Category Stats
Listings:
78
Regular:
78
Last listing added:
Oct 7, 2018