Bolivia
Bolivia Travel
Ruta Verde is a Dutch tour and travel agency located in Santa Cruz, Bolivia. We offer a great variety of tours in one of the most diverse and fascinating countries in the world: Bolivia!
20 views
Submitted Jun 24, 2012
sharing Bolivia with the world
11 views
Submitted Jul 30, 2010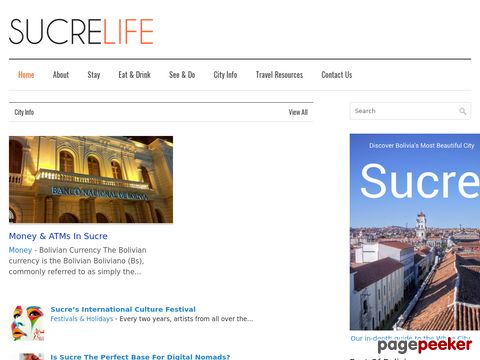 Sucre Life is brought to you by husband and wife team, Brig and Dan. Weve been travelling through Central and South America since the start of 2013. Desperately in need of a rest and somewhere awesome to spend Christmas, we found Sucre and made ourselves at home.
7 views
Submitted Jul 29, 2014
Non-profit organization based in Bolivia, South America, aimed at promoting economic and environmental sustainability while providing global educational opportunities and work experience. Volunteer and intern opportunities and ecotourism projects. Opportunities to study Spanish or local languages (Quechua, Aymara and Guarani) at the Sustainable Bolivia Language School.
56 views
Submitted Sep 22, 2010
The Adventure Brew Hostel's newly renovated main building is dedicated to dorm beds, and just 100m down the road the original building (the Adventure Brew Bed and Breakfast, listed separately here on HostelWorld) is focused on private rooms. These two buildings were created to give you, the adventure traveler, a friendly and fun base from which to plan your explorations of Bolivia, take a break from your travels, meet other travelers, or just recharge your batteries before heading out for further adventures.
25 views
Submitted Jun 24, 2012
12 views
Submitted Jul 20, 2012
Welcome to the official travel and tourist information web site for Buenavista, the eco tourism, luxury and adventure travel destination of Bolivia and South America.
9 views
Submitted Jul 20, 2012
Welcome to Wasi Masi! I'm Roxana, and together with my young son Antonio and our friendly dog Balú, we run a quiet, relaxed guest house in the centre of Sucre, three blocks from the central plaza.
12 views
Submitted Jun 24, 2012
With over 17 years of experience in tourism in the heart of South America, from trekking around high mountains, trudging through hot, steamy jungles and leading travelers to cultural and ancient places, we continue to learn wonderful things about our country, culture and people. We invite you to experience and share all that Bolivia has to offer!
11 views
Submitted Jul 20, 2012

About Dave's Pick
Category Stats
Listings:
29
Regular:
29
Last listing added:
Dec 8, 2014