Ecuador
Ecuador Travel
Aleida's Hostal is strategically located just five minutes away from La Mariscal in a safe, quiet, modern, and accessible area of Quito - Ecuador, in a house built in the 1950's. Our goal is to provide outstanding accommodation for local and international tourists.
23 views
Submitted Aug 13, 2012
WELCOME TO ARIES BIKE COMPANY, YOUR ECUADOR MOUNTAIN BIKING EXPERTS. THIS COULD BE THE START FOR YOUR GREAT ECUADOR ADVENTURE TOUR. WE ARE A COMPANY WITH OVER EIGHTEEN YEARS OF EXPERIENCE IN DOWNHILL MOUNTAIN BIKING AND HIKING IN ECUADOR.
31 views
Submitted Aug 13, 2012
Owned by a Swiss, L'Auberge INN Hostel is a backpackers hostel located between the two main centers of interest in Quito:
16 views
Submitted Aug 13, 2012
Join Ecuador's Mountain Biking Pioneers on a mountain bike tour through Ecuador's spectacular countryside. Biking Dutchman has been providing memorable vacations for cyclists of all abilities since 1991.
24 views
Submitted Aug 13, 2012
Black Sheep Inn is an inexpensive ecologically friendly hotel high in the Andes Mountains of Ecuador. Our rural eco-lodge is a perfect place to discover centuries-old culture and diverse ecosystems.

19 views
Submitted Mar 11, 2010
Blue House is a youth hostel located in the best tourist area of Quito, a few blocks from the square Foch, with easy access to areas of interest of the city, the house was built 60 years ago, worked here the former Embassy of Colombia, the hostel has large and beautiful areas in common with plenty of natural light and a large courtyard with barbecue.
21 views
Submitted Aug 13, 2012
In the heart of Some of South Americas most active cities, Quito and Cuenca Ecuador, you will find El Cafecito. A "warm and inviting" café bar with hostel.
19 views
Submitted Aug 13, 2012
CLIMB ECUADOR organizes and leads mountain climbing trips to the Andes Mountains of Ecuador, Bolivia, Peru, and Argentina, and to the volcanoes in Mexico.
22 views
Submitted Jul 20, 2012
With an altitude of 5,897 meters above sea level, Cotopaxi is one of the highest active volcanoes in the world
24 views
Submitted Aug 13, 2012
Cotopaxi, viewpoint of the Andes and the second most popular adventure destination in Ecuador, just a few minutes away from Quito. If you find being in nature an uplifting experience, then take a visit to the higuest volcano in the world, it will leave its mark on you.
20 views
Submitted Aug 13, 2012
Ecoventura has first class luxury cruises to Galapagos with all the facilities.
64 views
Submitted Feb 26, 2010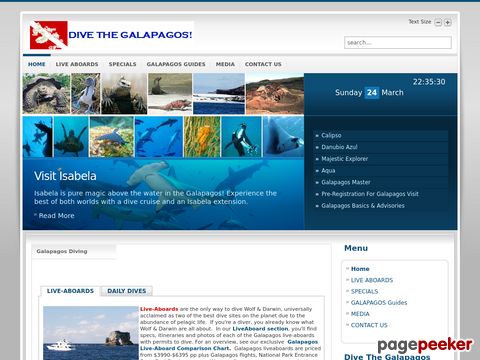 diving opportunities and live aboards on the Galapagos Islands
33 views
Submitted Jun 20, 2010
Bed & breakfast eco-tourism in family homes in the warm, sub-tropical western foothills of the Andes. A charity-run project supporting reforestation and the local community in an agricultural area of great natural beauty. Farmstay price includes bed, breakfast & planting a tree. Adventure activities & guided tours ? rafting, trekking, photography, horse-riding, bird-watching, chocolate-making, tree-planting, etc. Includes a useful ?weather calendar? for deciding when best to visit Ecuador. Fun for families, great for couples or groups, safe and welcoming for single travellers.
105 views
Submitted Feb 26, 2010
Ecuador Explorer will help you explore the remarkable diversity that the tiny country of Ecuador contains: the Galapagos Islands, the Andean Highlands, the Amazon Rainforest, the Pacific Coast, and the fascinating cities of Quito, Guayaquil, Manta, Cuenca and others.
40 views
Submitted Apr 25, 2010
Travel in the avenue of volcanoes & Ecuador´s highlands, volcanoes, Colonial sites, Indian Markets, Bird Waching, Familiar, Honey moon Tours & itinerary
21 views
Submitted Mar 13, 2012
Ecuador Travel Guide
183 views
Submitted Feb 26, 2010
good info about Ecuador & the Galapagos
210 views
Submitted Feb 26, 2010
Ecuador information, travel tips, destination reviews, travel discounts and background reading about Ecuador.
74 views
Submitted Feb 26, 2010
Ecuadorial, we don't sell or organize tours. We don't list every last place or thing to do. We aim to bring you colourful and candid features, highlighting the best the country has to offer while promoting exemplary companies or projects which we believe will help you make the most of your visit
83 views
Submitted Feb 26, 2010
Exploring Ecuador
221 views
Submitted Feb 26, 2010

About Dave's Pick
Category Stats
Listings:
40
Regular:
40
Last listing added:
Aug 14, 2017