Finland
Finland Travel
Aland Finland, tourism guide
129 views
Submitted Feb 26, 2010
Being an enthusiastic adventure sportswoman I founded Boreal Tours Ky travel agency in autumn 2003 and worked out a lot of interesting adventure, sports and outdoor tours in northern Finland.
10 views
Submitted Oct 21, 2012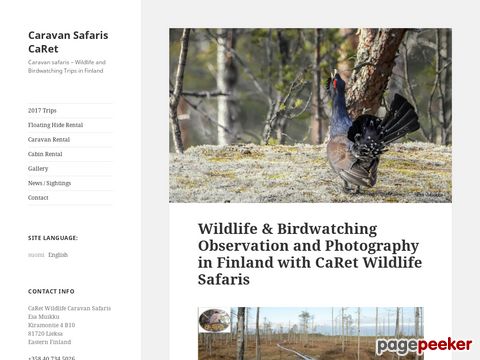 I provide personalised Wildlife photography safaris and nature trips and tours into the wilderness. I'm located at Lieksa, Nortnern Karelia, Finland, but I do trips all around Finland according to your wishes. My primary trip targets are National Parks, nature reserves and protected forests and waters where lives different species of bird and mammals.
17 views
Submitted Oct 21, 2012
Situated in Katajanokka, all of Helsinki is available to you from Eurohostel's front door.
14 views
Submitted Oct 18, 2012
Visit Finland with Finland Insider
26 views
Submitted Oct 21, 2012
the flora and fauna of Finland
9 views
Submitted Oct 21, 2012
Finnature Ltd is a ground tour operator specialized in wildlife- and birdwatching tours and wildlife – especially wild bird photography. Finnature's company philosophy is to raise public perception of the value of Finland's natural environments and to help preserve them for future generations. Finnature's tours offer clients opportunities to enjoy the wonders of nature under expert guidance.
10 views
Submitted Oct 21, 2012
Fishing in Finland is a versatile source of information about fishing tourism in Finland. Private fishermen as well as companies and groups requiring fishing services will find here all the necessary information about the Finnish fishing tourism services.
22 views
Submitted Oct 21, 2012
Fishing Lords Ltd. is a travel organizer located in southern Finland. Our company was founded in 2000. Our primary field of expertise is organizing fishing trips. We also offer accomodation in holiday cottages and various program services in sea environment. We are distinguished by good customer service, flexibility, and a fresh touch throughout all of our operations. Our team loves their work and it shows.
10 views
Submitted Oct 21, 2012
GPS-tours are ideal for independent travellers who want to explore nature, but at the same time want to enjoy comfortable lodgings. GPS-tour packages are designed by local nature experts to guide you safely in the Finnish wilderness.
8 views
Submitted Oct 21, 2012
Green Tourism of Finland®(GTF) is a network of Finnish companies of nature tourism, who are committed to the principles of the sustainable development. Green Tourism of Finland® - network is a high quality, safe and environmentally friendly option for an environmentally aware traveler.
8 views
Submitted Oct 18, 2012
Born in 2008, Helsinki Cityride is a provider of city tours and designer of new conscious tours in respect of a sustainable tourism. The purpose of our company is to offer your customers a new way to discover the whole cultural wealth of Finland. Helsinki Cityride is a team of nature lovers -fascinated by the country with its vast spaces, its culture, its history and traditions -that promises to reveal an authentic Finland to travellers.
9 views
Submitted Oct 18, 2012
My name is Hendrik Morkel, and I am the author of Hiking in Finland. I started this blog in the spring of 2009, after reading many interesting outdoor blogs and being inspired by them. Seeing that there was no blog about UL backpacking in Finland which is in English, I took the duty upon myself to represent this beautiful country and show what it has to offer to backpackers, bikepackers, skiers and packrafters. You will read here about my adventures in Finland, Sweden and Norway, gear reviews, videos and interviews with UL cottage manufacturers.
12 views
Submitted Oct 21, 2012
Good humour trips in Finnish nature since 1992!
10 views
Submitted Oct 21, 2012
All our rooms have private shower and bathroom, also a small kitchenette with a refrigerator. In part of the rooms there is a possibility for internet access. Morning sauna and swimming are included in some of the prices. We have parking facilities for our customers
12 views
Submitted Oct 18, 2012
Hostelling International Finland
12 views
Submitted Oct 18, 2012
Youthful and regenerating Hotel Finn offers its guests convenient quality accommodation in the very heart of Helsinki. Our professional and pleasant staff is very familiar with the city's sights and attractions and are ready to help guests with all their problems and questions.
9 views
Submitted Oct 18, 2012
At Hotel Kämp, experience the luxury of timeless elegance and European glamour. In the spacious hotel rooms of the most luxurious hotel in Helsinki, enjoy your stay whether you're on a business trip or vacation. Over the years, Hotel Kämp has accommodated royals and heads of state, as well as world-class international artists. Kämp milieu tells numerous stories of love, unforgettable moments and happenings in Finland's history.
8 views
Submitted Oct 18, 2012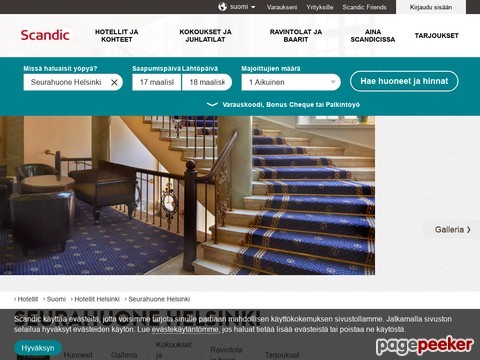 Historically over 170 years old Seurahuone is one of the most traditional hotels in Finland, and can be considered even internationally a state of the art hotel.
12 views
Submitted Oct 18, 2012
If you want to find the best hotels in Helsinki, Finland, you are in the right location. Here travelers can liken prices of cheap hotels in Helsinki and reserve budget accommodation on-line right now!
9 views
Submitted Oct 18, 2012

About Dave's Pick
Category Stats
Listings:
40
Regular:
40
Last listing added:
Oct 21, 2012