Nepal
Visit Nepal, Nepal guide, Nepal Travel, Kathmandu Nepal

Trekking in Nepal
This website is dedicated to providing the most up-to-date and reliable information on trekking in Nepal. It is maintained by trekkers and revised regularly.
27 views
Submitted Jun 22, 2015
Himalayan Smile Treks and Adventures Pvt. Ltd. is a locally owned and managed trekking company established by a team of professionals who have long years of experience in travel, trekking, tour and adventure activities in Nepal, Tibet and Bhutan.
58 views
Submitted Jun 5, 2011
Broad Adventure Travel and Trekking Company in Nepal offers leisure holidays, Cultural Tour, Hiking, Trek and adventure activities in Nepal, Tibet, India, Bhutan.
29 views
Submitted Dec 3, 2011
... providing women guides and assistants for women trekkers.
21 views
Submitted Mar 31, 2010
Above The Himalaya Trekking Operates treks & tour in the Himalayas since 10 years,Provides free information for Treks/tour in Nepal, Tibet, India and Bhutan.
82 views
Submitted Feb 26, 2010
we offers all kind of adventure trekking and tours holiday in Nepal, Tibet, Bhutan and India.
19 views
Submitted Jul 23, 2013
Leading trekking agency in nepal
21 views
Submitted Sep 5, 2015
Gives you a true and clarity informations and news of nepal.with many more fun and entertainmaint.
174 views
Submitted Feb 26, 2010
Trek across the edge of the Kathmandu Valley. Rafts and rhinos in Chitwan National Park. Annapurna base camp trekking. Sunrise at Poon Hill. Build your own Nepal adventure.
65 views
Submitted Feb 26, 2010
Destination Himalaya recommends our clients onward adventure treks, challenging trekking high passes, unexplored trekking routes, home stay, village tour, city tour and pilgrimage tour to realize amazing experience of your real holiday. We also operate Tibet tour, Bhutan tour and India tour under the system of Nepal Government as well as rules and regulations followed by these Countries.
17 views
Submitted Jun 21, 2010
ECO TREK is one of the most well- reputed and well known government -licensed trekking and touring companies in Nepal. Eco Trek has been organising rewarding adventures in the Himalayas since 1992
24 views
Submitted Jun 20, 2010
offering a variety of outdoor trips for Nepal as well as Tibet and Bhutan
38 views
Submitted Mar 31, 2010
Explore Himalaya is an adventure travel and outdoor agency based in Nepal and specialized in trekking/hiking trips, peak climbing and mountaineering expeditions, 4WD overland tours, biking and safari tour. We deliver trips of a lifetime in the Himalayas (Nepal, Tibet, India and Bhutan).
21 views
Submitted Mar 13, 2010
Our passion is trekking in Nepal. We formed Far Above the Clouds to bring our experience and love of the mountains to visitors to Nepal, whether this is your first time in the Himalayas, or whether you return again and again.
20 views
Submitted Jul 30, 2010
We are best travel organiser for the: Tour & Trekking around the Nepal, Tibet & Bhutan
150 views
Submitted Feb 26, 2010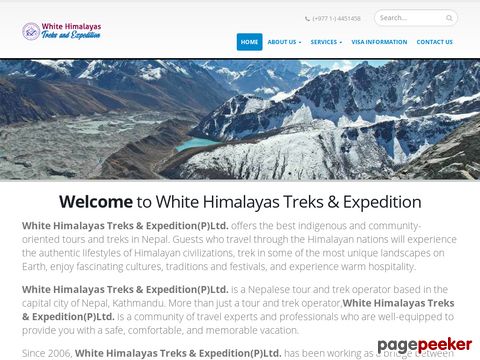 Hi everybody, my name is Ang pemba Sherpa 25 male. I am from Nepal and I am working as a mountain guide.i like travel. If you want to travel mountain please contact me
E-mail-mountain_sherpa2002@yahoo.com
Homepage-www.stairwayheaven.com
108 views
Submitted Feb 26, 2010
Organizes the affordable trekking and tour packages in Nepal, Bhutan & tibet.
131 views
Submitted Feb 26, 2010 Leading travel and tour operator in nepal which operates the tours, trekking in nepal, bhutan & tibet.
111 views
Submitted Feb 26, 2010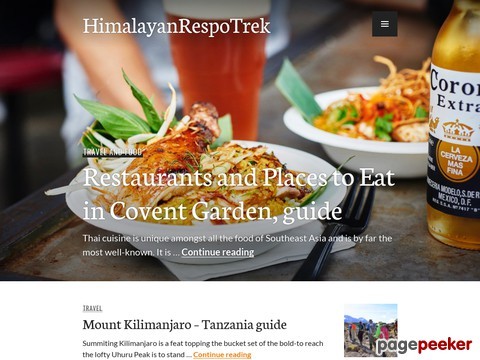 Himalayan Respo Trek is a registered trekking and travel company in Nepal, established with an aim to further development of tourism industry in Nepal and to provide quality service to the visitors.
119 views
Submitted Feb 26, 2010
Himalayan River Fun is a leading Rafting company in Nepal and an adventure company managed and operated by Nepali professionals team, was formed in 1997 and has become popular among the adventure seeker around the globe ever since.
86 views
Submitted Feb 26, 2010

About Dave's Pick
Category Stats
Listings:
60
Regular:
57
Reciprocal:
2
Dave's Pick:
1
Last listing added:
Jan 21, 2018