Couples Travel
Vacations for couples including retreats and romantic sensuous vacations.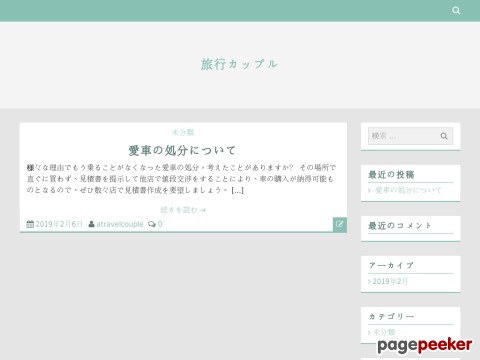 Our passion for travel, adventure and all things exciting led us to create our couples blog, A Travel Couple. This is a blog to document our travels around the world as well as offer travel advice and tips to any couples planning to do the same.
115 views
Submitted Sep 23, 2013
A couple navigating life's little adventures. They are currently on a mission to travel the world, one adventure at a time! I've stumbled across your website directory page and thought I'd get in touch to request a listing.

76 views
Submitted Feb 23, 2017
alternative lifestyle vacation for couples
142 views
Submitted May 1, 2010
Couple Getaways are a great way to spice up your relationship whether you are newlyweds or you've been together for decades!
120 views
Submitted Nov 5, 2012
Couple travel tips for a couples vacation, weekend getaways and around the world backpacking adventures.
116 views
Submitted Jun 3, 2012
couples only vacation & properties in the Caribbean
989 views
Submitted Feb 26, 2010

Date Flights is a travel blog for couples – providing first-hand date ideas in cities all over the world. Whether you're looking to splurge on an indulgent night on the town (First Class), or spend a relaxed & budget-friendly night over a casual bottle of wine (Economy), date flights has a romantic suggestion just for you.
93 views
Submitted Apr 3, 2016
Maximise specialise in hen weekends in the very best towns and cities across the UK.
373 views
Submitted Feb 26, 2010
"Blue, White and Red" in colors, our 2 CV will allow you a nostalgic come back in the history of our city. With the soft roof of our 2 CV, you will get a panoramic view on all the monuments: Eiffel Tower, Notre Dame, Louvre and, of course, the famous Champs Elys?es... Paris opens to the skies...
380 views
Submitted Feb 26, 2010
Romantic hotels, inns, resorts, spas, and other "couples" accommodations. Suitable for honeymoons, weddings, or just a romantic weekend getaway!
635 views
Submitted Feb 26, 2010
Eclipse Leisure is a tour operator specialising in Stag and Hen Weekends, Hen Nights and Stag nights in the UK and Europe.
232 views
Submitted Feb 26, 2010
The Luxury Couple is for couples and companions who want to travel in luxury but not at the expense of fun and the pursuit of something different and original.
92 views
Submitted Oct 30, 2015
the travel blog for couples
120 views
Submitted Feb 27, 2010

About Dave's Pick
Category Stats
Listings:
13
Regular:
13
Last listing added:
Feb 23, 2017