Cultural
Cultural Trips. Cultures and indigenous peoples Im Carrie Culpepper a travel and design journalist, museum publicist and mother always in search of a culture fix
15 views
Submitted May 30, 2015
A Cultural Heritage Journey
16 views
Submitted Nov 3, 2014
Lesley Peterson is a Toronto-based writer specializing in travel, art, culture, history and legendary landscapes
18 views
Submitted Feb 26, 2013
Culture Vixen is an online travel + culture magazine. Launched in October of 2008, the site features new articles between 1-5 times per week and attracts a diverse group of devoted, design-conscious, and fiercely adventurous readers from all across the globe.
22 views
Submitted Dec 17, 2012
Digging deeper into the cultural aspects of travel.
13 views
Submitted Apr 2, 2016
The worlds best cultural travel experiences, on tour and on your own.
18 views
Submitted Mar 17, 2014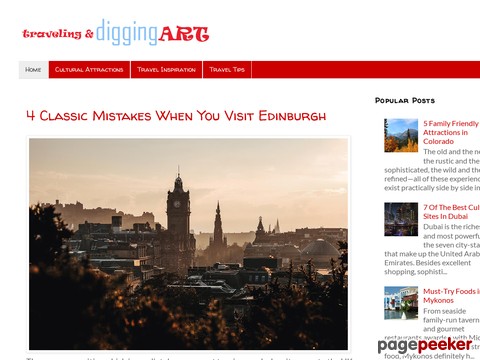 Travel writer and photographer sharing her love for art
15 views
Submitted Feb 23, 2013
If I can make a difference for someone in this world, my journey will be a successful one.
11 views
Submitted Jul 21, 2016
life at the crossroads of faith and culture
8 views
Submitted Dec 5, 2014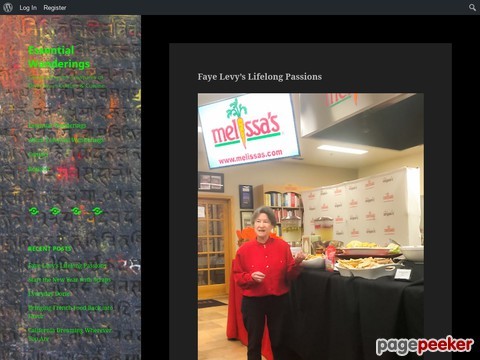 My lifelong passions revolve around travel, exploration, hospitality, research, connecting with people, food, culture, distinctive lifestyles and philosophies. My earliest memories are of outings and exposure to new cultures and cuisines at exotic often kitsch establishments.
9 views
Submitted Feb 4, 2016
At EthnoTraveler, we attempt to wed great travel writing with thoughtful essays, striking pictures, and in-depth reporting in hopes of creating an online magazine that never ceases to be engaging while remaining deeply respectful of the people and places we write about. Dispatches from the crossroads of Culture
13 views
Submitted Jun 20, 2012
This website is to chronicle the adventures of an awesome young woman as she discovers the stories that have been scattered throughout history. Experience the world through her exploits and mishaps. Follow along as new cultures and undertakings lead to laughable antics. Feel inspired by her observations of humanity and create adventures all your own.
6 views
Submitted Mar 13, 2016
FROM THE ROAD is a retail brand born out of a passion for off-the-grid travel, a love of indigenous cultures and a desire to create beautiful objects with soul. Founder Susan Easton travels the globe to collaborate with artisans on decorative accessories for self and home that celebrate the source and give shoppers a real sense of connection to the treasures they purchase.
12 views
Submitted Dec 8, 2014
Global Culture Travel focuses on the cultural side of travel – the people, the customs, the events, the FEEL of a place.
32 views
Submitted Apr 14, 2013
travel and language comic strip
6 views
Submitted Dec 17, 2016
jeffs study of people and the world they occupy
5 views
Submitted Jun 17, 2014
Carry On publishes new and rediscovered travel writing, as well as more general cultural writing.
14 views
Submitted Oct 5, 2013
exploring culture at home and abroad
11 views
Submitted May 31, 2015
savvy citizen: a well-informed, empowered, and assertive participant in our interconnected global culture
9 views
Submitted May 15, 2014
dedicated to educating and inspiring audiences about issues that matter, cultures worth exploring, environments worth preserving, and conversations worth sustaining
302 views
Submitted Feb 26, 2010

About Dave's Pick
Category Stats
Listings:
64
Regular:
64
Last listing added:
Jul 10, 2017