Dude Ranches
Looking to experience the reality of working on a Dude Ranch - cattle drives, horse roping and more! Check out these listings.
Gene Kilgore's RanchWeb.com represents the best, highest quality dude ranches, guest ranches, resort and working ranches in North America and South America, and can be your one-stop resource for finding the perfect all-inclusive vacation that is just right for you and your family.
8 views
Submitted Jun 4, 2012
The Cortez family welcomes you and your family to the ranch for a family vacation or holiday, fitness vacation, company retreat, church retreat, family reunion, or other group event. Saddle up and live your dreams for an hour, day, week, month, or longer.
8 views
Submitted Jun 4, 2012
Welcome Saddle up and make a perfect getaway to the warm heart of the Old Southwest! Rancho de los Caballeros isn't your average dude ranch: we're a historic ranch resort with the soul of a bed and breakfast. The Ranch offers full resort amenities and privacy, yet with the charm and intimacy of yesteryear—it's the kind of place where everyone knows your name and your favorite horse, and don't be surprised if our friendly staff starts to feel like family. Arizona.
17 views
Submitted Jun 4, 2012
In its tranquil setting of 'charming turn of the century farmhouse' nestled among the old willow trees overlooking the Cattaraugus Creek is our 66 acre Working Horse Ranch
7 views
Submitted Jun 4, 2012
Are you looking for something a little off the beaten path? How about horseback riding on a genuine summer dude ranch vacation, a horse pack trip adventure into the spectacular Bob Marshall Wilderness, a wholesome family getaway, a premier fly-fishing experience, a traditional fair-chase hunt for deer and elk, or maybe a snowmobiling adventure in Montana's winter wonderland?
8 views
Submitted Jun 4, 2012
Rimrock is a second-generation, family-owned and operated ranch. Gary and Dede Fales are continuing a 50+ year history, started in 1956 by Gary's parents, Glenn and Alice Fales
7 views
Submitted Jun 4, 2012
Welcome to the Rockin' R Ranch, a real old west working Utah dude ranch where cowboys brand cattle, grow and harvest crops, and know how to have fun when the work is done. As our guest, you're invited to experience one of the last remaining strongholds of the American West! Whether you soar back in time with us for a few days or an entire week, the rejuvenating atmosphere at the Rockin' R Dude Ranch is sure to fill your soul.
5 views
Submitted Jun 4, 2012
family destination Dude ranch
10 views
Submitted Jun 4, 2012
Then take a trip out to one of the finest dude ranches in Bandera, Texas: The Silver Spur Guest Ranch is waiting for you. This historic guest ranch is a perfect place to trade in your tie for a red bandana, your skirt for blue jeans, and your worries for the peace of a Western sunset
5 views
Submitted Jun 4, 2012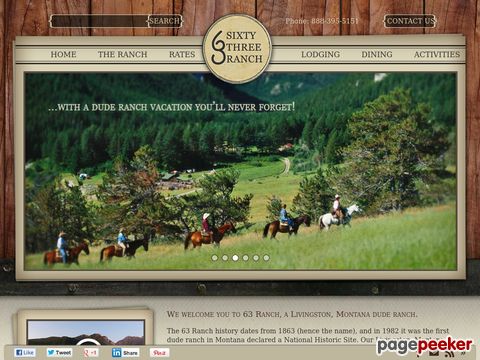 The 63 Ranch history dates from 1863 (hence its name). In 1982 it was the first dude ranch in Montana declared a National Historic Site. Our family has owned and operated The 63 continuously since 1929. The ranch sits at 5600 feet altitude below Elephant Head Mountain, 50 miles north of Yellowstone National Park, 12 miles from Livingston, Montana.
11 views
Submitted Jun 4, 2012
Southern Cross Guest Ranch is a premier year-around guest ranch, horse farm, and bed & breakfast conveniently nestled in Central Georgia's Historic Heartland and within an hour drive from Atlanta. Home to well over 150 quality Paint and Quarter horses, the ranch is best known for its exceptional hands-on horseback riding program, unguided riding opportunities, and peaceful, comfortable setting. We welcome you to experience our delightful accommodations, exceptional cuisine, and southern hospitality.
25 views
Submitted Jun 4, 2012
Welcome to Wyoming's Best Guest Ranch & Dude Ranch! Our guest ranch is located near Jackson Hole, Wyoming and provides many opportunities for horseback riding, fly fishing or just relaxing in a land that remains much the same as when explorer John Colter first set his eyes on Yellowstone and the Tetons in 1807.
13 views
Submitted Jun 4, 2012
Our ranch family is dedicated to providing you with the best guest ranch vacation you can find. We have worked hard to create a special, friendly atmosphere where you can get a glimpse into the old west while enjoying the beautiful NW Arizona desert and all the peace and quiet one could hope for. We invite you to stay with us and be part of our ranch family, even if it is only for a little while.
8 views
Submitted Jun 4, 2012
Get comfortable and visit our dude ranch a few minutes. Imagine your family vacation is horseback riding here in Colorado, breathing the cool crisp air, under a blue sky surrounded by Rocky Mountain views.
9 views
Submitted Jun 4, 2012
Welcome to Sweet Grass Ranch! Nestled at the base of Montana's picturesque Crazy Mountains, Sweet Grass Ranch is a sixth generation,
9 views
Submitted Jun 4, 2012
An easy hour from Denver, Sylvan Dale Guest Ranch is nestled in the Big Thompson River Valley, a true mountain get-away for business or pleasure. Eagles soar above the red cliffs while mule deer and wild turkey seek the cool shade of the ponderosa forest. The rushing waters of the Big Thompson, teaming with wild rainbow trout, flow past the main lodge.
8 views
Submitted Jun 4, 2012
Since 1868, Tanque Verde Ranch has been reviving the spirit of the Old West by providing guests with luxurious accommodations, authentic dining, unparalleled amenities, and an abundance of activities. Located on 60,000 acres of Tucson's breathtaking desert landscape, Tanque Verde Ranch is nestled among the natural beauty of the Rincon Mountains, between the Saguaro National Park and the Coronado National Forest.
8 views
Submitted Jun 4, 2012
A vacation at Tarryall River Ranch is a unique and special opportunity that will never be forgotten! The breath-taking Rocky Mountain scenery combined with fantastic activities, adventure and warm hospitality in a safe environment will provide the vacation of a lifetime! We are the Tesch Family and welcome you to the Tarryall River Ranch to experience the magic of the West and create cherished memories-of-a-lifetime!
12 views
Submitted Jun 4, 2012
A great Western vacation for all ages is what the Bar W Guest Ranch on Spencer Lake in Whitefish is all about. The Bar W is open year round and ready to treat you with true Western Montana hospitality - from the moment you arrive until long after you have left. Beautiful vistas and rolling ridges adorn the countryside of this cozy Montana dude ranch.
8 views
Submitted Jun 4, 2012
Helping People Find Quality Dude Ranch and Guest Ranch Vacations Since 1926
171 views
Submitted Feb 26, 2010

About Dave's Pick
Category Stats
Listings:
91
Regular:
91
Last listing added:
May 1, 2018